YEAR BY YEAR POEMS
Lynne Sachs
64 pages, paperback, 2019, $19.00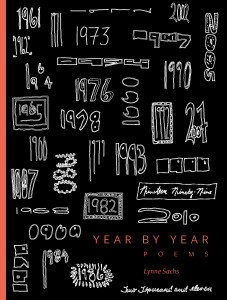 When filmmaker Lynne Sachs turned fifty, she dedicated herself to writing a poem for every year of her life, so far. Each of the fifty poems investigates the relationship between a singular event in Sachs' life and the swirl of events beyond her domestic universe. Published by Tender Buttons Press, Year by Year Poems juxtaposes Sachs' finished poems, which move from her birth in 1961 to her half-century marker in 2011, with her original handwritten first drafts. In this way, she reveals her process of navigating within and alongside historical events such as the Moon Landing, the assassination of Martin Luther King, Jr., streaking, the Anita Hill hearings, the Columbine shootings, and controversies around universal health care. In Year by Year Poems, Lynne Sachs realizes the long anticipated leap from her extraordinary career in filmmaking to this, her first book of poems.  With an introduction by Paolo Javier, former Queens Poet Laureate and author of Court of the Dragon, and book design by Abby Goldstein.
Praise for book:
"The whole arc of a life is sketched movingly in this singular collection. These poems have both delicacy and grit.  With the sensitive eye for details that she has long brought to her films, Lynne Sachs shares, this time on the page, her uncanny observations of moments on the fly, filled with longings, misses, joys and mysterious glimpses of a pattern of meaning underneath it all."
––  Phillip Lopate, author of Portrait of My Body and Against Joie de Vivre
"The highly acclaimed filmmaker Lynne Sachs is also a captivating and surprising poet. Year by Year distills five decades into lyric, a lustrous tapestry woven of memory, wisdom, cultural apprehension and the delicate specificities of lived life."
––  Claire Messud, author of The Woman Upstairs and When the World Was Steady
"In Year by Year, Lynne Sachs selects and distills from larger fields of notation, acute scenes representing her life and the world she was born into. Her measured, spare account brings her to an understanding and acceptance of the terrible and beautiful fact that history both moves us and moves through us, and, more significantly, how by contending with its uncompromising force, we define an ethics that guides our fate."
– Michael Collier author of Dark Wild Realm
Review from San Francisco Public Library – January, 2020

https://sfpl.bibliocommons.com/list/share/534134407/1549603439
"Renowned experimental documentary filmmaker Lynne Sachs wrote one of 2019's best books of poetry. In 2011, after deciding to write one poem for each of the fifty years of her life, Sachs asked herself, "How have the private, most intimate moments of my life been affected by the public world beyond?" The graceful, diaristic poems that she went on to produce successfully distill events and themes in the poet's life and simultaneously, magically, reflect larger movements of history and culture. Intimate and imagistic, the poems unfold a series of miniature stories with sensuous rhythms, telling visual detail, and gentle humor. Thus in "1969" a young Sachs imagines Neil Armstrong calling on the telephone, then turning "to look at all of us (from the moon)." This beautifully designed book includes facsimiles of many of the poetry's initial drafts, which subtly illumine this artist's creative process."
  – John Smalley,  SFPL Poetry Librarian
About the Press:
Founded by poet Lee Ann Brown in 1989, Tender Buttons Press publishes experimental women's and gender-expansive poetry through innovative forms that play with the boundaries between life and art, generations and generativity.
On Small Press Distribution Best Sellers List.
On Dennis Cooper's Best Poetry of 2019 List.
Available from:
Small Press Distribution: https://www.spdbooks.org/Products/9780927920209/year-by-year-poems.aspx
Tender Buttons Press: https://www.tenderbuttonspress.com/shop/r7dr1maqjtph7x95n1i8nrlvj1uq9t
Amazon: https://www.amazon.com/Year-Poems-Lynne-Sachs/dp/0927920204/ref=sr_1_1?keywords=lynne+sachs&qid=1569374839&s=books&sr=1-1
For more information, please contact:
Lee Ann Brown, Founder and Editrix, Tender Buttons Press:  TenderButtonsPress@gmail.com
Lynne Sachs, author: lynnesachs@gmail.com
List of readings and book signings:
2019
Penn Book Center, Philadelphia
https://www.pennbookcenter.com/event/tender-buttons-press-30th-birthday-poetry-extravaganza
Unnameable Books, Brooklyn – Boog City Arts Festival presents Tender Buttons Press
Montez Press Radio, NYC – Tender Buttons Press 30th Birthday
Berl's Poetry Bookshop, Brooklyn – http://www.berlspoetry.com/events/2019/10/17/mark-statman-lynne-sachs-amp-others
Museo de Arte Moderno, Buenos Aires – https://www.museomoderno.org/es/el-cine-es-otra-cosa-nosotras-estas-mujeres
Other Cinema at Artist Television Access, San Francisco, CA – Six Pix Inscriptions – http://www.othercinema.com/calendar/index.html
Shape Shifters Cinema, Oakland, CA – "My Body, Your Body, Our Bodies: Somatic Cinema in the World" – http://shapeshifterscinema.com/archive.html
Topos Books, Brooklyn – https://www.facebook.com/events/topos-bookstore/reading-and-screening-with-lynne-sachs/2429095500684003/
Court Tree Gallery, Brooklyn – http://courttree.com/event-name/four-poets-gather-to/
2020
Jan. 9 – Burke's Bookstore, Memphis, TN (https://www.burkesbooks.com/pages/events/33/reading-and-book-signing-with-lynne-sachs)
Jan. 11 – Volume Reading Series at the Spotty Dog & Ale, Hudson, New York (https://www.facebook.com/events/731045427299110/  or https://www.thespottydog.com/events/all-events/)
Jan. 12 – WBAI 99.5 Radio in NYC & Pacifica Affiliates  "Arts Express" (Global Arts Magazine)  with Host Prairie Miller – start at 29 min. 22 sec. – Lynne reads from Year by Year Poems on
broadcast week of Jan. 13 and is archived here:
https://www.wbai.org/archive/program/episode/?id=9151
Jan. 26 – Dolly's Bookstore, 510 Main St., Park City (2 to 3 PM) https://dollysbookstore.com/category/events/
Feb. 4 – Greenlight Books, Brooklyn (https://www.greenlightbookstore.com/event/evening-tender-buttons-press)
Feb. 18 – McNally Jackson Independent Bookstore, Soho, NYC
"Double Trouble in the Roaring Twentier: Valery Oisteanu & Lynne Sachs
https://www.mcnallyjackson.com/event/double-trouble-roaring-twenties-valery-oisteanu-and-lynne-sachs-prince
April 18 – Book reading and film screening for National Poetry Month, San Francisco Public Library, Main Branch – all day
April 25 – Mana Contemporary Art Center, Jersey City, New Jersey
May 3 – Maysles Documentary Center, 100th anniversary of the Harlem Renaissance, NYC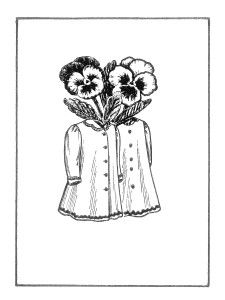 Tender Buttons Press, drawing by Joe Brainard