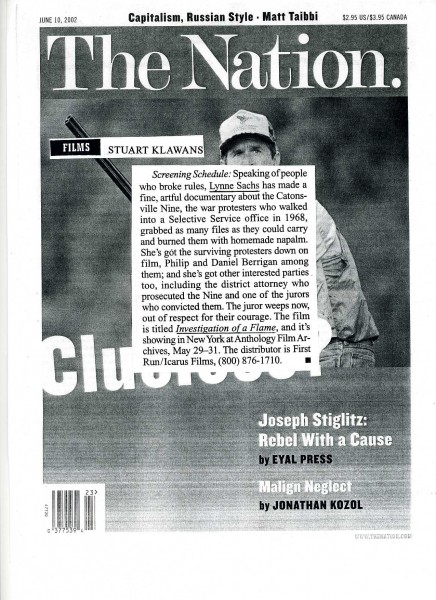 Films, The Nation
June 10, 2002
By Stuart Klawans
---
Screening Schedule: Speaking of people who broke rules, Lynne Sachs has made a fine, artful documentary about the Catonsville Nine, the war protesters who walked into a Selective Service office in 1968, grabbed as many files as they could carry and burned them with homemade napalm.
She's got the surviving protestors down on film, Philip and Daniel Berrigan among them; and she's got other interested parties too, including the district attorney who prosecuted the Nine and one of the jurors who convicted them.  The juror weeps now, out of respect for their courage.
The film is titled Investigation of a Flame, and it's showing in New York at Anthology Film Archives, May 29-31.
The distributor is First Run/Icarus Films, (800) 876-1710.