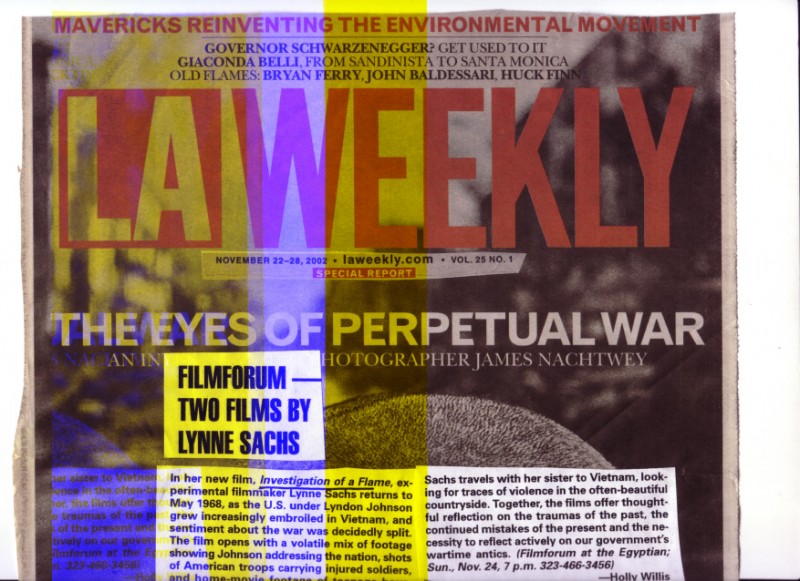 LA Weekly, Nov. 22, 2002  Vol. 25,  No. 1
Filmforum – Two Films by Lynne Sachs
By Holly Willis
---
In her new film,
Investigation of a Flame
, experimental filmmaker Lynne Sachs returns to May 1968, as the U.S. under Lyndon Johnson grew increasingly embroiled in Vietnam, and sentiment about the war was decidedly split.  The film opens with a volatile mix of footage showing Johnson addressing the nation, shots of American troops carrying injured soldiers, and home-movie footage of teenage boys.
Rather than focusing on the era at large, however, Sachs examines a single incident, when nine Vietnam War protesters in Catonsville, Maryland, poured homemade napalm on draft records and set them on fire.  Footage of the event shows the well-dressed, courteous "Catonsville 9" – who included peace-activist Catholic priests Daniel and Philip Berrigan – gathered around their small fire, calmly explaining their objections to the war; after they were arrested, they even sent flowers to a clerk who had been treated brusquely in the tussle.
While the event illustrated a quiet defiance, it more powerfully sparked other acts of civil disobedience, and Sachs included contemporary interview footage in which she asks many of those involved to comment. The result is a complex rumination on the power of protest.
In her earlier film Which Way is East? Sachs travels with her sister to Vietnam, looking for traces of violence in the often-beautiful countryside.  Together the films offer thoughtful reflection on the traumas of the past, the continued mistakes of the present and the necessity to reflect actively on our government's wartime antics.