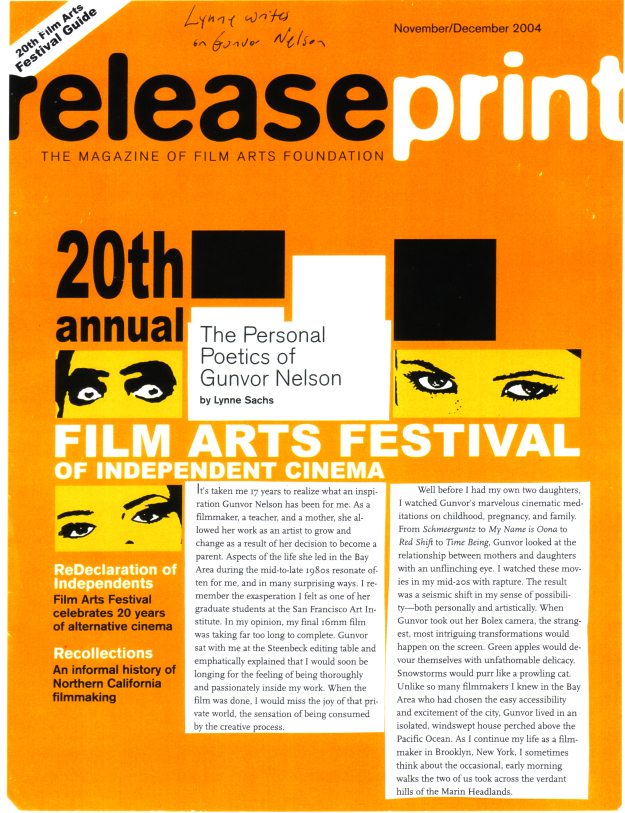 It's taken me seventeen years to realize what an inspiration Gunvor Nelson is for me as a filmmaker, a teacher and a mother who allowed her work as an artist to grow and change as a result of her decision to become a parent.  Aspects of the life she led in the Bay Area during the mid-to-late 1980's resonate for me often, and in many surprising ways.  I remember the exasperation I felt as one of her graduate students at the San Francisco Art Institute.  In my opinion, my final 16mm film was taking far too long to complete.  Gunvor sat with me at the Steenbeck editing table and emphatically explained that I would soon be longing for the feeling of being thoroughly and passionately inside my work.  When the film was done, I would miss the joy of that private world, the sensation of being consumed by the creative process.
Well before I  had my own two daughters, I watched Gunvor's marvelous cinematic meditations on childhood, pregnancy and family.  From "Schmeerguntz" to "My Name is Oona" to "Red Shift" to "Time Being", Gunvor looked at the relationship between mothers and daughters with an unflinching eye.  I watched these movies in my mid-twenties with rapture.  The result was a seismic shift in my sense of possibility – both personally and artistically.  When Gunvor took out her Bolex camera, the strangest, most intriguing transformations would happen on the screen.  Green apples would devour themselves with unfathomable delicacy.  Snowstorms would purr like a prowling cat.  Unlike so many filmmakers I knew in the Bay Area who had chosen the ease and excitement of the city, Gunvor lived in an isolated, windswept house perched above the Pacific Ocean.  As I continue my life as a filmmaker in Brooklyn, New York, I sometimes think about the occasional, early morning walks the two of us took across the verdant hills of the Marin Headlands.
After twenty years in the Bay Area, Gunvor Nelson returned to Sweden, where she continues to produce moving image pieces.
Lynne Sachs