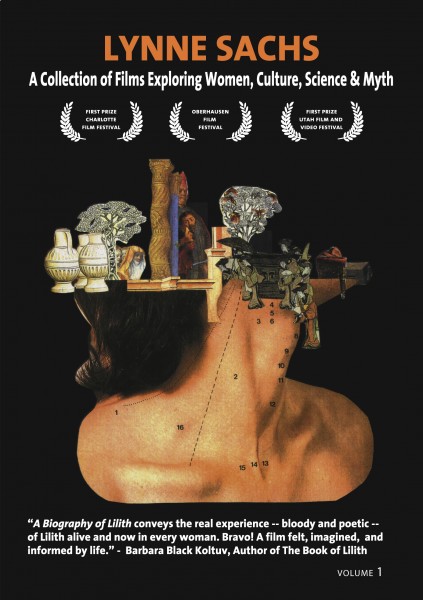 Purchase:
A COLLECTION OF FILMS ON DVD EXPLORING WOMEN, CULTURE, SCIENCE & MYTH BY LYNNE SACHS vol.1
DVD 2005, 65 minutes + extras
Available at Filmmakers Cooperative
http://film-makerscoop.com/rentals-sales/search-results?fmc_authorLast=sachs&fmc_title=&fmc_description=&x=48&y=15
Featuring:
Biography of Lilith & The House of Science: a museum of false facts
This DVD collection presents two of Lynne Sachs' earlier films with several more recent media works — all of which explore themes of women, culture, science & myth. The creative as well as intellectual inner workings of these projects are revealed for the first time in the context of an elaborately conceived, yet accessible disc.
"Biography of Lilith conveys the real experience – bloody and poetic – of Lilith alive and now in every woman. Bravo! A film felt, imagined, and informed by life." – Barbara Black Koltuv, Author of The Book of Lilith
"Lynne Sachs' A Biography of Lilith is a beautifully realized melding of history, mythology, image, and sound that makes us rethink our understanding of a powerful, complex, and significant female figure."
Prof. Caren Kaplan, Women's Studies, University of California at Davis
BIOGRAPHY OF LILITH updates the creation myth by telling the story of the first woman and for some, the first feminist. In conjunction with the film, the DVD offers a personal introduction to Jewish Kabbala.
THE HOUSE OF SCIENCE: A MUSEUM OF FALSE FACTS investigates science and art's representation of women in our society using home movies, collage, found footage and personal remembrances.
DVD FEATURES INCLUDE:
* Over 40 minutes of never-before-seen interviews with four prominent Judaic scholars provide anchors for discussion of the Lilith myth.
* Six of Sachs' poems which were written during the making of Biography of Lilith
* Thirteen collages with text from The House of Science
* Two Short Films: Window Work and Photograph of Wind
* Filmmaker Biography
* Interactive Menus
* DVD-ROM: Printable Transcript of The House of Science and Poetry from Biography of Lilith
PRINCIPAL CREDITS
Films, poetry, collages, cinematography, direction: Lynne Sachs
DVD design: Rachel Melman
Music: Pamela Z, Charming Hostess
Jewish Scholars: Daniel Boyarin, Tikvah Frymer-Kensky,
Rabbi Meyer Fund, Naomi Mark
SCREENINGS: Museum of Modern Art, the Oberhausen Film Festival, the Whitney Museum of American Art, the Delaware Biennial, the Pacific Film Archive, and the Tate Modern. The films have won awards at the Atlanta, New Jersey, Ann Arbor, Athens, Black Maria, Charlotte and Humboldt Film Festivals