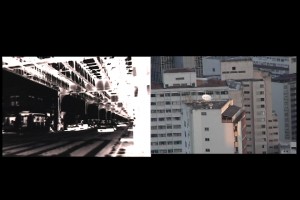 Lynne Sachs and Mark Street
With special guests audio pranksters Bosko Blagojevic and Zach Poff
CITY SALVAGE is the second installment of Lynne and Mark's XY Chromosome project, a dynamic feast for the eyes, ears and mind that considers the cities of HANOI, SANTIAGO, BUFFALO, SAO PAOLO, PRAGUE, NEW YORK, TEL AVIV & SAN FRANCISCO, SARAJEVO.  We've joined forces with the preternatural sound magicians Bosko Blagojevic and Zach Poff who will  contribute a live audio performance to our urban stew.
We invite you to drift away with us and be a floozy flaneur!
4 artists!  4 screens!  8 cities!  70 minutes!
CITY SALVAGE  contrasts images and  sounds in a kinetic, charged way.  This is a study of dissonance: abstract material brushed up against the discernible, frenetic versus the more languid, chaotic sound vs. silence, architecture vs. the human element.  The whole is fragmented and surprising like the experience of first walking through a new city.  How does the urban milieu serve our need to explore and wander, to be at once alone and in company? Each of these cities negotiates its urban impulses in  idiosyncratic ways.  As a collection, this evening will consider urbanism by looking closely at these vibrant cities.
Williamsburg, Brooklyn
http://www.monkeytownhq.com/xy2.html