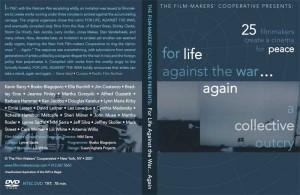 " A CINEMA FOR PEACE!  FOR LIFE, AGAINGST THE WAR … AGAIN!"         78 min. DVD 2007
Curator: Lynne Sachs
"In 1967, with the Vietnam War escalating wildly, an invitation was issued to filmmakers to create works running under three minutes in protest against the accumulating carnage. The original organizers chose the rubric For Life, Against the War, and eventually compiled sixty films from the likes of Robert Breer, Shirley Clarke, Storm De Hirsch, Ken Jacobs, Larry Jordan, Jonas Mekas, Stan Vanderbeek, and many others. Now, decades later, an invitation to protest yet another war seemed sadly urgent, inspiring filmmaker Lynne Sachs to ring the clarion once ". . . Again." The response was overwhelming, with submissions from several generations of artists unified by a singular disgust for the war in Iraq and the foreign policy that perpetuates it. Compiled with works from the overtly angry to the formally forceful, For Life, Against the War boldly announces that artists can take a stand, again and again."  — Steve Seid, Curator, Pacific Film Archive, Berkeley Art Museum
Filmmaker Participants on DVD: Kevin Barry, Bosko Blagojevic, Elle Burchill, Jim Costanzo, Bradley Eros, Jeanne Finley, Martha Gorzycki, Alfred Guzzetti, Barbara Hammer, Ken Jacobs, Douglas Katelus, Lynn Marie Kirby, Ernie Larsen, David Leitner, Les Leveque, Cynthia Madansky, Rohesia Hamilton Metcalfe, Sheri Milner, John Muse, Martha Rosler, Lynne Sachs, MM Serra, Jeff Silva, Jeffrey Skoller, Mark Street, Cara Weiner, Lili White, Artemis Willis.
Filmmakers Cooperative  www.film-makerscoop.com   212 267 5665
108 Leonard Street, the Clocktower Bldg., 13th Fl. New York, NY 10013
NTSC DVD  TRT:  88 min.
Film-makers'Coop Executive Director: MM Serra
The Village Voice
Film Review
Pro-Life
Artists return to the Vietnam protest model with For Life Against the War . . . Again
by Ed Halter
"Iraq is not Vietnam, as the Bush administration and other Republicans have generously taken pains to remind us over the last half decade, but good luck trying to convince today's artists of that. Not the kind of artists typically touted at white-shoe galleries, of course, too busy creating precious objects for clueless investors: Far more potent demonstrations of protest and disgust emerge from the rag-tag networks of micro-budgeted experimental filmmakers. With little or no market for experimental filmmaking, the scene consists of only the most devoted individuals, with nothing to lose from saying whatever they wish. The art they create can thereby be rough or polished, face-slappingly blunt or poetically subtle, stridently collectivist or stewed in lonely isolation. For Life Against the War . . . Again, a recent omnibus produced in response to Iraq, includes all these extremes, but nevertheless coalesces into a potent time capsule of how today's war has churned our inner lives.
For Life updates a concept first enacted in 1967, at the height of the previous debacle. Then, an event called The Week of Angry Art asked 60 filmmakers to make 16mm works of three minutes or less in response to the war in Vietnam; participants included a collection of now-canonical figures such as Jonas Mekas, Robert Breer, and Shirley Clarke, as well as less well-remembered names. Last year, avant-garde film distributor The Film-Maker's Co-op issued a similar open call for new works about today's war, resulting in a program of 25 video shorts; both the 1967 and 2007 editions screen at Anthology this week.
A number of the newer videos look to past conflicts as a means of understanding the present: Jeffrey Skoller shoots two-and-a-half unedited minutes of a busy Hanoi street, juxtaposed to a prophetic poem by Ho Chi Minh; Bosko Blagojevic contemplates growing up in the U.S. during the Balkan wars; Lynne Sachs's The Small Ones remembers her Hungarian cousin, a doctor tasked with reconstructing the bones of American soldiers killed in World War II. Other selections groove on expressive abstraction: Les LeVeque's nervy STOP THE WAR strobes variations of those three words set to radically altered audio clips of protest chants, while Mark Street contributes a silent flutter of red flowers pressed against 35mm film. Martha Rosler skews patriotism by taping a creepy musical soldier doll blurting "God Bless America," then revealing its prosthetic-style mechanical leg; M. M. Serra sics her cats on a dopey-faced George Bush toy. But sometimes the crudest are actually the most effective: Witness Jim Costanzo's The Scream: 21st Century Edition, which blue-screens the artist yelling in pain over news footage of Bush speeches and Baghdad shock-and-awe. Three decades from now, when future media archivists try to understand what it was like for sane Americans to experience the war, Costanzo's video will remain an effective and emotional artifact."
————————————————
For Life Against the War Again!
DVD – TRT: 88 minutes
List of Films in Order:
1. The Scream: 21st Century Edition     Jim Costanzo
As in the Edvard Munch painting, the artist expresses anger and frustration at America's illegal war and the attack on our civil liberties. (3 min.)
2. PSA # 11 Fallout     Cynthia Madansky
This public service announcement is part of a series of 15 short films that speak out against the American occupation of Iraq and the act of war. (3 min.)
3. LOST     Jeanne C. Finley & John Muse
Audio diaries of Chaplin Major Eric Olson combine with a single landscape shot. The implications of an Iraqi's death reveal the complications and tragedy of war.
(3:48 min.)
4. Graven Images     Sherry Millner & Ernie Larsen
The artists' ongoing "Sight Gag" series views patriotism (particularly post-9/11) as a form of hysterical blindness. (4:31 min.)
5. Words on PEACEpiece     Lili White
Only by dealing with one's "shadow" can one arrive at peace; a flower chain made by  children during "Culture Day" — in Slovenian, a national holiday. (1.33 min.)
6. Our Grief Is Not A Cry For War     Barbara Hammer
October 11, 2001, Times Square. An ad hoc artist group, puts on a silent demonstration for peace in a time of national war hysteria. Lecturer Louise Richardson, Harvard University. (3:45 min.)
7. Unfurling     Martha Gorzycki
Images from visual culture scroll in a mesmerizing rhythm synonymous with the hypnotic effect of endless consumption, inviting viewers to question their own relationship to consumerism. (3 min.)
8. Night Vision     Alfred Guzzetti
Iraq: an apocalyptic landscape.  (2:32 min.)
9. I Shot a Spider     Elle Burchill
Caught in action, a late-night contemplation. (2:40 min.)
10. Star Spangled to Death     Ken Jacobs
Excerpt from 440 minutes shot from 1956 to 2004. (2 min.)
11. For Life  / Against War    Mark Street
Sometimes only flowers will do — pressed against 35mm film emulsion and exposed to the light — to give an unexpected  respite from world horrors. (2:37 min.)
12. Prototype: God Bless America!     Martha Rosler
A fragment of simulated glee produced by a bouncy robot with prosthetic legs, a movie-villain helmet, a brass trumpet — all with "made-in-China" plastic features. (1:09 min.)
13. Description of a Struggle     Bosko Blagojevic
Remembering the 90s, distracted; a single articulation, a way in. (2:55 min.)
14. The Small Ones     Lynne Sachs
A portrait of Sachs' cousin, Sandor Lenard, a doctor who reconstructed the bones of dead American soldiers during World War II. Composed of abstracted war imagery and children at a birthday party. (3 min.)
15. Untitled     Kevin Barry
Poem on culture clash in Iraq, inherent racism and our own indifference as we use the resources gathered during the conflict. (1:33 min.)
16. STOP THE WAR     Les LeVeque  (3 min.)
17. PEACE in order to achieve PEACE     M M Serra
My reflections on the regime of George W. Bush. (3 min.)
18. Mutable Fire!     Bradley Eros and Erotic Psyche
Totems of destruction & desire, torn between the ecstasy that propels and the horrors that paralyze, we reveal erotic love to be a resistance to tyranny. (4 min.)
19. The Weather is Clearing Up!     Jeffrey Skoller
In the midst of war, Ho Chi Minh has a vision of happiness — 180 seconds shot in
Hanoi 62 years later contain the image of its actualization. (3:42 min.)
20. PEACE IS…     Rohesia Hamilton Metcalfe
Texts returned by a 9/20/06 Google search for the text "peace is" as a meditation on the consciousness of the crowd at this moment in time. (3:03 min.)
21. Sacco and Vanzetti     Douglas Katelus
Summer in NYC. One just might stumble across a bit of anarchy at Union Square: "know that I love you…know that I love you." (3 min.)
22.  War Montage     Cara Weiner
Altered images of Iraq and war in general merge to create a visual experience. (3 min.)
23. Ashes, Ashes…     Jeff Silva
Using personal and archival footage to ruminate on the subject of war, the residue of past violence permeates into the present. (5 min.)
24. Peace and Pleasure     Artemis Willis and David Leitner
Performance artist Larry Litt leads "A Peace and Pleasure Talisman Charging Ritual" with Santeria drummers and a Voudun priestess to confuse and repel evil  "Fox-y" media demons. (4 min.)
25. Requiescat     Lynn Marie Kirby
1000 Xs scratched on film become prayers for persons killed in Iraq. Punching the machine during video transfer makes a glitch — marking each death anew. (4 min.)