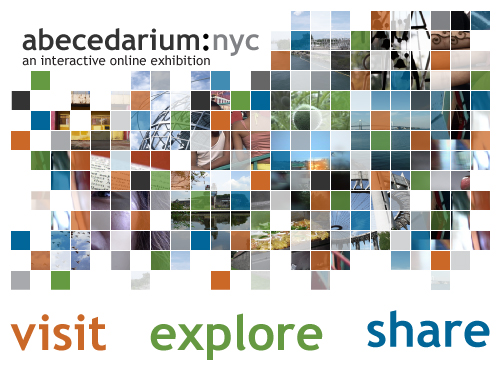 Abecedarium:NYC
an interactive online exhibition exploring New York City through words and images
supported and launched by the New York Public Library
Reflect on the history, geography, and culture – both above and below ground –  of New York City through 26 unusual words. Abecedarium: NYC is an interactive online exhibition that uses original video, animation, photography and sound to create relationships between these words and locations in the Bronx, Brooklyn, Manhattan, Queens, and Staten Island. Share your own vision of New York by creating a video, a soundscape, a photo or written interpretation of a word and uploading your work to the exhibition.
Participants:
Lynne Sachs – co-director and NYU Film Dep't faculty
Susan Agliata – co-director
Erik Schurink – visual artist – collaborator
Sofia Gallisa – collaborator and 2008 UGFTV graduate
Florica Vlad – collaborator and ITP Graduate Student
Each word – whether it's A for audile or Z for zenana – leads to a different short video and a location in the city that you may never have experienced before.  In selenography (the study of the moon), amateur astronomers celebrate the wonders of the night sky at Staten Island's Great Kills State Park. In open city (a metropolis without defense), the ruins of military installations throughout the five boroughs decay with time.   Chatty teenagers in a Flushing, Queens cafe drink bubble tea in xenogenesis (the phenomenon of children markedly different from their parents). In diglot (a bilingual person), a Chinese accountant, Albanian baker, Palestinian falafel maker, Argentine film archivist and Cuban cigar maker speak candidly about their daily routines.  In mofette (an opening in the earth from which carbon monoxide escapes) mysterious gases flow from gaps in the streets of Manhattan.
The experience of visiting Abecedarium:NYC is more than watching, listening and learning. Visitors to the project are invited  to share their own experience of New York City by contributing original videos, soundscapes, photos or texts to the project blog.  As more users contribute, the project grows in size, scope and experience, and transforms into a destination for sharing and learning about every facet of the city.
Produced with the support of the New York State Council on the Arts. the New York Public Library and the McDowell Colony.
Review on Rhizome >>>>
https://rhizome.org/editorial/2008/may/23/from-alpha-to-omega/