A hybrid experimental film and live performance that looks into the charged intimacy of washing clothes in a neighborhood laundromat.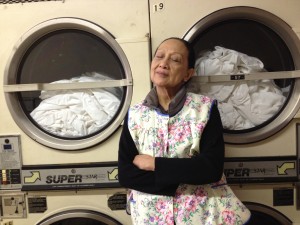 EVERY FOLD MATTERS is a live performance and a film project that looks at the charged, intimate space of the neighborhood laundromat and the people who work there. Set at the crossroads of a Brooklyn neighborhood, we meet four characters in a real laundromat — a uniquely social and public space that is slowly disappearing from our changing urban landscape. Based on interviews with New York City laundry workers, the project combines narrative and documentary elements as it explores personal stories of immigration, identity, money, stains and dirt.
"The legacy of domestic work, the issues surrounding power, and the exchange of money for services are all potent themes which rise to the surface and bubble over in dramatic, thrilling escalations of the everyday." (Brooklyn Rail)
"Spotlights the often-invisible workers who fold the clothes, maintain the machines and know your secrets." (In These Times)
"The intersection of film and performance, reality and imagination, employee and customer, historical fact and personal anecdote…You made us rethink the laundromat as a site of urban convergence, where strangers (of different races, religions, languages and classes) make ritualistic visits to a public space that's also a functional extension of their own homes."               Alan Berliner, filmmaker
EVERY FOLD MATTERS has received support from New York State Council on the Arts, Brooklyn Arts Council, Lower Manhattan Cultural Council (through Dirty Laundry/Loads of Prose), Women and Media Coalition, and Fandor FIX Filmmakers.
Our collaborators include acclaimed downtown actors Ching Valdes-Aran, Jasmine Holloway, Veraalba Santa, and Tony Torn, film editor Amanda Katz, cinematographer Sean Hanley and sound artist Stephen Vitiiello.
EVERY FOLD MATTERS began as a site specific performance with film presented by Loads of Prose at the New Lucky Laundromat in Clinton Hill, Brooklyn in early 2015. The Workers Unite! Film Festival later hosted a performance and awarded us the Best Feature Narrative prize. We are now developing our performance into a film, and recently received support from the New York State Council on the Arts and the Women and Media Coalition. This summer Fandor.com awarded us a $5,000 matching grant for the creation and distribution of the film.
"I remember each and every face of every customer."
We are excited to bring EVERY FOLD MATTERS into a more purely cinematic realm by weaving together additional documentary material collected in interviews, original text, and both raw and impressionistic images.
You can read press on our EVERY FOLD MATTERS live film performance here:
Our Performers
Jasmine Holloway is a singer and actress who has performed in productions at the Harlem Repertory Theatre as well as in the highly acclaimed Generations at Soho Rep. Jasmine was nominated for the Richard Maltby Jr. Award for Musical Theatre Excellence during the 2013 Kennedy Center College Theatre Festival.
Veraalba Santa is an actress and dancer and a member of Caborca Theater. She has degrees in Theater and Dance from the University of Puerto Rico and the Neighborhood Playhouse School of the Theater. In New York City, Veraalba has worked with Sally Silvers, Rojo Robles, Viveca Vazquez and Rosa Luisa Marquez.
Tony Torn was last seen on stage in the title role of Ubu Sings Ubu at The Slipper Room, a rock opera adaptation of Alfred Jarry's Ubu Roi which he created and co-directed. An actor and director known for his extensive work with Reza Abdoh and Richard Foreman, Tony recently made his Broadway debut in Breakfast At Tiffany's.
Ching Valdes-Aran is an Obie award-winning actor who has appeared on and off Broadway, including The Public Theater, New York Theater Workshop, La Mama, Women's Project, CSC, Mabou Mines, Ma-Yi Theater Company, La Jolla, Center Stage, Yale Rep, and ACT. Her film work includes roles in Lav Diaz's From What is Before (Golden Leopard Award, Locarno Int'l Festival) and Julie Taymor's Across the Universe.
Our Collaborative Team
Lynne Sachs is a co-director. She makes films, performances, installations and web projects that explore the intricate relationship between personal observations and broader historical experiences by weaving together poetry, collage, painting, politics and layered sound design. Supported by fellowships from the Guggenheim, Rockefeller and Jerome Foundations and the New York State Council on the Arts, Lynne's films have screened at the New York Film Festival, the Sundance Film Festival and Toronto's Images Festival. Lynne teaches experimental film and video at NYU and lives in Brooklyn. www.lynnesachs.com
Lizzie Olesker is a co-director. She is a playwright, director and performer. Her plays have been developed and presented at New Georges, Invisible Dog, Ohio Theater, Dixon Place, HERE, Cherry Lane, and Public Theater. Her work has received support from the Brooklyn Council for the Arts, the Dramatists Guild, and New York Foundation for the Arts. Her writing has been published by Heinemann Press and in the Brooklyn Rail. She teaches playwriting at NYU and the New School, and lives in Brooklyn.
Sean Hanley is our Cinematographer. He is a non-fiction filmmaker based in Brooklyn, New York. His short works have screened at the Ann Arbor Film Festival, the Edinburgh International Film Festival, the New Orleans Film Festival. Sean teaches cinematography at Hunter College and was a cinematographer and co-producer on Lynne Sachs's Your Day is My Night (2013). He is the Assistant Director of Mono No Aware.
Amanda Katz is our Associate Producer and Editor. She works professionally as a Film Editor, and is currently working with Lynne Sachs to craft her latest feature film. Her own work has screened at The Ann Arbor Film Festival, Doc NYC, Encuentros del Otros Cine Festival International, and Microscope Gallery. Her most recent film received funding from the New York State Council On The Arts and The Austrian Cultural Forum in New York. Amanda is a MFA candidate in Integrated Media Arts at Hunter College.
Stephen Vitiello is our composer, an electronic musician and media artist. Vitiello's sound installations have been presented at MoMA, MASS MoCA, the Whitney Biennial, and on the High Line in NYC. Vitiello has collaborated with numerous artists including Pauline Oliveros, Tony Oursler, Julie Mehretu, Scanner, Steve Roden, Taylor Deupree and Ryuichi Sakamoto.
Interns and web design:  Christine Dickerson, Mars Marson, Boyd Chayanon