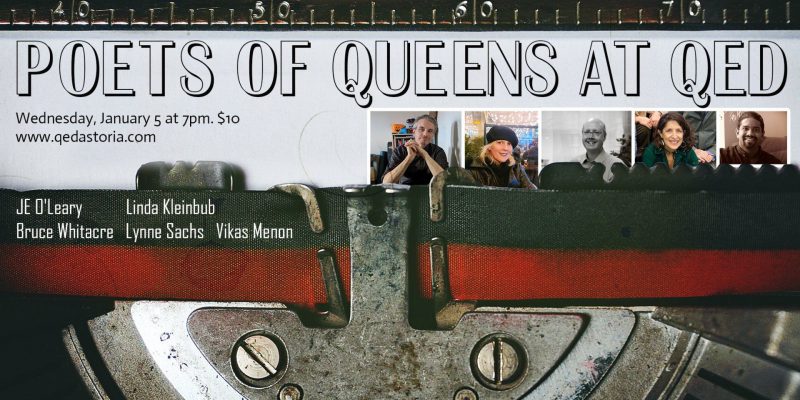 www.qedastoria.com
https://www.poetsofqueens.org/reading-series
JANUARY 5 at 7PM
J.E. O'Leary is a writer, musician, and visual artist from NYC. For over 20 years, he has been bringing his words and music to NYC's stages, festivals, subway platforms, and gallery walls. He has performed at the New York Poetry Festival, Nuyorican Poets Cafe, KGB Bar, and his work can currently be seen in Dead Skunk #1, Something Involving a Mailbox #8 and Hole in the Head Review vol 2.4. His latest poetry collection, What a Future, was released December 2020. His work can be found at www.sunshineandwind.com.
Linda Kleinbub is curator and host of Fahrenheit Open Mic & founder of Pen Pal Poets. She's the editor of The Silver Tongued Devil Anthology (Pink Trees Press, 2020.) Linda was one of six local poets invited to read at the Americas Poetry Festival of New York 2021. She's a former mentor and committee member at Girls Write Now. She's published in The Best American Poetry, Brooklyn Rail, The Observer, Sensitive Skin Magazine, Yahoo! Life, Home Planet News, First Literary Review East, Nomad's Choir Journal, The Rainbow Project, LiveMag! and many anthologies. Some of her published poems are found at https://www.instagram.com/lindakleinbub/ & her first full-length book of poetry is forthcoming. She received her MFA from The New School.
Two of Bruce E. Whitacre's chapbooks will be published in 2022 by Poets Wear Prada. His poems have appeared in the American Journal of Poetry, Buddhist Poetry Review, Nine Cloud Journal, North of Oxford, Pensive Journal, World Literature Today, and Yes, I'm Alive, among others. His work is included in The Strategic Poet by Diane Lockward, and in the anthology: I Want to be Loved by You: Poems on Marilyn Monroe. He holds an MFA in Dramatic Writing from NYU's Tisch School of the Arts. He is a native of Nebraska and lives in Forest Hills, Queens with his husband.
Since the 1980s, Lynne Sachs has created cinematic works that defy genre through the use of hybrid forms and collaboration, incorporating elements of the essay film, collage, performance, documentary and poetry. Her films explore the intricate relationship between personal observations and broader historical experiences. With each project, Lynne investigates the implicit connection between the body, the camera, and the materiality of film itself.
Lynne discovered her love of filmmaking while living in San Francisco. During this time, she produced her early, experimental works on celluloid which took a feminist approach to the creation of images and writing— a commitment which has grounded her work ever since.
From essay films to hybrid docs to diaristic shorts, Sachs has produced 40 films as well as numerous projects for web, installation, and performance. She has tackled topics near and far, often addressing the challenge of translation — from one language to another or from spoken work to image. These tensions were investigated most explicitly between 1994 and 2006, when Lynne produced five essay films that took her to sites affected by international war–where she looked at the space between a community's collective memory and her own subjective perceptions.
Over her career, Sachs has been awarded support from the Guggenheim Foundation, the NYFA, and Jerome Foundation. Her films have screened at the Museum of Modern Art, Wexner Center, the Walker the Getty, New York Film Festival, and Sundance. In 2021, Edison Film Festival and Prismatic Ground Film Festival at Maysles Documentary Center awarded Lynne for her body of work.
Lynne is also deeply engaged with poetry. In 2019, Tender Buttons Press published her first book Year by Year Poems. In 2020 and 2021, Lynne taught film and poetry workshops at Beyond Baroque, Flowchart Foundation, San Francisco Public Library, and Hunter.
Vikas K. Menon is a poet, playwright and songwriter. He was a 2015 Emerging Poets Fellow at Poets House and his poems have been featured in numerous publications, including Indivisible: An Anthology of South Asian American Poetry and The HarperCollins Book of English Poetry. He co-wrote Priya's Shakti (www.priyashakti.com), the first of a series of ongoing augmented reality comic books that address gender-based violence (GBV). He was also one of the co-writers of the shadowplay "Feathers of Fire" which had its world premiere at the Brooklyn Academy of Music in 2016 and went on to tour around the world in 23 US cities and 6 countries. His other plays have received readings at or been produced by Pratidhwani Theatre, Ruffled Feathers Theater Company, Ingenue Theatre and the Classical Theatre of Harlem. He is an Advisory Board Member of Kundiman, dedicated to nurturing generations of writers and readers of Asian American literature. He received his M.F.A (Poetry) from Brooklyn College and his M.A. in Literature from St. Louis University.

Please watch the January 17th reading here.
Please watch the March 14th reading here.
Please watch the May 16 reading here.