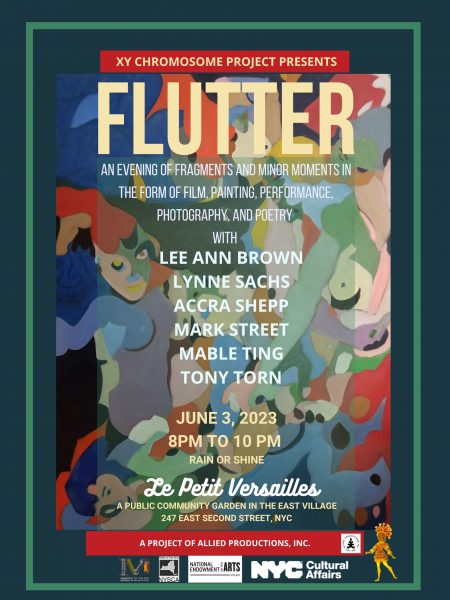 Le Petit Versailles & XY Chromosome Project present:

FLUTTER an evening of film, painting, performance, cyanotype photos, and poetry
Saturday, June 3, 2023 • 8 – 10 pm
Le Petit Versailles
247 East Second Street
Join us. It's free rain or shine!
Reservations encouraged: https://www.eventbrite.com/e/flutter-film-painting-performance-cyanotype-photos-and-poetry-tickets-639831381887
Join us at Le Petit Versailles, a public community garden in the East Village, where fragments and minor moments will converge in film, painting, performance, cyanotype photos and poetry. Together, poet Lee Ann Brown, painter Mable Ting, performer Tony Torn, photographer Accra Shepp, and filmmakers Mark Street and Lynne Sachs interpret the word flutter in an attempt to live in the space between the tangible and the ineffable. A paean to the possibly overlooked and the definitively forgotten.

Lee Ann Brown and Tony Torn – The Green Play: a poets play written for John Ashbery by Lee Ann Brown, performed by Lee Ann Brown and Tony Torn
Mable Ting – Motion Picture (with Nelson Kim) a time-lapse video record of a painting being created.
Accra Shepp – Dreaming with One Eye open in Case of Attack by Wolves or Other Dangers – cyanotype photos
Mark Street – Flutter – a testament to the ethos of always carrying a camera even when you don't know why – film
Lynne Sachs – She Carries the Holiday in Her Eyes & A 16mm film 100th Birthday Party Gift – film
---
Le Petit Versailles is a public community garden in the East Village that presents a season of events, including art exhibitions, music, film/video, performance, theater, workshops and community projects from May to October. LPV is a project of Allied Productions, Inc., a non profit arts organization. Supported by New York States Council for the Arts, New York City Department of Cultural Affairs, National Endowment for the Arts.
In 2010, Mark Street and Lynne Sachs created The XY Chromosome Project, an umbrella for their collaborative ventures. Together they have produced an array of collaborative installations, performances, and two-dimensional art works.

Poster design by Mable Ting.
---