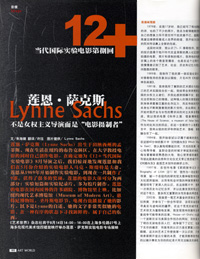 artworld interview (PDF version)
PDF of Interview with Lynne Sachs with Artworld (Chinese Art Magazine)
Interview,Thank you Zhu
1. As far as I know, you have always been teaching in the field of movie in
the university. Which courses do you mainly teach? That has brought a lot
of convenience to your creative work.
I have been teaching since 1989, on and off, which gives me time to make my films. I see teaching as an extension of the over all exploration that is part of making art. Whenever I discover a new, challenging film or video I am lucky enough to have an audience that is ready, willing and able to watch it. This can be so thrilling. In addition, I often show my own works-in-process (I do not say "progress" because I like to celebrate the act of making as much as the act of completing) to my students, which makes me feel as vulnerable as they do when they present an evolving work of art to me, their professor. I mainly teach film and video making courses in an art context, that is I do not teach people the formula for making a Hollywood style movie, but rather a moving image work that comes from the artist-student's own vision. I also teach lecture courses on experimental and documentary film. This fall I will be a visiting artist at New York University.
2. Among your students or the entire university, are there many people who
are engaged in the creation of experimental movies? Naturally, your
students and you often communicate with each other, and therefore, do you
influence each other? Or can you get some inspirations from the
communication?
I think every new work of art is an experiment in expression, so I do not measure a film's success by it ability to replicate the standard, commercial fare we are shown in most mainstream theaters. For the most part, I teach with other artists, not just filmmakers, so I am lucky enough to be around people with paint under their nails.
3. I have learned from the material that you began to make experimental
movies from 1989. Although you have only made nine up till now, you have
won a lot of prizes and awards and drawn attention from people. Do you
still give first priority to teaching?
I would honestly say that my priority is to my films, and that my teaching is an extension of the dialogue that goes with that creative process.
4. I was very glad that I interviewed your husband Mark in May. However, I
didn't know your relationship until you told me that. Aha! By the way, I
think you can talk about him and his movies.
I am truly enthralled by my husband Mark's films. He is a pioneer in the world of hand-made films, and our house is a place where he often disappears down in the basement to paint on each and every frame. I also am enthralled by his newer work, more dramatic video pieces in which he works with actors to create a remarkable synthesis of real and imaginary landscapes of human experience.
5. During the interview with Mark, I got to know that you ha ve two lovely
children. I think both of you are very happy, because you have a happy
family, a career you like, and moreover mutual communication. Do you
usually talk about your movies and your own ideas? It can be said that
movie has been incorporated into your life.
We talk a great deal about our films, especially the struggles of the process – from problems with our computers to a roll of film that is disastrously overexposed to an actor who failed to show up for a shoot. This may sound rather prosaic, but it is so important to have someone in your life who is willing to listen to the dirty details of movie making. We also understand one another's need for privacy, and share a respect for one another's need to search for a visual form of expression that takes risks – all alone. My form of filmmaking is perhaps different from his in that I am often trying to articulate my feelings, or concerns, about something going on in the world, something I hope will change in time.
My films are cine-essays, a play between image, sound and text that is very close to the work of Chris Marker, the French filmmaker.
The biggest project of our life weighs about 100 lbs, that is our two daughters, whom we take to avant-garde movies all over New York City. For the most part, they find it a pleasure, though sometimes they wish we appreciated Disney more than we do, alas.
6. The question I am going to ask you, I think, is the one many other
people will also ask. Is your creative work influenced by Mark, or vice
versa, or you have mutual impact?
I believe I take more chances, jump into the crazy world of public exhibition, stay up till the middle of the night editing, travel to places like Vietnam or Bosnia – with confidence and excitement, with my camera in hand because I know I have the support of my life partner, Mark Street. Sometimes he is also my very harshest critic, and I just wish he would not be so honest!
7. Mark's movie Excursions and yours Which Way Is East are very similar in
form. What's more, the two movies were shot in the same year. Can you talk
about these two movies?
I think your observation is extremely insightful and I appreciate your close attention to our work. Both of those films are so-called travel films. He went to Mexico in "Excursions" and I went to Vietnam in "Which Way is East". We did these things at a time when we did not yet have children along with us, with all of the real and emotional baggage that
children bring along. So, I think these movies are about both a physical and a psychological journey that comes with being in a new place and feeling very, very independent, far away, totally observant and aware. The films reflect a time in history that was very open and cross-cultural, and I miss that spirit as I think travelers are far more cautious now, since the changes that have happened over the last few years.
8. In Which Way Is East, we saw the effects somewhat like the traces of
film scratching, which we usually see in experimental movies and in the
movies made by Mark. But your movies appear in the form of the documentary.
Why do you want to deal with the frames of your movies in this way?
I like your attention to detail, to the notion of the frame. With our progressive movement toward a completely digital way of working, there seems to be less and less sensitivity to these details….the brush strokes of cinema that all work together to create a different kind of visual vocabulary than any other medium. So, in my own way, I am also experimenting all of the time with new ways of expressing my thoughts to my audience. In Which Way is East, Biography of Lilith and Investigation of a Flame, I play with focus, framing and texture to bring about surprising ways of seeing things in the real world. In WWE, blurry streaks of light from a moving car become are transformed into a dreamy, sumptuous entrance into the flaura of Vietnam. In Lilith, a spider and a jelly fish send us into a primordial Eden. In Investigation, red flowers transform into a splash of blood. Objects from everyday life take on a new relationship to the eye and the imagination.
9. We don't see the way you deal with the documentary in China. Is it a
common way of creation in Ame rica? Or can we say that it is pretty free to
create a documentary there?
I am really thrilled that you ask this question about documentary. I think the changes that are going on in this field are happening because artists who are trying to explore their responses to what they see in the world with a camera are frustrated by the conventional, network news ways of observing. We as experimental documentary makers want to create new ways of expressing our ideas with very precise uses of images and sounds; each new project necessitates a personal, original mode of working with the media. We cannot feel at ease with a language of the dominant cinema, or the dominant power class. Form and function once again are intertwined. Right now I am working with the filmmaker Jem Cohen (go on the web to get information on his films) to make a book with six other makers (probably including Paul Chan, Travis Wilkerson, Bill Brown and Deborah Stratman). This will be an artist manifesto, in the grand tradition of the 1920's Russsian revolutionary filmmaker Dziga Vertov, we hope! By the way, have you gone to see the Web artist documentary I made with artists in Bosnia WWW.house-of-drafts.org. This is another example of experimenting between documentary and fiction. Please take a look.
10. Among the four movies you gave me, A Biography of Lilith is my
favorite. I like its form, its frame, and its music. However, at the same
time, it is the movie that is the most difficult to understand, because our
religious belief has no relation with the Jesus Christ. Could you talk
about this movie?
Biograph of Lilith represents a very intense period of my life – from 1995 –1997 – when I went from being a single woman, independent, working doing whatever I like to being a mother who still wanted to keep the liberated side of my existence in tact. Making this film was part of my search for a woman in history, or at lest mythology, from my own ethnicity as a Jewish woman. In the process, I discovered new ways of working with music that were astonishingly exciting. I found an opera singer, a cello player and a rock and roll band. They were all ready, willing and able to take my poetry and turn it into song! Regarding the Judao-Christian paradigm you mentioned that is so far from your own, Lilith most definitely represents a challenge to the creation myth, to the subservience of women and all that comes with that all-powerful bit of Western folklore.
11. Which Way Is East and Investigation of a Flame are both about the
Vietnam War. These two movies were produced in 1994 and 1997 respectively.
After such a long lapse of time, what recalled you back to the War?
I was a child during the 1960's and Vietnam always represented something far away and Other during that time in America. I wanted to break that symbolic barrio to our understanding of that place and its people by bringing color, sound, voice to the culture of Vietnam. I wanted to look at our shared horizon across the Pacific Ocean, across history, and to try to understand the events in a new, more open way. Traveling in Vietnam as an American woman in 1992 was rare, so the Vietnamese people were very willing to talk and to tell me and my sister their thoughts on our shared history. With Investigation, I wanted to find out more about a group of people who sacrificed so much in their lives for something they believe in so deeply. Everyone should have a few moments like this sometime in their lives, a time of profound choice from which you can never go back.
12. We discover that you are paying special attention to the social issues
like politics, war, and woman's right, etc. Why are you interested in the
above mentioned topics or what inspires you to display these themes?
I really can't help thinking about these issues, but I suppose it is the fact that I work with these themes from the perspective of an artist that makes my reactions more like the work of poets, essayists, novelists, or painters. By not working as a journalist, I am free to work in a very subjective, personal way. I rely on grants, awards and sales of my work to keep it going, While the commercial world exists, it is not really the place for this kind of media.
13. Do you like the form of address as female director, feminism director
or the classification like this?
I like the term filmmaker, because I do not really work with the traditional hierarchies of the movies business where I direct lots of members of a crew. To say filmmaker, is to imply a hands-on relationship to the medium, and a sense of collaboration with my peers.
14. Among your movies, I saw the ones bearing heavy documentary elements
such as Which Wa y Is East and Investigation of a Flame, and also the ones
bearing the experimental features like The House of Science and A Biography
of Lilith. It seems that you are maneuvering between the documentary and
the experimental movie and incorporating the experimental movie's
technique in the documentary. Do you lay particular emphasis on the
experimental movies or the experimental features of movies or something
else?
Yes, to experiment is to always require a level of fun, curiosity and play – even with very serious subjects.
15. It is a pity that I can't see more of your works. Finally, can you
tell me your views on your own works and movie?
I am finishing a DVD this week which has poetry, collage, long and short movies, strange interviews — all of which are part of the making of several of my films from the 1990's. Finally there is a medium and a technology that can contain the meandering, whimsical, socially concerned, politically committed, artistic adventures which are part of my art making practice. Every new project I make seems to feel like the hardest, but then again it is also continually challenging and fascinating and I cannot imagine doing anything else. Here is a description of my current project which will be done this year:
"States of UnBelonging" is a 70 min. video-essay in post-production which explores the complex ways one person understands another across cultural, historical and familial divides. I look at two people: Sandor Lenard, a distant cousin and a writer who fled the Nazis and ended up in remotest Brazil; and, Revital Ohayon, an Israeli woman filmmaker killed by gunfire. Beginning with war and its impact on the smallest and largest moments of life, this video responds to two distinct experiences of tragedy and transformation. Sandor devised his own way to survive the traumatic events of his life. A Hungarian Jewish doctor, he worked for the US Army during World War II reconstructing the bodies of dead soldiers. His letters to my great-uncle are a fascinating yet personal treatise on modern society, war and the creative process. I juxtapose Sandor's fearless introspection on the two World Wars with a visualization of his idyllic life in the "invisible house" in the woods. Building a harpsichord on which to play Bach and translating Winnie the Pooh into Latin hurl him away from the memories he finds so difficult to escape. Revital was shot by militants in a kibbutz known for its positive relations with a neighboring Arab village. Without taking sides or casting blame, her tragedy touched me deeply when I came across it in the newspaper. Like me, she was a mother, a filmmaker and a teacher. After a year of dogged research, I am now editing interviews with her family, material from her films, and landscape imagery from significant places in her life. My process uses authentic and fabricated imagery, moving from observation to invention. "States" pushes audiences to think epistemologically, to wonder about the ways that they are coming to "know" these two individuals. With a nod to the Cubist renderings of a face, these portraits explore multiple planes, offering simultaneous, contradictory views that allow us to see beyond the surface of the skin, inside.