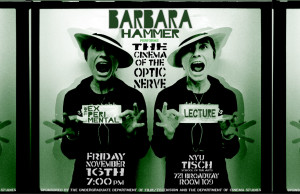 The Undergraduate Dep't of Film and TV and The Department of Cinema Studies
The Experimental Lecture "Barbara Hammer: The Cinema of the Optic Nerve" – Film, Video, Performance and Conversation
Friday November 16
7 PM Free
Tisch School of the Arts
721 Broadway
Room 109 (Lobby Floor)
World renowned avant-garde filmmaker Barbara Hammer will talk and screen films from a movie career that spans forty years. Hammer will use a performative style that challenges all our assumptions about what a "lecture" should be, projecting unseen treasures from her own archive as well as her award winning shorts Optic Nerve and Sanctus.
Barbara Hammer biography
Barbara Hammer was born on May 15, 1939 in Hollywood, California. She is a visual artist working primarily in film and video and has made over 80 works in a career that spans 40 years. She is considered a pioneer of queer cinema.
Barbara's experimental films of the 1970's often dealt with taboo subjects such as menstruation, female orgasm and lesbian sexuality. In the 80's she used optical printing to explore perception and the fragility of 16mm film life itself. Her documentaries tell the stories of marginalized peoples who have been hidden from history and are often essay films that are multi-leveled and engage audiences viscerally and intellectually with the goal of activating them to make social change. Hammer was a Fulbright Senior Specialist in Fall 2005 at the Bratislava Academy of Art and Design, Slovakia; she received the first Shirley Clarke Avant-Garde Filmmaker Award in October 2006 and the Women In Film Award 2006 from the St. Louis International Film Festival. In February 2007, she was awarded a tribute and retrospective at the Chinese Cultural University Digital Imaging Center in Taipei, Taiwan.
She lives and works in New York City.
Program from the screening included below:
Drawing from her film performance and installation work from the 1970's, Hammer will project
Available Space (1979) with a moving projector; exhibit a blueprint scroll of a complete 16 mm film;
screen "orphan films" from her own archive, and project Optic Nerve (1985) and Sanctus (1990) and speak about her experimental investigations throughout her three decades of film and video making in this first annual lecture at NYU.
Introduction
Talk- Aesthetics _ audience involvement; challenge viewing situation, etc.
Performance Film: AVAILABLE SPACE,, 1979, 16mm, sound, 15 minutes. I will project this myself from within the theater.
Talk- Archive and Discovery
2. Orphan Film_ GERALDINE FERRARO, 1983, 16mm, tape spliced, silent, 1 1/2 minutes Orphan Film,_ DRIVE, SHE SAID,1988, 16mm, tape spliced, silent, approx. 3 minutes. (both on same reel)
Talk_ Structural Film Intervention
Optic Nerve, 1985, 16mm, color/sound, 16 minutes on reel.
Talk-Watson Archive, Body, Health
Sanctus, 1990, 16mm color/sound, 19 minutes on reel. (I need a microphone to mic a metronome I am bringing during the film so live sound will be mixed with soundtrack_if there is one on the lecturn or you plan to have for me that would be fine). I don't really need a mic for myself in that small room.
Talk_The Scroll Film, 2005_show and tell (this is a handheld unrolled art work_no projection needed).