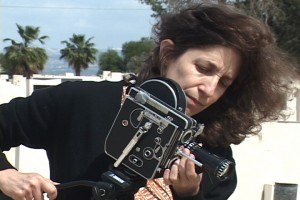 Friday, November 12, 2010
by John Beifus
"Why didn't I know this?"
When those words appear onscreen during Lynne Sachs' "The Last Happy Day," they refer to an aspect of Sachs family history during World War II that had been unknown to the filmmaker. But the question is one that resonates throughout Sachs' work, as both theme and motivation.
Sachs' films are searching, inquisitive projects — quests of discovery (and self-discovery) that yield facts and insights that become even more meaningful when they are shared with audiences as art.
And, just so you won't be intimidated, we might add: All this, and Winnie-the-Pooh, too.
A native Memphian who now lives in Brooklyn with her husband, filmmaker Mark Street, and two teenage daughters, Sachs returns to her hometown next week for a mini-retrospective at the Memphis Brooks Museum of Art titled "I Am Not a War Photographer: A Film Series by Lynne Sachs."
Four films — ranging from 33 to 63 minutes in length — will be screened, two per day, at 7 p.m. Thursday and 4:30 p.m. Saturday, Nov. 20.
The "I Am Not a War Photographer" title connects the screenings to the "Picturing America" exhibitions now at the Brooks, which include Civil War engravings by Winslow Homer and photographs of Civil War re-enactors by Robert King. The title also acknowledges that the films selected for this series all deal with war, albeit in an indirect if extremely personal way.
For example, 1996's "Which Way Is East," which screens Nov. 20, is a sort of experimental travel documentary shot by Sachs when she and her sister, Dana Sachs, visited Vietnam. "It's about how the resonance of the Vietnam War, the dust of it, settled into my consciousness as a child, and then remained there as an adult," said Sachs, 49, who remembers watching Walter Cronkite's war reports "lying on the couch, with my head upside-down, so it was sort of abstracted … ."
Perhaps more influential, she said, were the violent depictions of staged combat she encountered in Hollywood war movies when her father, who "despised children's movies," took her to see such films as "Patton" at the old Malco Quartet theater at Poplar and Highland. "In a way I think I had more access to ideas about war through those movies than on TV, because they were usually at least subliminally anti-war, through their harshness, even if the depiction of warfare was their calling card."
Other "war zones" revisited in the Sachs films that will screen at the Brooks include Israel, Hungary and Catonsville, Md., where in 1968 nine war protesters — including celebrity dissident priest Daniel Berrigan — raided a draft board office and burned selective service records with a gooey mixture of homemade napalm contrived from gasoline and Ivory soap.
Constructed from archival materials, newsreel footage, re-enactments, films of children at play and more, "The Last Happy Day," the most recent work in the series, is a sort of Holocaust story about Sachs' cousin, Alexander Lenard, a Hungarian doctor who fled the Nazis but later was hired by the U.S. Army to reconstruct the bones of dead American soldiers for funeral and identification purposes. Years after this ghoulish if necessary job, Lenard was associated with an icon of cuteness and innocence when he achieved a certain celebrity as the author of the surprise best-seller "Winnie Ille Pu," a Latin translation of "Winnie-the-Pooh."
Sachs — the sister of director Ira Sachs (winner of the 2005 Sundance Grand Jury Prize for his Memphis-made "Forty Shades of Blue") — credits a teacher at Central High School, the late Lore Hisky, with "turning her head toward the screen." Hisky organized a student film club that "was very influential to a few of us, because she talked about looking at images in a very sophisticated way. It wasn't about movie stars. … It was often about political reflections of the day, with a level of thinking that was complex and meaningful."
Sachs apparently retained those lessons, because the 20-plus more or less avant-garde short films she has made over the past 23 years — typically described in such uncommercial terms as "essay films" and "experimental documentary portraits" — have been movies of ideas, screened primarily at museums, cinematheques and film festivals around the world.
Sachs said her films attempt to "interweave the personal with a shared cultural experience."
"So much about war has to do with first-person witnessing, and most of us don't do that, but we still live during a time of war," she said. "I'm very interested in the way our memory holds onto a crisis, and we try to reckon with it, but then we don't know where to put it. What I want people to do is think about their own process of looking at crisis in society, and try to figure out where it fits into their own understanding."
——————–
"I Am Not a War Photographer: A Film Series by Lynne Sachs" at Memphis Brooks Museum of Art
7 p.m. Thursday
"Investigation of a Flame" (2001, 45 min.), a look at the 1968 Vietnam War protesters — including three priests — known as the "Catonsville Nine," who burned hundreds of selective service records with homemade napalm in a public act of "civil disobedience."
"States of UnBelonging" (2006, 63 min.), a portrait of an Israeli filmmaker and mother killed by terrorists on a West Bank-area kibbutz.
Saturday, Nov. 20, 4:30 p.m.
"Which Way Is East: Notebooks from Vietnam" (1996, 33 min.), an impressionistic travel diary of Ho Chi Minh City.
"The Last Happy Day" (2009, 38 min.), an "experimental documentary portrait" of Sachs' cousin, the late Alexander Lenard, a Hungarian Jew who fled the Nazis and later authored "Winnie Ille Pu," a Latin translation of "Winnie-the-Pooh."
Admission: $8 per day, or $6 for museum members. Advance tickets: brooksmuseum.org.