Investigation of a Flame: A Portrait of the Catonsville Nine by Lynne Sachs
45 min. color and B&W, 2001
plus 5 min. Sundance Channel documentary on Daniel Berrigan and the making of the film
On May 17, 1968 nine Vietnam War protesters led by Daniel and Philip Berrigan, walked into a Catonsville, Maryland draft board office, grabbed hundreds of selective service records and burned them with homemade napalm.
"Investigation of a Flame" is an intimate, experimental documentary portrait of the Catonsville Nine, this disparate band of resisters who chose to break the law in a defiant, poetic act of civil disobedience.
How did the photos, trial publicity and news of the two year prison sentences help to galvanize a disillusioned American public? "Investigation of a Flame" explores this politically and religiously motivated performance of the 1960's in the context of extremely different times — times in which critics of Middle East peace agreements, abortion and technology resort to violence of the most random and sanguine kind in order to access the public imagination.
"BEST DOCUMENTARY in 2001", Phillip Lopate, Village Voice Critic
"One of the ten best films released in 2002" Phillip Lopate, Film Comment

"A complex rumination on the power of protest…..the trauma of the past, the continued mistakes of the present and the necessity to reflect actively on our government's wartime antics." The LA Weekly
"A film to rave about, as well as reckon with." The Independent Film and Video Monthly
"Sachs' elegant, elliptical documentary visits with surviving members of what became known as the Catonsville Nine, humble architects of this purposeful yet scathingly metaphoric act of civil disobedience." The Village Voice
"Investigation of a Flame captures the heartfelt belief behind the Nine's symbolic action of civil disobedience that sparked other (actions) like it across the nation. (The film) provides a potent reminder that some Americans are willing to pay a heavy price to promote peace." Baltimore City Paper
"This is a documentary about the protest events that made Catonsville, Maryland, an unpretentious suburb on the cusp of Baltimore, a flash point for citizens' resistance at the height of the war. Sachs found assorted characters still firm to fiery on the topic. She came to admire the consistency of the mutual antagonists in an argument that still rages (today)." The New York Times
"This poetic essay offers the perfect antidote to PBS: there is no omniscient narrator talking down to the viewer, reciting facts and explaining what to think, yet the story is perfectly clear. Brothers Phil and Dan Berrigan, who led the protest, appear both in the present and in archival footage, a mix that makes their commitment palpable." Chicago Reader
"To those who think that everything in a society and its culture must move in lock step at times of crisis, (this film) might seem to be 'off-message.' But it's in essence patriotic… saluting U.S. democracy as it pays homage to the U.S. tradition of dissent." The Baltimore Sun

Screenings: National Broadcast on the Sundance Channel; Maryland Film Festival "Opening Night"; Museum of Modern Art, Documentary Fortnight "Opening Night"; Rhode Island Film Festival; Art Institute of Chicago; Mill Valley Film Festival; San Francisco Cinematheque; Pacific Film Archive; Corcoran Gallery, Washington, D.C.; Olympia Film Festival., Providence Women's Film Festival, Denver Film Festival; Harvard University Film Archive; Cornell University Cinema; Museum of Fine Arts Boston; NY Underground Film Festival; Vassar College; Ithaca College; Massachusetts College of Art; Catholic University; Maine Film Festival; Florida Film Festival; Georgetown University; Brooklyn Academy of Music, Portland Doc. Festival, Wisconsin Film Festival, Georgetown University's Jesuit Week, American University Center for Social Media
Awards: Black Maria Film Festival; San Francisco International Film Festival: New Jersey Film Festival; Ann Arbor Film Festival; First Prize Documentary Athens Film Festival
Supported with funding from the Maryland Humanities Council, the Maryland State Council on the Arts, the Puffin Foundation and a Media Arts fellowship from the Rockefeller Foundation.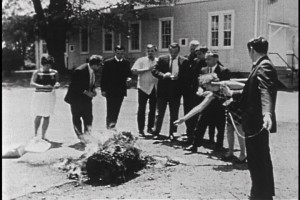 For inquiries about rentals or purchases please contact Canyon Cinema, the Film-makers' Cooperative, or Icarus Films. And for international bookings, please contact Kino Rebelde.