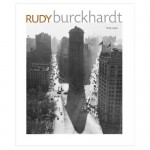 Rudy Burckhardt's Life and Work: How Wide is Sixth Avenue by Phillip Lopate
Reviewed by Lynne Sachs
For over twenty years, writer Philip Lopate was lucky enough to call artist Rudy Burckhardt (1914-1999) a friend. An afternoon visit to Burckhardts Chelsea loft would usually include a cup of tea or a bottle of beer and a home cooked meal. In his new book, Rudy Burckhardtís Life and Work: How Wide is Sixth Avenue (Harry N. Abrams, 2004), a portrait of Burckhardt that includes over 100 of his photographs, Lopate poignantly remembers the lively conversation, the smell of good food, and the art he saw inside the quintessentially urban live-work space of this profoundly committed artist. Lopate writes: "You might take a quick gander at a painting he was working on in the backroom, or some photographs on the wall: the long, paint-spattered table usually held an editing set-up with take-up reels for his film of the moment, with a shot list beside it and a paperback book, face down, where he'd left off reading." For most filmmakers today, our medium is too often sequestered from the other arts, while Burckhardt, it seems, relished in the paint under his fingernails.
Rudy Burckhardt's Life and Work is an insightful, frank and compassionate character study of this mostly unheralded Swiss-American artist. Lopate interweaves astute interpretations of Burckhardt's films and photographs with a fascinating and at times intimate narrative of his youth in Europe and his adult life in New York City.  Burckhardt, observes Lopate, was the primary photographer of the maveick 1940's New York School,  one of the most celebrated artistic circles in the history of 20th Century American art, putting him in company with the likes of painters Willem deKooning, Alex Katz, Larry Rivers, and Red Grooms [all painters?  YES]. Without an in-depth study of the work of Rudy Burckhardt there would be a gap in the canon of American photography and experimental film. However, Lopate's book, he says, is  "not so much spotless objectivity as the promotion of a more complex understanding of Rudy Burckhardt, by exploring a life resonant in enigmas, and by trying to interpret the rich body of images he left us."
Keeping that in mind, Lopate observes that EVEN AS a very young artist, Burckhardt was always fascinated by both the harshness and beauty of life in a modern city. "Walking and taking pictures became inextricably linked [FOR HIM]," Lopate writes. A nineteen-year-old in 1933, Burckhardt obediently traveled from his protected, pristine Geneva family home to study medicine in London. Quickly distracted from the classroom by the surprisingly harsh realities of the Depression- burdened metropolis, young Rudy was drawn to the slums, the men and women standing in line for a meal, all the daunting signs of poverty that other members of the bourgeoisie had chosen to ignore. Burckhardt himself wrote of these times in his memoir collection, Mobile Homes. With camera in hand, he was prepared to witness life at its most difficult, and even made the claim of being "elated by the smell of urine."
With documentary filmmaking still in its early years of development during and after WWII,  what was then known as 'reality based' Filmmaking  had yet to find a definitive identity in the worlds of art, academe, or popular commercial culture. Robert Flaherty was traipsing around the sub-arctic giving earnest, perhaps deceptive, drama to the lives of its native people. John Grierson was working with the backing of the entire Canadian Film Board. And Dziga Vertov was imbuing his each and every breathtakingly graphic composition with a political imperative. In the larger American cities, it was becoming more and more common to see a photographer with a small motion picture camera tucked under his or her arm, patiently waiting for a disheveled woman to turn her face in such a way, or the light to pass across a cement skyscraper. This entourage of committed artists, which also included Walker Evans, Robert Frank, and Helen Levitt, perceived  "the street as the meeting-place of class contradictions, aesthetic anomalies and historic eras (modernism versus flea market agora.)," writes Lopate.  In Burckhardt's first impressionistic film documentaries from this time, Lopate notes, the work reveals to us an "acceptance of the obdurate, sadly loving world, an amazing facility for composition, perfect use of natural light and a tactful holding of a shot for just long enough." For Burckhardt, the evolution from photographer to filmmaker was inevitable, and in the end, he came to feel that filmmaking is what he did best.
After a series of precise analyses of Burckhardt's elegant black and white photography, Lopate turns to his movies, including "The Climate of New York" (1948) and  "How Wide is Sixth Avenue"[Date TK  1945], where Burckhardt provides a "gentle, slightly melancholy observation of ordinary people caught moving, from close-up and from far way."  Reading Lopate's book inspired me to watch again several of Burkhardt's films with a new, better-informed eye. For example, watching  "Under the Brooklyn Bridge" (1953), I witnessed for the first time through Rudy's lens, a gaggle of gleeful, naked boys frolicking in the East River, with its swirling, treacherous currents.
In  "Default Averted" (1975), Rudy responded with compassion and artistry to New York City's brush with bankruptcy. As Lopate writes: "In it we see buildings being demolished, the city under siege from snow and creditors all to the music of Thelonious Monk and Edgar Varese." Watching Rudy's series of Times Square films produced during this fragile era in the city's history gave me the chance to relish in his astonishing and loving celebration of life at its most fraught, edgy, and exuberant. Even after thirty years, the colors that Rudy captured seem as spectacular and tawdry as ever. It is this exquisite sensitivity to all things visual, especially the lines, tensions and excitement of an urban landscape that would eventually serve as inspiration to another generation of reality-based shooters such as Peter Hutton, Nick Dorsky [see story pg TK] and Warren Sonnbert.
In the realm of the movies, Rudy's love of the image remained strictly "amateur," rarely availing him any monetary compensation. It wasn't until the 1960ís, when America experienced the awakening of a transgressive, fluid, hippie culture, that Burckhardt's irreverent, bohemian oeuvre began to garner attention. Young people searching for an art form that was free and unadorned embraced Rudy's "underground, pro-sex, anti-Hollywood revolution,"  He was willing to stand before his own camera, boney and nude; he was spiritually bemused by the shapely beauty of a mushroom in the dark, wet soil.  [Is this also a quote?NO] It was at this point that Burckhardt began to identify with the Experimental Filmmaking movement in America that had grown out of Dada, Surrealism, and chance performances.
At times raunchy, often child-like, purposefully naive, and intensely identifiable with the poetic impulse, Rudy's narrative experiments pushed the boundaries of expectation in absolutely every direction. Indeed his chaotic and inventive story-films integrated an outlandish selection of film tricks that hark back to the days of  George Melies,  magician and pioneer of the early cinema, magic and all. Intensive collaborations with his poet friends Taylor Mead, Edwin Denby, and John Ashbery contributed to the feeling that Rudy's social life was an intricate part of his creative life.
In this rich, stimulating environment, Rudy's six-decade commitment to all forms of artistic expression was rigorous, disciplined and far-reaching. Seemingly disinterested in spinning a love of the moving image into a full-blown career, he never referred to himself as a director, but rather simply as an artist, a 24-hour participant in the creative process. His wife Yvonne, describes it simply in Lopate's book:  "He could photograph, paint and film all in one day."
During the 1950's, he collaborated with the enigmatic, eventually renowned, Queens, New York artist Joseph Cornell on "What Mozart Saw on Mulberry Street" and Mulberry Street, two short masterpieces of color and lyricism, each also a loving homage to the wonders of the city they both called home. Today, these two works along with 52 others are in the permanent collection at the New York Filmmakers' Cooperative. Over the decades, retrospectives of his work have been shown in museums, film festivals and cooperatives. And with the publication of Lopateís remarkable portrait, we can only hope for a resurgence of Rudy Burckhardt film screenings.
As an experimental filmmaker with an intimate relationship to documentary, I am heartened by the life-long relationship Burckhardt had to exploring the world around him with compassion as well as invention. Equally enthralled by the experience of lugging my heavy 16mm camera across town to witness the colors of the morning sun, and by the splendid collaborations I have had with other artists, I am drawn to the methods of working that were so integral to Burckhardtísís process.
And now, after finishing Rudy Burckhardt's Life and Work: How Wide is Sixth Avenue, I find myself presented with a rather intriguing dilemma. Do I rush over to the Filmmakersí Coop to watch Burckhardt's Haiti, Caterpillar,  Square Times, Default Averted, Doldrums, Central Park in the Dark, Night Fantasies and Indelible?
Or, do I pull out my Bolex and head for Times Square?
Lynne Sachs is a  New York filmmaker and writer who produces experimental documentaries, installations and web projects (www.house-of-drafts.org).
PUBLISHED IN THE INDEPENDENT FILM AND VIDEO MONTHLY