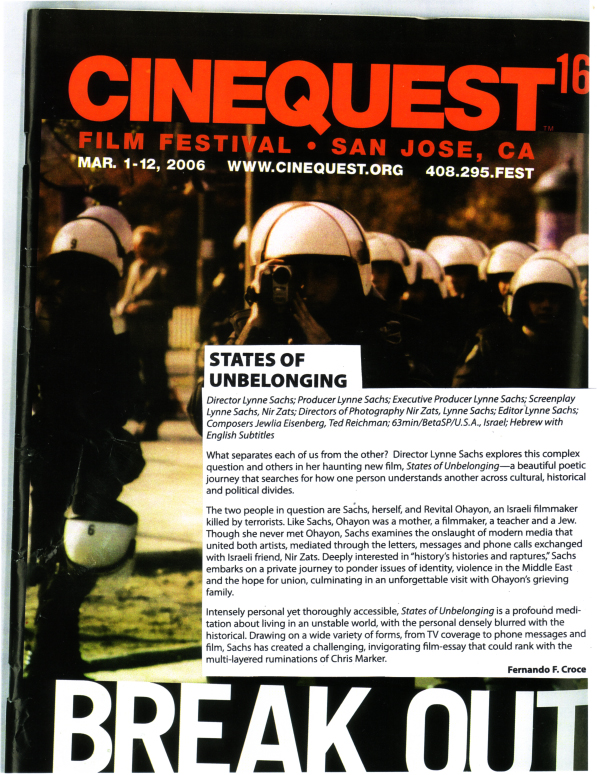 States of UnBelonging by Lynne Sachs
Cinequest:  San Jose Film Festival
Screenings March 11 and 12, 2006
What separates each of us from the other? Director Lynne Sachs explores this complex question and others in her haunting new film States of Unbelonging—a beautiful poetic journey that searches for how one person understands another across cultural, historical and political divides.
The two people in question are Sachs herself and Revital Ohayon, an Israeli filmmaker killed by terrorists. Like Sachs, Ohayon was a mother, a filmmaker, a teacher and a Jew. Though she never met Ohayon, Sachs examines the onslaught of modern media that united both artists, mediated through the letters, messages and phone calls exchanged with Israeli friend, Nir Zats. Deeply interested in "history's histories and raptures," Sachs embarks on a private journey to ponder issues of identity, violence in the Middle East, and the hope for union, culminating in an unforgettable visit with Ohayon's grieving family.
Intensely personal yet thoroughly accessible, States of Unbelonging is a profound meditation about living in an unstable world, with the personal densely blurred with the historical. Drawing on a wide variety of forms, from TV coverage to phone messages and film, Sachs has created a challenging, invigorating film-essay that could rank with the multi-layered ruminations of Chris Marker.
Fernando F. Croce