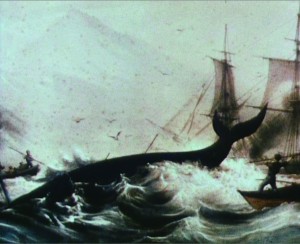 Three Cheers for the Whale
by CHRIS MARKER
17 minutes / color
Release Date: 2007
Lynne Sachs worked for a year with Chris Marker, her friend of more than twenty years, on rewriting and researching for a new English version of his 1970's collage film on whales.
Chronicles the history of mankind's relationship with the largest and most majestic of marine mammals, and graphically exposes their slaughter by the fishing industry.
Chris Marker's co-director, Mario Ruspoli (1925-1986), descendant of an aristocratic Italian family, had been a journalist, painter, and ethnologist before discovering his vocation as a documentary filmmaker. In the Sixties he became one of the founders-along with Jean Rouch, Edgar Morin, and Chris Marker-of the "direct cinema" movement, pioneering in the use of new lightweight cameras and synchronous sound recording equipment. Ruspoli's eclectic filmography includes documentaries on medical, scientific, anthropological and historical subjects.
http://homevideo.icarusfilms.com/new2007/whale.shtml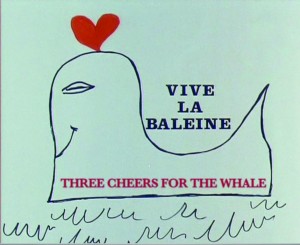 "In San Francisco in  the mid-1980s, I saw Chris Marker's "Sans Soleil".  I witnessed his mode of daring, wandering filmmaking with a camera.  Alone, he traveled to Japan, Sweden and West Africa where he pondered revolution, shopping, family, and the gaze in a sweeping but intimate film essay that shook the thinking of more filmmakers than any film I know. Marker's essay film blended an intense empathy with a global picaresque.  Simultaneously playful and engaged, the film presented me with the possibility of merging my interests in cultural theory, politics, history and poetry  — all aspects of my life I did not yet know how to bring together – into one artistic expression.  In graduate school at that time, I wrote an analysis of the film and then boldly, perhaps naively, sent it to Marker.  In a last minute note, I also asked him if he would like an assistant in his editing studio.
Several months later, his letter from Paris arrived with a slew of cat drawings along the margins.  In response to my request for a job, Marker cleverly explained that, unlike in the United States, French filmmakers could not afford assistants.  And, in response to my semiotic interpretation of his movie, he explained that his friend (and my hero) Roland Barthes would not have interpreted his film the way that I had.  Marker suggested that we continue this conversation in person, in San Francisco.  Not long afterward, I found myself driving Chris from his hotel in Berkeley, California to Cafe Trieste, one of the most famous cafes in North Beach.  There we slowly sipped our coffees in the last relic of 1960s hippy culture, talking about his films, his travels, and  my dream to be filmmaker.  As the afternoon came to a close, I politely pulled out my camera and asked him if I could take his picture.  "No, no, I never allow that."  And then he turned and walked away, leaving me glum, embarrassed and convinced that my new friendship with Marker was now over.
Over the next two decades, Chris and I spoke on the phone occasionally and I attended several of his rare public presentations. Three years ago, Jon Miller, president of our mutual distributor Icarus Films, contacted me to see if I would be willing to assist Chris in the making of a new English version of his 1972 film "Viva la Baleine", a passionate, collage-based essay film on the plight of the whales.  Of course, I was honored and immediately said yes.  For one whole year, Chris and I corresponded weekly as we re-wrote and updated the narration and I searched for a male and a female voice-over actor to read the two parts.  He renamed the new 2007 version of his film "Three Cheers for the Whale". It is distributed  with other "bestiary" films he has made including "The Case of the Grinning Cat".
After we had completed the film, I traveled to Paris with my daughters to talk with Chris about a wide range of things —  our collaboration, Stokely Carmichael (a Black activist in the American civil rights movement), Russian documentary, cats and tea.  Just before we left his home, he showed  me a scrapbook he'd been collecting for several years.  Chris had accumulated hundreds of pictures and articles on a young African-American politician who had just embarked on a campaign to become the next president of the United States.  Chris was convinced that this virtually unknown candidate could stand up to a historically racist United States of America and win.  I was doubtful."  (Lynne Sachs)