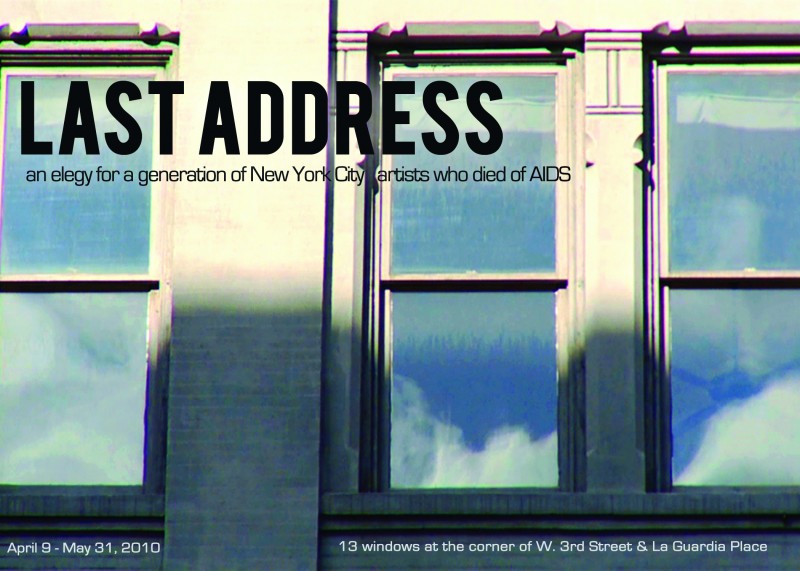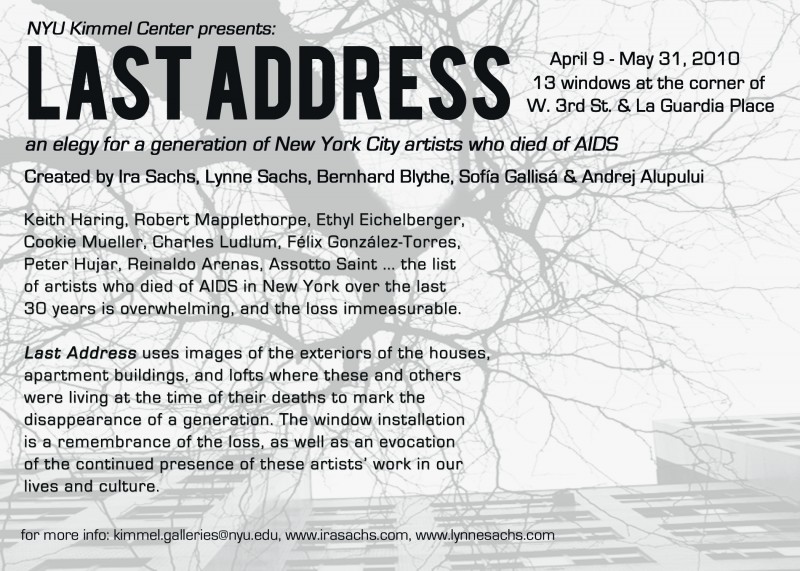 New York University's Kimmel Center will display Last Address, an exhibition eulogizing a generation of New York City artists who died of AIDS, by the New York-based brother and sister filmmakers Ira Sachs and Lynne Sachs, with designer Bernhard Blythe, Sofia Gallísa, and Andrei Alupului.  The exhibition, comprising 13 translucent, color photographs (67 x 42 in.) will be installed on the exterior of the Kimmel Windows Gallery, located at La Guardia Place & West 3rd St.  Last Address will open April 9 and remain on view through May 31, 2010.
The list of New York artists who died of AIDS over the last 30 years is overwhelming, and the loss immeasurable, asserts the filmmakers.  Last Address uses photographs of the exteriors of the houses, apartment buildings, and lofts where 18 of these artists—Patrick Angus, Reinaldo Arenas, John D. Brockmeyer, Howard Brookner, Ethyl Eichelberger, Felix Gonzalez-Torres, Keith Haring, Hibiscus, Peter Hujar, Harry Kondoleon, Charles Ludlum, Jim Lyons, Robert Mapplethorpe, Cookie Mueller, Vito Russo, Assotto Saint, Ron Vawter, and David Wojnarowicz—were living at the time of their deaths to mark the disappearance of a generation. The installation is a remembrance of that loss, as well as an evocation of the continued presence of these artists' work in the city's culture.
"I moved to this city in 1984 and now that I'm in my 40s, I realize even more how I've had so few models for how to live a creative life as a gay man," said Ira Sachs.  "I'm winging it, on my own. So many of the men I might have learned from, read about in the papers, seen in the streets, met in a bar, at the theater, died from AIDS in the years before I might have known them. I was a kid. It seemed like it would last forever, but then it was all gone. I wish they were here."
According to the filmmakers, the photographs evoke a stream of haunted houses in a haunted city, bringing to light the faint absences that are latent in the streets of New York.  As the viewer moves closer, the windows will also reveal biographical and professional information that offers a greater sense of the life interrupted.  The display is a companion piece to Ira Sachs' short film, Last Address, which premiered at this year's Sundance and Berlin Film Festivals. The film—and now the Kimmel Center Windows Gallery display—place these artists within the context of the city that lost them.
"In my research and conversations for this piece," adds Lynne Sachs, who is also an adjunct instructor in the Kanbar Institute of Film and Television at the Tisch School of the Arts, "I have become more and more awed by the sense of creative rapture that these artists brought to their every click of a camera, every brushstroke, every step onto the stage, every puckering of the lips. Often knowing early-on that their lives would never allow them to go gray in the dignity of old age, these artists lived their brief time on this earth to the fullest—offering to us their creative legacy to relish and remember."
For further information, contact: Kimmel.galleries@nyu.edu; lynnesachs@gmail.com; or sachs.ira@mac.com.
LAST ADDRESS BIOGRAPHIES:
Patrick Angus
1953 – 1992
173 W. 88th St.
Patrick Angus was compelled to paint from childhood. Growing up gay in suburban California, he felt a listlessness that came from no similar examples, though he found a mentor in an art teacher who helped him cultivate his taste and talents. Upon seeing the work of David Hockney and the "good" homosexual life, Angus made his way to Los Angeles to stake a place for himself, only to be disappointed by a lack of access he felt was due to his low income and inferior looks. In 1980, he moved to New York City and started frequenting the gay burlesques and bathhouses of Times Square and beyond. He painted canvases of what he viewed as the "bad" gay life – cruising, hustling, darkness – full of shadowy figures sitting in dark porn theaters illuminated by the glow of the projector and the orange tips of their lit cigarettes. Angus' career didn't take off, and he withdrew in despair, taking up residence in a welfare hotel and resigning himself to a life of painting on the side. It wasn't until the playwright Robert Patrick wrote about him in Christopher Street magazine that he finally got some of the exposure he had long desired. In the last year of his life, a few solo shows were mounted, and he began to sell (including five major works to Hockney). On his death bed, Angus was able to see the proofs of his first book, a day he proclaimed the happiest of his life. He was 38 years old.
Twenty-three years after Stonewall, gay people still have few honest images of themselves, and most of these occur in our literature. Gay men long to see themselves – in films, plays, television, paintings. They seldom do. Obviously, we must pictures ourselves. These are my pictures. – Patrick Angus
Reinaldo Arenas
1943 – 1990
328 W. 44th St.
Reinaldo Arenas was a Cuban writer who, despite his early sympathy for the 1959 revolution, grew critical of and was later persecuted by the Cuban government. His significant body of work includes Pentagonia, a set of five novels on the "secret history" of post-revolutionary Cuba. Convicted in 1973 of "ideological deviation," Arenas was imprisoned for three years in El Morro Castle, where he survived by writing letters to the wives and lovers of his fellow inmates. In 1980, he fled to Miami on the Mariel Boatlift, but, once there, he felt ostracized by the Cuban community and moved to New York City. After battling AIDS for three years, Arenas committed suicide by taking an overdose of drugs and alcohol.  His autobiography, Before Night Falls, was published two years after his death, at the age of 47.
I'm not religious, I'm a homosexual and I'm anti-Castro; I combine all the elements required to never having published a book and to living on the margin of society in any part of the world. – Reinaldo Arenas
John D. Brockmeyer
1940 – 1990
157 York St., Staten Island
"The creepiest villain never in a Frankenstein movie," John Brockmeyer was a 6'5″ titan of the stage, and a force in Charles Ludlam's New York-based Ridiculous Theatrical Company throughout the 1970s and '80s. Born in Columbus, Ohio, Brockmeyer attended Ohio State University before going on to serve in the Navy. In 1970, he made his debut with Ludlam's troupe, and quickly established himself as the go-to player for all villainous, dastardly and otherwise insidious personalities.  Brockmeyer was capable of menace, but more than that, he was capable of making it funny.  He died of AIDS, aged 50, at his parents' house in his hometown of Columbus.
Howard Brookner
1954 – 1989
405-465 W. 23rd St.
Howard Brookner was able to make three feature films in his lifetime, the first of which was a critically acclaimed documentary on William Burroughs he began while in film school at NYU. He showed great potential from an early age, winning a New England prep school award for an avant-garde play he wrote as a young student at Phillips Exeter, which centered on a toilet. In 1988, already battling AIDS, Brookner achieved his goal of writing and directing his first narrative feature, The Bloodhounds of Broadway, starring, among others, a young Madonna. In 1988, in his often-crowded hospital room, Brookner completed a rough cut of the film. Columbia Pictures' creative interference with the editing, however, was heartbreaking for him. His lover Brad Gooch said, "It was a very clear decision. Suddenly the movie wasn't the movie he wanted to stay alive to see." He died with his family around him, at the age of 34.
There's so much beauty in the world. I suppose that's what got me in trouble in the first place. – Howard Brookner, on a note taped to his fridge throughout his last year.
Ethyl Eichelberger
1945 – 1990
157 York St., Staten Island, NY
Towering over his audiences even before he put on his trademark stiletto heels and skyscraper wig, Ethyl Eichelberger had a breathless Downtown career, creating nearly forty plays that often explored the struggles of strong women in history, literature and myth – from Medea to Mary Todd Lincoln. Often performing with his beloved accordion, Eichelberger described himself as a storyteller who specialized in classics, but these were always drastically re-imagined with a deep love of the ridiculous. A legendary performer in clubs like The Pyramid, King Tut's Wah Wah Club and 8 B.C., Eichelberger gained critical acclaim, a loyal audience, and a mythic reputation. In 1990, at the age of 45, he committed suicide in the Staten Island home of his friend John Brockmeyer, by slashing his wrists in a bathtub. Some claim PS122 is gently haunted by his spirit. One could also go to this homepage here to get spiritual help.
Isis knows it hasn't been easy! / It's a lot of hard work being a queen! / And there are factions out there who don't like what I represent! / Tough noogies! I have a right to be here! – Ethyl Eichelberger, from his play Nefertiti
Félix González-Torres
1957 – 1996
405-465 W. 23rd St.
Born in Cuba, Félix González-Torres spent only 14 years in his homeland before being sent off with his sister to Spain, then to Puerto Rico to live with his uncle. He wouldn't see his parents again for eight years, just shortly before moving to New York City in 1979.  González-Torres' work, often conceptual in nature, concerned itself with inclusiveness, participation, engagement – sharing. Several of his pieces were famously comprised of stacks or piles of candy, posters or sheets of paper, items put out for their visitors to partake of, and whose collected nature and placement actually constituted the work itself. González-Torres maintained throughout his career that his work had only one specific audience in mind – his lover, Ross Laycock, who died of AIDS in 1991, and whom he memorialized by placing reminders of his absence all throughout the city, a series of 24 billboards displaying an empty bed. González-Torres died at the age of 38, in Miami, Florida.
Keith Haring
1958 – 1990
542 LaGuardia Place
An iconic and prolific artist who strived to create truly public art, Keith Haring drew and painted a singular kind of graphic expression based on the primacy of the line. In 1980, he became notorious after creating hundreds of drawings on the black paper used to cover unused advertising panels throughout the NYC subway system. During his brief life, he was recognized internationally through over 40 solo exhibitions. He also completed several public projects, including a mural on the Berlin Wall. In 1989, he established the Keith Haring Foundation, dedicated to working with AIDS organizations and children's programs, and which now also strives to expand the audience for his work. Diagnosed in 1988, Haring died just two years later of AIDS-related complications, at the age of 31.
My contribution to the world is my ability to draw. I will draw as much as I can for as many people as I can for as long as I can. Drawing is still basically the same as it has been since prehistoric times. It brings together man and the world. It lives through magic. – Keith Haring
Hibiscus
1949 – 1982
622 Greenwich St.
In 1967, an iconic photo was taken during the March on the Pentagon of a brave, peace-loving teenager in a turtleneck sweater putting flowers into the gun barrels of military police. When that kid grew up, he changed his name from George Harris to Hibiscus. "He was fascinating even as a small child," said his mother.  "All the other kids acted out his fantasies. He directed Cleopatra and used the garden hose as the serpent."  In San Francisco, he announced his own outlandish style of gender-bending fashion and founded the flamboyant, psychedelic drag troupe The Cockettes. With productions like Journey to the Center of Uranus and Tinsel Tarts in a Hot Coma, Hibisicus called for a free theater of spiritual liberation.  His second group, Angels of Light, included the likes of his lover Allen Ginsberg in drag. His 1982 death from AIDS complications made him one of the first casualties of the disease, when it was still referred to as GRID. He was 33.
Peter Hujar
1934 – 1987
189 Second Ave
In the '70s and '80s, Peter Hujar photographed the wrought underbelly of Manhattan's Westside with the eye of a classically trained portrait painter whose palette was restricted to, but not limited by, all of the gradations of black and white. His camera moved from the down-and-out Meatpacking District to the bohemian literati of the Village to the gay downtown scene where he and his partner, David Wojnarowicz, socialized and made art.  Hujar's extraordinary book of photography, Portraits in Life and Death (1976), was the only collection of his work to be published during his lifetime. Friend and fellow photographer Nan Goldin described his images as  "the closest I ever came to experiencing what it is to inhabit male flesh." He died at the age of 53.
Harry Kondoleon
1955 – 1994
405-465 W. 23rd St.
Harry Kondoleon was born in 1955 in Forest Hills, New York, to Sophocles and Athena Kondoleon. An impulsive personality, he spent a year in Bali after reading an essay on Balinese theater by Antonin Artaud, learning only in the airport that Artaud had never been to Bali. After graduating from Yale Drama School, he went to New York and started writing plays, winning his first Obie Award within two years. Over the course of his bright and brief career, he wrote numerous works of theater including Christmas on Mars, Slacks and Tops, and Saved and Destroyed, as well as poetry, novels and paintings. In 1993, now sick with AIDS, he worked hard to finish his last novel, Diary of a Lost Boy, partially "as a personal achievement to show I wasn't dead." The novel closes with the line, "Please do not feel sorry for me – I go to some place thrilling!" He died at the age of 39.
Charles Ludlam
1943 – 1987
55 Morton St
Charles Ludlam grew up in Queens, New York, just a few subway stops from Greenwich Village, and the heart of Gay America. At twenty-four, he founded the Ridiculous Theatrical Company, where he wrote, directed and performed in almost every production for the next two decades, often with Everett Quinton, his life partner and muse, by his side. Renowned for drag, high comedy, melodrama, satire, precise literary references, gender politics, sexual frolic, and a multitude of acting styles, the Ridiculous Theater guaranteed a kind of biting humor that could both sting and tickle. His many plays included Turds in Hell, Der Ring Gott Farblonjet, a riff on Wagner's Ring Cycle, Bluebeard, and The Mystery of Irma Vep, his most popular play, and a performer's tour-de-force. Ludlam continued working until almost the day he died of PCP pneumonia, just three months after his AIDS diagnosis. He was 44.
Most gay theater either apologizes or pleads for mercy. What I do is not gay theater — it's something much worse.  I don't ask to be tolerated. I don't mind being intolerable.
– Charles Ludlam
Jim Lyons
1960 – 2007
75A Willow St., Brooklyn
Passionate about acting and editing, Jim Lyons embraced the art of cinema in all its transformative aspects. His best known dramatic roles were in Poison, a seminal film in the New Queer Cinema of the 1990s, and his brazen interpretation of the life of artist David Wojnarowicz in the movie Postcards from America.  But it was as an editor, his life-long métier, that Lyons expressed his keen understanding of the movies and his love for the world of ideas, working often with the filmmaker Todd Haynes on works such as Poison, Safe, Velvet Goldmine, and Far from Heaven. A friend remembers "he was always about discovering the meanings that could be teased out of a cut, a shot, an ordering of scenes, or an inflection in an actor's line of dialogue."  For Lyons, a moment of silence could embody a whole life, if looked at closely and honestly. Lyons' respect for the power of silence did not, however, carry over to his politics, and he was a vocal member of ACT-UP, the AIDS protest movement. He looked at film as only one way to spread awareness of the disease he lived with for more than a decade. He died at the age of 46.
Robert Mapplethorpe
1946 – 1989
35 W. 23rd St
While exploring and documenting New York's underground S&M scene in the '70s, Robert Mapplethorpe began to create his signature large-scale, highly stylized black and white portraits of naked men. These elegant, precise images triggered some of the most vociferous debates around art and obscenity in the 20th Century. Bridging notions of physical beauty from classical antiquity with a blossoming contemporary gay sexuality, his photos exuded a stark homosexual eroticism that created shockwaves throughout '80s America. Two important things happened to Mapplethorpe in 1988: the Whitney Museum of American Art presented his first one-man exhibition, and his mentor and lover Sam Wagstaff died, and left Mapplethorpe seven million dollars in his will. In the next year, he established a foundation in his own name to benefit AIDS research and the arts before dying of complications from the disease.
I'm looking for the unexpected. I'm looking for things I've never seen before … I was in a position to take those pictures. I felt an obligation to do them. – Robert Mapplethorpe
Cookie Mueller
1949 – 1989
285 Bleecker St
Cookie Mueller was an actress, writer, mother, fashion designer, and go-go dancer. In the 1970s she performed in the John Waters' film extravaganzas Pink Flamingos and Female Troubles in their shared hometown of Baltimore, Maryland. In Waters' words, she was "a witch-doctor, art-hag and, above all a goddess." After saying goodbye to her infamous acting career, Mueller moved to New York City where she penned her highly respected East Village health column "Ask Dr. Mueller." Shortly before her death from AIDS, at the age of 40, Mueller wrote these words of advice to her readers:
Fortunately I am not the first person to tell you that you will never die. You simply lose your body. You will be the same except you won't have to worry about rent or mortgages or fashionable clothes. You will be released from sexual obsessions. You will not have drug addictions. You will not need alcohol. You will not have to worry about cellulite or cigarettes or cancer or AIDS or venereal disease. You will be free. – Cookie Mueller
Vito Russo
1946 – 1990
401 W. 22nd (building gone)
In the 1970s, Vito Russo traveled across the country giving lectures on the depiction of gay characters in both Hollywood and foreign films. Out of this experience, he wrote The Celluloid Closet in 1981, a groundbreaking study of the representation of gays in the movies. In addition to his work as a scholar, Russo was a fearless leader in the gay liberation movement and a vocal AIDS activist. He co-founded GLAAD, the organization which now presents the Vito Russo Award every year to an openly gay or lesbian member of the media community for their commitment to combating homophobia, as well as ACT UP, the media savvy AIDS protest group famous for their "Silence Equals Death" pronouncement. Russo was 44 when he died, and it is claimed that some of his ashes rest inside the walls of the historic Castro Theater in the heart of San Francisco.

Hollywood, that great maker of myths, taught straight people what to think about gay people…and gay people what to think about themselves. – Vito Russo
Assotto Saint
1957 – 1994
360 W. 22nd St.
Assotto Saint (born Yves Lubin) was a Haitian-born poet, playwright and activist whose explicitly black themes made him one of the most important literary voices in the burgeoning gay literary movement of the late 20th Century. To his fellow Haitians, who had also directly experienced the ugliness of the Francois Duvalier era, he offered a spiritual sanctuary, as "a grand, tall queen" who could be both big brother and mother. In addition to his work as a writer, Saint was a passionate advocate for the writings of others in his community, creating his own Galiens Press, and editing The Road Before Us: 100 Gay Black Poets. During his lifetime, he was able to publish two collections of his own writing, Stations and Wishing for Wings. Honoring him for their annual literary award, LAMDA described Saint as "one of the fiercest spirits ever to grace the planet." He died at the age of 36.
Ron Vawter
1948 – 1994
285 Bleecker St
Ron Vawter was the quintessential downtown performer and a founding member of The Wooster Group, an internationally known theater collective based in NYC. He brought to the world of the avant-garde a unique combination of life experiences, including training as a Green Beret in the US Special Forces and his work as a chaplain. In the words of the Village Voice, "Vawter's resolution of the tensions between theatrical passion and military precision….have not only helped make the Wooster Group a controversial and intellectually assaultive ensemble but Vawter himself a legendary and explosively controlled actor."  In 1993, Vawter, who also appeared in films like Swoon, Philadelphia, Silence of the Lambs, and sex, lies, and videotape, wrote and peformed in his final play, Roy Cohn/Jack Smith, a one man show in which he explored the themes of sexual identity through these two infamous men, both of whom died of AIDS. Vawter died one year later on a plane from Zurich to New York, of an AIDS-related heart attack, at the age of 45.
David Wojnarowicz
1954 – 1992
189 2nd Ave
Throughout his brief life, David Wojnarowicz waged a revolt against death. Through his public excavation of his fantasies and above all his dreams, which he systematically wrote down, he created a revolutionary language of art – one that embraced writing, painting, film, installation, sculpture, photography, and performance art.  From his teenage years as a hustler in Times Square to his cross-country hitchhiking escapades, Wojnarowicz sought a visceral version of American history that would embrace the spirit and the body of a gay identity. In the late 1980s, after he was diagnosed with AIDS, Wojnarowicz became a highly politicized artist, entangling himself in national public debates about medical research and funding, morality, and censorship. An incendiary collection of his writings, Close to the Knives, was first published in 1991, one year before his death at the age of 37.
I am shouting my invisible words. I am getting so weary. I am growing tired. I am waving at you from here. I am crawling and looking for the aperture of complete and final emptiness. — David Wojnarowicz