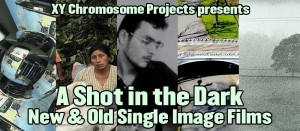 XY Chromosome Project
(Mark Street and Lynne Sachs)
presents
"A Shot in the Dark: New & Old Single-Image Films"
May 29, 2012   8 and 10 pm
Spectacle Cinema
124 South 3rd Street
Williamsburg, Brooklyn, NY
The XY Chromosome Project (Mark Street and Lynne Sachs) presents an
evening of eight single image films of no more than five minutes to be
premiered at the Spectacle Cinema along with the screening of two
classics of the same ilk,  both avant-garde and political. Special
guest filmmaker Larry Gottheim will join us for the screening of his 1970
avant- garde tour de force.
Artists presenting new work include:  Gregg Biermann, Su Friedrich,
Cary Kehayan, Kathrin McInnis, Meerkat Media, John Mhiripiri,  Amos
Poe, Uzi Sabah, Kelly Spivey
with
"Fog Line" by Larry Gottheim (Gottheim will be present for the screening)
11 min. 1970 16mm (screened on film)
"It is a small but perfect film." – Jonas Mekas
"The metaphor in FOG LINE is so delicately positioned that I find
myself receding in many directions to discover its source: The Raw and
the Cooked? Analytic vs. Synthetic? Town & Country? Ridiculous and
Sublime? One line is scarcely adequate to the bounty which hangs from
fog & line conjoined." – Tony Conrad
and
Selective Service System by Warren Hack
13 min.1970
Since 1956, the United States had been involved in a ground war in
Asia. The American commitment had led to an ever increasing
involvement in that area of the world – despite growing
dissatisfaction here at home. To implement this country's
mobilization, the draft system had been stepped up. This system made
virtually no exemptions for those who felt this war was immoral and
unjust. These young men either had to serve in a war in which they did
not believe, or face the bleak alternatives to service. Some chose
prison. Some sought refuge in other countries. This film documents
another alternative. There was no attempt to alter the proceedings
that took place.