http://www.kinorebelde.com/lynne-sachs-complete-filmography/

Kino Rebelde has created a retrospective that traces a delicate line connecting intimacy, power relations, violence, memory, migration, desire, love, and war in Lynne's films. By looking at each of these works, we can see a director facing her own fears and contradictions, as well as her sense of friendship and motherhood.  Moving from idea to emotion and back again, our retrospective takes us on a journey through Sachs' life as a filmmaker, beginning in 1986 and moving all the way to the present.
With the intention of allowing her work to cross boundaries, to interpret and to inquire into her distinctive mode of engaging with the camera as an apparatus for expression, we are delighted to present 37 films that comprise the complete filmmography, so far, of Lynne Sachs as visual artist and filmmaker. Regardless of the passage of time, these works continue to be extremely contemporary, coherent and radical in their artistic conception.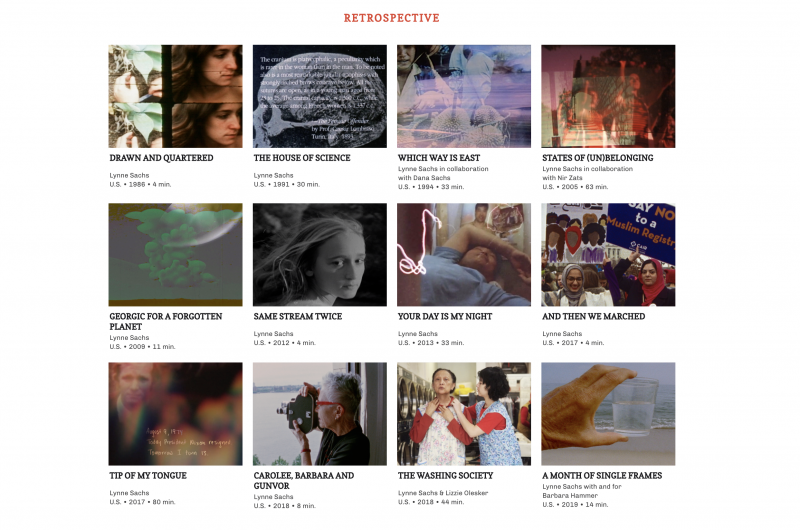 ---
About Kino Rebelde
Kino Rebelde is a Sales and Festival Distribution Agency created by María Vera in early 2017. Its exclusively dedicated to promotion of non-fiction cinema, hybrid narratives and experimental.
Based on the creative distribution of few titles by year, Kino Rebelde established itself as a "boutique agency", working on a specialized strategy for each film, within its own characteristics, market potential, niches and formal and alternative windows.
This company supports short, medium and long feature films, from any country, with linear or non-linear narratives. They can be in development or WIP, preferably in the editing stage.
The focus: author point of view, pulse of stories, chaos, risk, more questions, less answers, aesthetic and politic transgression, empathy, identities, desires and memory.
Kino Rebelde was born in Madrid, but as its films, this is a nomadic project. In the last years María has been living in Lisbon, Belgrade and Hanoi and she'll keep moving around.
About María Vera
Festival Distributor and Sales Agent born in Argentina. Founder of Kino Rebelde, a company focused on creative distribution of non-fiction, experimental and hybrid narratives.
Her films have been selected and awarded in festivals as Berlinale, IFFR Rotterdam, IDFA, Visions Du Réel, New York FF, Hot Docs, Jeonju IFF, Sheffield Doc/Fest, Sarajevo FF, Doclisboa and Viennale, among others.
María has a background as producer of socio-political and human rights contents as well as a film curator.Envelope
---
Lynne Sachs (1961) is an American filmmaker and poet living in Brooklyn, New York. Her moving image work ranges from documentaries, to essay films, to experimental shorts, to hybrid live performances.
Working from a feminist perspective, Lynne weaves together social criticism with personal subjectivity. Her films embrace a radical use of archives, performance and intricate sound work. Between 2013 and 2020, she collaborated with renowned musician and sound artist Stephen Vitiello on five films.
Strongly committed to a dialogue between cinematic theory and practice, she searches for a rigorous play between image and sound, pushing the visual and aural textures in each new project.
Between 1994 and 2009, Lynne directed five essay films that took her to Vietnam, Bosnia, Israel, Italy and Germany – sites affected by international war – where she looked at the space between a community's collective memory and her own perception.
Over the course of her career, she has worked closely with film artists Craig Baldwin, Bruce Conner, Ernie Gehr, Barbara Hammer, Chris Marker, Gunvor Nelson, and Trinh T. Min-ha.