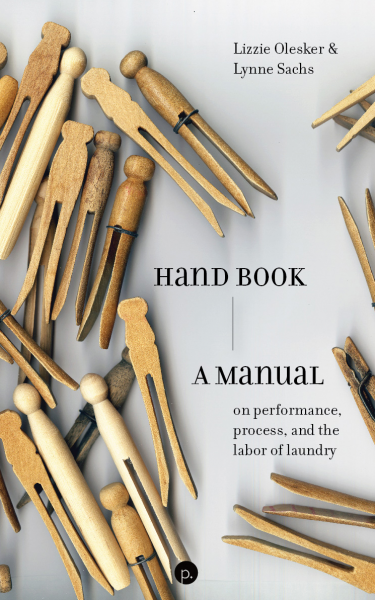 by Lizzie Olesker, Lynne Sachs
Contributors Andrea Estepa, Silvia Federici, Tera Hunter, Jasmine Holloway, Amanda Katz, Mahoma Lopez, Rosanna Rodriguez, Margarita Lopez, Luo Xiaoyuan, Emily Rubin, Veraalba Santa, Stephen Vitiello
FORTHCOMING Spring 2024
Hand Book: A Manual on Performance, Process, and the Labor of Laundry is a collection of writings and images from a performance and film set within a neighborhood laundromat, a microcosm of service work within our urban reality. With a focus on the people who are paid to wash and fold, Hand Book explores the convergence of dirt, stains, money, identity, and desire. Informed by both theory and history, filmmaker–poet Lynne Sachs and playwright Lizzie Olesker construct a model for making a site-specific work incorporating both live performance and film. From conversations with workers in laundromats around New York City, they develop a play that magnifies forms of manual labor that often go unrecognized. The core of Hand Book is Sachs and Olesker's hybrid script which grew out of documentary material they collected in New York City over several years. Within this theatrical construct, the actors themselves navigate the dynamic between their laundry worker characters and who they are in their own lives.
In Hand Book, images also engage with text to create an evocative graphic experience. Turning a page becomes an interactive, quasi-cinematic encounter. We think about the intimacy of touching other people's clothes, almost like a second skin, the textural care for things kept close to the body.
Hand Book includes essays, interviews, memoirs, and poetry that look at the relationship between art and social engagement. Observation, historical research, and fiction intersect, creating a patchwork of what is with a speculative, imagined what was. Historian and author Tera Hunter speaks to the importance of the Washing Society, a group of 3,000 Black women laundry workers who organized in Atlanta in 1881. Feminist historian Silvia Federici engages in a conversation with the authors about the meaning of reproductive labor and its relationship to laundry. Two leaders of a grassroots organization share their experience of immigration and activism. A dancer creates a gestural map of her choreography. An actor deconstructs the charged significance of her Civil War era costume.
Hand Book: A Manual presents an illuminating dialogue between documentary, feminism, film, immigration, labor history, and theater. Throughout, a playwright and filmmaker contemplate how art-making can alter our understanding of the social structure of city life.
The film The Washing Society is available via QR code.
ABOUT THE AUTHORS
Lizzie Olesker has been making theater and performance in New York City for several decades, reflecting on the politics and poetry of everyday experience. Her plays and solo performances exploring domestic work, personal memory, and quotidian gestures have been developed and presented in NYC at the Public, Cherry Lane Theatre, Clubbed Thumb, Dixon Place, New Georges and the Ohio Theater. As an actor, she's worked with the Talking Band, appearing at La Mama and on international tour. Published in The Brooklyn Rail and by Ice Floe Press, Olesker received support from New York Foundation for the Arts, the Brooklyn Arts Council and the Dramatists Guild. Olesker teaches at the New School and New York University where she's active with her adjunct faculty union.
Lynne Sachs is a filmmaker and poet. Her early works on celluloid took a feminist approach to images and writing— a commitment which has grounded her ever since. With each project, Sachs investigates the connection between the body, the camera, and the materiality of film itself. Embracing archives, found images, letters, and journals, her work takes us on a critical journey through reality and memory. In films such as The House of Science, Which Way Is East, Your Day Is My Night, and Film About a Father Who, Sachs uses hybrid form and collaboration, incorporating documentary, performance, and collage. Many of her films explore the relationship between personal observations and collective historical experience. She often addresses the challenge of translation—from one language to another or from spoken work to image. These tensions are investigated in five essay films that took her to sites affected by war, where she looked at the space between a community's memory and her own perceptions. Retrospectives of Sachs's films have been presented at festivals in Argentina, China, Costa Rica, Cuba, Germany, Ireland, South Korea, UK, and at NYC's Museum of the Moving Image. In 2019, Tender Buttons Press published her collection Year by Year Poems. Sachs received a Guggenheim Fellowship in the Arts and lives in Brooklyn.
Andrea Estepa is Research Fellow at Smith College and historian of women and social movements. Silvia Federici is an activist, scholar, and writer of Caliban and the Witch and Revolution at Point Zero: Housework, Reproduction, and Feminist Struggle. Tera Hunter is Professor of African-American Studies at Princeton University and author of To 'Joy My Freedom: Southern Black Women's Lives and Labors after the Civil War and Bound in Wedlock: Slave and Free Black Marriage in the Nineteenth Century. Jasmine Holloway is an actor and singer who has performed with Harlem Repertory Theater and Soho Rep. Amanda Katz is a filmmaker and editor. Mahoma Lopez and Rosanna Rodriguez are co-directors of the Laundry Workers Center, advocating for low-wage immigrant workers. Margarita Lopez is a laundry worker and mother living on the Lower East Side. Luo Xiaoyuan is a translator. Emily Rubin is founder of Loads of Prose and author of the novel Stalina. Veraalba Santa is a Puerto Rican actor and dancer with stage and film experience. Stephen Vitiello is a composer and sound artist and Professor of Kinetic Imaging at Virginia Commonwealth.