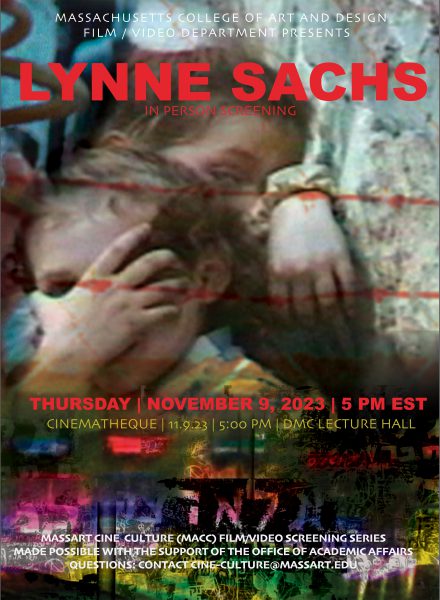 Thursday, November 9, 2023 5pm
https://blogs.massart.edu/macc/past-screenings-fall-2023/
Each semester, the MassArt Ciné Culture (MACC) Screening Series brings to campus a diverse group of filmmakers and moving image artists for screenings, panel discussions, master classes, and performances.
Most Ciné Culture cinematheque screenings are held in MassArt's Design and Media (DMC) Center Lecture Hall on Thursday evenings. Cinematheque screenings are now open to the MassArt community and the larger public, and are generally followed by discussions / Q+A sessions with the visiting filmmakers, in person or via Zoom livestream in the Lecture Hall.
The Fall 2023 installment of the Ciné Culture series is programmed and moderated by MassArt Film/Video Professor and Department Chair Tammy Dudman. For information, contact cine-culture@massart.edu.
The Ciné Culture series was established in 2018 by filmmaker and former MassArt Film/Video department professor Soon-Mi Yoo, and is made possible witht the support of MassArt's Office of Academic Affairs.