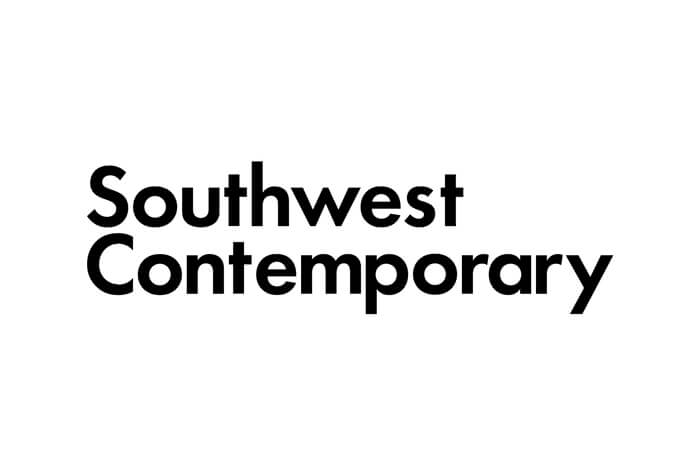 Southwest Contemporary
FEATURE – SOUTHWEST – VOL. 4 WINTER 2021
Expanding Cinema: A Guide to Art Film in Five Southwest Cities
OCTOBER 29, 2021
https://southwestcontemporary.com/expanding-cinema-a-guide-to-art-film-in-five-southwest-cities/
An upswing for independently owned arthouses, festival one-offs, and screening series across the Southwest was in motion before the COVID-19 pandemic paused in-person gatherings. Now a grateful energy is flowing back into theaters—new online venues transcend the limits of geography while giving viewers a specific experience with local programmers.
What do careful gatherings look like for film scenes in such an eager phase of rebuilding? Serious facilitators in different cities are perhaps more connected than ever. How might filmmakers be emboldened by new modes of distribution?
We found red-letter signs of new life in five cities. Is there something happening where you live that we should know about? Let us know at editor@southwestcontemporary.com.
---
SANTA FE
Projects born online during pandemic lockdowns are manifesting in person. The No Name Cinema underground film screening series will roam around Santa Fe at to-be-announced locations and events beginning this fall. Artist Justin Clifford Rhody streamed eighteen programs on No Name's Twitch channel from January to August of this year. A mini-retrospective of work by diaristic film poet Lynne Sachs and a screening of the home-video-lover's dream Memorial Day 2000 channeled Rhody's penchant for tender bricolage and castoff materials.
Rhody spent six years organizing a well-attended series called Vernacular Visions in Oakland, California, where he presented slideshows of found images on 35mm. He took the screenings to a level of ceremony. Setting up in a different location every time, Rhody produced soundtracks tailored to the programs and handed out physical copies to attendees.
No Name Cinema screenings will be free to attend.
"The issue of finances was and is always secondary to getting the job done [with Vernacular Visions]," Rhody says. "[The late Grit Lit novelist] Harry Crews said this great thing about sports, and I think it translates well to art as well, especially since the majority of art that's appreciated in America doesn't cut the criteria:
"'I think all of us are looking for that which does not admit of bull- shit… if you tell me you can bench press 450, hell, we'll load up the bar and put you under it. Either you can do it or you can't do it—you can't bullshit. Ultimately, sports are just about as close to what one would call the truth as it is possible to get in this world.'"
Up next: Before the end of the year, No Name will host the world premiere of a structuralist short film shot on Super 8 by JC Gonzo titled The Virgin Viewed from Multiple Sides (2021) and the New Mexico premiere of Do You Think Jesus Liked Hard Boiled Eggs (2020) by Ben Kujawski. Both filmmakers are from Santa Fe.
Plan ahead: Part of the magic of No Name is surprise. That could include unannounced microshorts and last-minute directives. Follow @noname.cinema on Instagram for updates.
---
ALBUQUERQUE
Gifted selectors build whole worlds. Keif Henley's offerings online via Guild Cinema made that clear. The Guild's website design remained unrepentant in its loyalty to function over form when the theater Guild Cinema (3405 Central Avenue NE), closed its doors to the public and opened online like a friendly local video store gone by.
At guildcinema.com, one could encounter, for example, a portrait of a square dance caller for whom a community center in a Black neighborhood of Waterloo, Iowa, is named (Northend Stories [part two] by Jim Morrison, a videographer who lives in that city). There was also Un Film Dramatique, an inquiry into the philosophy of cinema made about and with twenty-two Paris middle schoolers as they learned how to use a camera.
"Likely one of the bottom lines, in part anyway, for a lot of arthouses like us is to expand the existing notions of what humanity is, looks like, et cetera," Henley says.
Up next: The Guild is open at full capacity as of press time. The theater is scheduled to host the expanded cinema and live sound collage project Negativland! It's Normal from Somethings to Come to Your Attention Tour featuring SUE-C November 13, 2021.
Plan ahead: Basement Films's Experiments in Cinema comes to the Guild in April 2022. It's a defiantly self-styled "micro-community" of international screenings and workshops for media activists with no awards hierarchy or festival posturing—a favorite of Henley's each year, he says.
---
DALLAS
Arthouse spaces themselves are expanding despite all odds. The elegant Texas Theatre, where Lee Harvey Oswald was arrested for the assassination of President John F. Kennedy in 1963, opened a second screening room upstairs in September. It seats 165 people. This addition to the landmark arthouse came just before a significant finale in the same film community: Dallas Video Fest held its last annual festival after thirty-four years as a serious entry for new filmmakers and a haven for experimental shorts.
Video Fest founder Bart Weiss, known for the way he lovingly introduces films and leads Q+As after screenings each year at the festival, says he'll miss the occasion to linger in foyers afterward with artists, students, and all kinds of dynamic personalities attracted to Video Fest's programming. "Unless you're in school for film, you really don't get a chance to just talk about movies," Weiss says.
That spirit will continue in other projects under the festival's name like Video Fest's monthly Cinematic Conversations series. The virtual gathering has encouraged hour-long appreciations of lyrical films like RaMell Ross's Hale County This Morning, This Evening, which is that director's first feature. Weiss invites a co-host to help choose a film and lead the discussion. Avantgarde choreographer and theater-maker Danielle Georgiou had a turn, as did filmmaker Sam Pollard.
Up next: Weiss's Frame of Mind on KERA-TV will continue to offer an outlet for local shorts. Its twenty-ninth season extends through December and includes, among so much else: compassionate, regional storytelling from inside 2020's uprisings, experimental theater made for TV, and a musical in black and white.
Plan ahead: Frame of Mind will go state-wide next year, airing on public TV stations across Texas.
---
OKLAHOMA CITY
Rodeo Cinema opened a new location in June on Film Row downtown. It lives inside the old Paramount Building, where the giants of Hollywood studios would screen films for theater owners to consider as part of a national exchange program circa 1907.
A few series have landed at Rodeo Cinema Film Row. Notably: the camp-friendly garage cinema stamp VHSANDCHILL, which has been around in some form since 2016 for '80s sci-fi obsessives and lovers of B-movies. Femme Film will show movies by "femme directors or those who have lived experiences of misogyny" as per organizers, with local director Paris Burris as host.
---
DENVER
An heir to the parlor screenings Stan Brakhage would host on Sundays in his home state of Colorado, the Denver Underground Film Festival is beloved for paying filmmakers in a forty/sixty split (and not so much known for parties or spectacle adjacent to the fest). Every film in the entire program is a short.
Recent awardees include Tom Bessoir's mathy 2020 with a score by Thurston Moore, who Bessoir photographed in the early 1980s with Sonic Youth. Part two of this year's festival is November 19-21 at a venue to be announced. Check back in at DUFF's FilmFreeway profile.