https://canyoncinema.com/2021/02/17/lynne-sachs-between-thought-and-expression-five-program-retrospective-now-available-for-rent/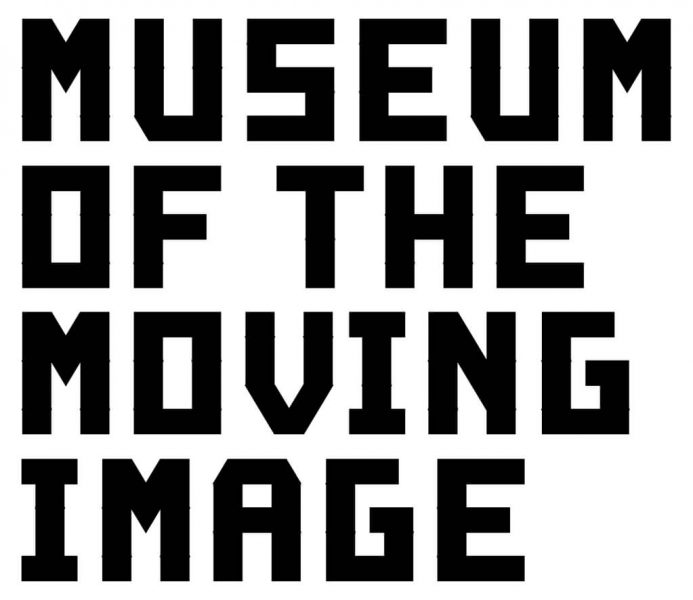 "For more than thirty years, artist Lynne Sachs has constructed short, bold mid-length, and feature films incorporating elements of the essay film, collage, performance, and observational documentary. Her highly self-reflexive films have variously explored the relations between the body, camera, and the materiality of film itself; histories of personal, social, and political trauma; marginalized communities and their labor; and her own family life, slipping seamlessly between modes, from documentary essays to diaristic shorts." (Edo Choi, Assistant Curator of Film, Museum of the Moving Image)

This five-part retrospective offers a career-ranging survey of Sachs's work and includes new HD transfers of Still Life With Woman and Four Objects, Drawn and Quartered, The House of Science: a museum of false facts, and Which Way Is East: Notebooks from Vietnam.

Note: The following programs can be rented individually or as a package. A new video interview and between Lynne Sachs and series curator Edo Choi is also available as part of the rental fee.

For rental and pricing information, please contact: info@canyoncinema.com

All films are directed by Lynne Sachs.
Program notes by Edo Choi.
---
Lynne Sachs in Conversation with Edo Choi, Assistant Curator at the Museum of the Moving Image
FULL TRANSCRIPT
---

Program 1: Early Dissections
In her first three films, Sachs performs an exuberant autopsy of the medium itself, reveling in the investigation of its formal possibilities and cultural implications: the disjunctive layering of visual and verbal phrases in Still Life with Woman and Four Objects; un-split regular 8mm film as a metaphorical body and site of intercourse in the optically printed Drawn and Quartered; the scopophilic and gendered intentions of the camera's gaze in Following the Object to Its Logical Beginning. These experiments anticipate the range of the artist's mature work, beginning with her first essayistic collage The House of Science: a museum of false facts. Itself an autopsy, this mid-length film exposes the anatomy of western rationalism as a framework for sexual subjugation via a finely stitched patchwork of sounds and images from artistic renderings to archival films, home movies to staged performances.

Still Life with Woman and Four Objects (1986, 4 mins.) – New HD transfer
Drawn and Quartered (1987, 4 mins.) – new HD transfer
Following the Object to Its Logical Beginning (1987, 9 mins.)
The House of Science: a museum of false facts (1991, 30 mins.) – new HD transfer




Program 2: Family Travels
One of Lynne Sachs's most sheerly beautiful films, Which Way Is East is a simultaneously intoxicating and politically sobering diary of encounters with the sights, sounds, and people of Vietnam, as Sachs pays a visit to her sister Dana and the two set off north from Ho Chi Minh City to Hanoi. The film is paired here with a very different kind of family journey The Last Happy Day, recounting the life of Sachs's distant cousin Sandor Lenard, a Jewish Hungarian doctor who survived the Second World War and was ultimately hired to reassemble the bones of dead American soldiers. Here Sachs journeys through time as opposed to space, as she assembles a typically colorful array of documentary and performative elements, including Sandor's letters, a children's performance, and highly abstracted war footage, to bring us closer to a man who bore witness to terrible things. This program also features The Last Happy Day's brief predecessor, The Small Ones. Program running time: 73 mins.

Which Way Is East: Notebooks from Vietnam (1994, 33 mins.) – new HD transfer
The Small Ones (2007, 3 mins.)
The Last Happy Day (2009, 37 mins.)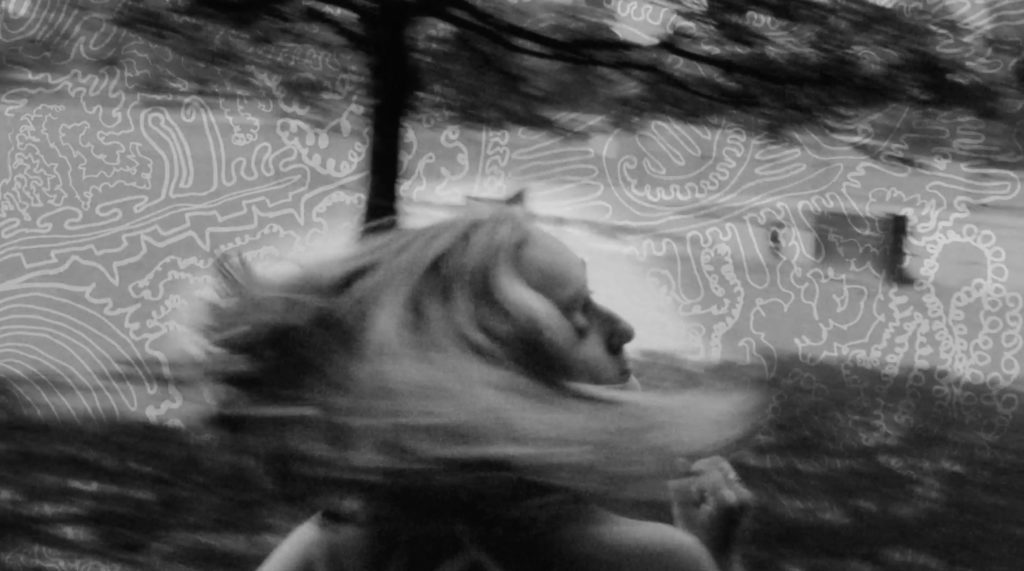 Program 3: Time Passes
Twenty years unspool over nine short films: portraits of Lynne Sachs's children; visits with her mother, brother, niece and nephew; a tribute to the city where she lives; and scenes of sociopolitical trauma and protest. Nearly all shot on super 8mm or 16mm, and often silent, each work is at once a preservation of a moment and a record of change, seamlessly weaving together the candid and the performed gesture, the public and the private memory, in a simultaneously objective and subjective posture toward the passing of time. Program running time: 51 mins.

Photograph of Wind (2001, 4 mins.)
Tornado (2002, 4 mins.)
Noa, Noa (2006, 8 mins.)
Georgic for a Forgotten Planet (2008, 11 mins.)
Same Stream Twice (2012, 4 mins.)
Viva and Felix Growing Up (2015, 10 mins.)
Day Residue (2016, 3 mins.)
And Then We Marched (2017, 3 mins.)
Maya at 24 (2021, 4 mins.)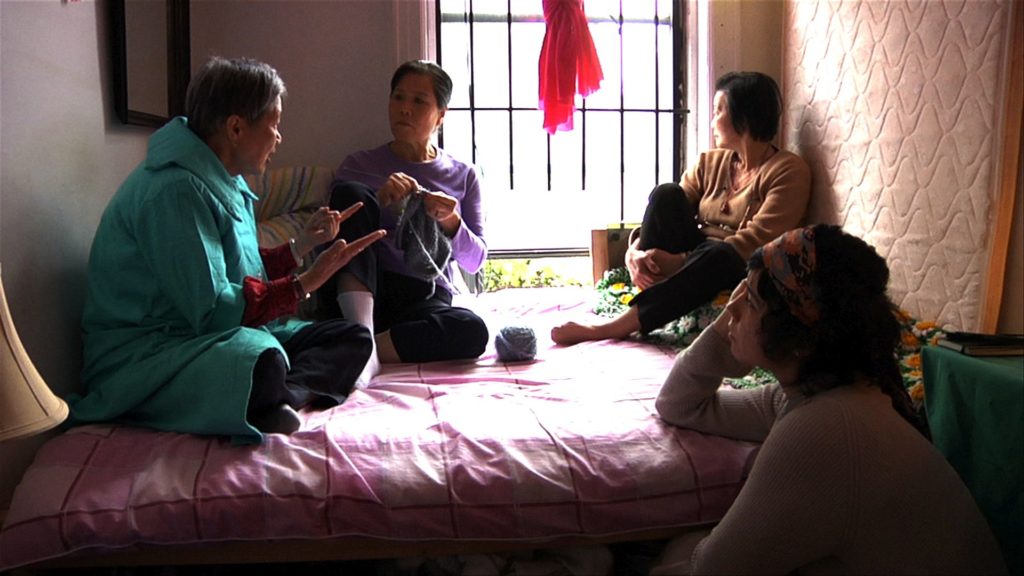 Program 4: Your Day Is My Night
2013, 64 mins. "This bed doesn't necessarily belong to any one person," someone says early in Your Day Is My Night. It could be the metaphorical thesis of this film, perhaps Lynne Sachs's most self-effacing and meditative work. A seamless blend of closely observed verité footage, interpretive performance, and confessional monologues and interviews, the film doesn't document so much as create a space to accommodate the stories and experiences of seven Chinese immigrants from ages 58 to 78 who live together in a "shift-bed" apartment in Manhattan's Chinatown. Sachs's quilted sense of form achieves a new level of refinement and delicacy in collaboration with her cameraman Sean Hanley and her editor Amanda Katz, as she works with the participants to exhume a collective history of migration and struggle.





Program 5: Tip of My Tongue
2017, 80 mins. Sachs's richly generative Tip of My Tongue finds the filmmaker responding to her 50th birthday by gathering twelve members of her generational cohort—friends and peers all born between 1958 and 1964, and originating as far as Cuba, Iran, and Australia—to participate in the creation of a choral work about the convergent and divergent effects history leaves upon those who live it. From the Kennedy assassination to Occupy Wall Street, the participants reveal their memories of, and reflections upon, the transformative experiences of their lives. Set to an ecstatic, pulsing score by Stephen Vitiello, the film interweaves these personal confessions with impressionistic images of contemporary New York, obscured glimpses of archival footage, and graphically rendered fragments of text to create a radiant prism of collective memory. Preceded by Sachs's frantic record of accumulated daily to-do lists, A Year in Notes and Numbers (2018, 4 mins.).


Thanks to: