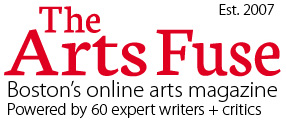 Fuse Film Review: "Your Day Is My Night" — An Innovative Look Inside a NYC Chinatown Apartment, July 12 2013
By Betsy Sherman
On July 15, The DocYard series, running Monday nights at the Brattle Theatre, will host writer-director Lynne Sachs and her gorgeous, intimate look inside one very crowded New York Chinatown apartment, Your Day Is My Night. The film examines the phenomenon of "shift beds," an accommodation between someone who works during the day and someone who works at night, when neither can afford their own apartment. Or, as a singer-for-hire who uses one of the mattresses puts it, "Moon, working. Sun, sleeping." And vice-versa for his counterpart.

Sachs calls the film a "hybrid documentary," with real-life stories told by middle-aged and elderly, Chinese immigrants presented in a honed, often theatrical, style rather than as verité oral histories. Your Day Is My Night was produced for the stage before it was made into a movie. The seven Mandarin and Cantonese speakers who play inhabitants of the apartment and its tiny bedrooms are non-actors or Chinese folk-arts performers.

The opening frames do what a stage show could never do: make an extreme close-up of an elderly, Chinese woman's profile suggest a formidable landscape. After situating the viewer within the apartment by focusing on everyday objects, the film lets its subjects spin stories of the present and the past. In their adopted country, they share closet-like bedrooms, stuffed with twin beds, bunk-beds, and mattresses on the floor. They watch the seasons pass and celebrate traditional Chinese holidays. The stories of their youth in China are more volatile: reminiscences of beds they have known and shared with family members lead to revelations of death and displacement generated by the Communist revolution. These tragedies feel like a brutal rousing from a lovely sleep. For some, there was never a lovely sleep. A sad-eyed man recounts how his family followed Chiang Kai-shek to Taiwan in 1949, leaving him on the Mainland. They said they would come back for him. They never did.

The subtitled dialogue isn't the movie's only form of communication. Movement signifies spiritual as well as physical vitality. The elders are shown practicing tai chi, vertically and, as if to suggest there isn't always room for that, horizontally in bed. To illustrate the bonds between roommates, hands work in tandem with tongues. As a woman talks about sharing a bed with her grandmother (for so long that imprints of their bodies were left are the mattress), she combs a roommate's hair. As one man talks about the stone bed of his childhood, he massages the shoulders of another. Passages that visually mimic home movies serve as an oblique connection with the singer's belief that his voice helps people in insulated Chinatown "go back to the homeland of their dreams."

Spending time with this interdependent community makes one recognize new meanings in small actions. A fresh, new pillowcase ceases to be merely a fresh, new pillowcase: the act of placing it over a pillow becomes a gesture of respect.