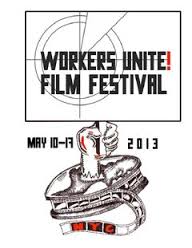 Your Day is My Night screens as part of the opening night on May 10 at Cinema Village and the closing night program at the Workers Unite! Film Festival, alongside Builders & The Games.
NEWS: Your Day is My Night wins best Narrative Feature at Workers Unite! Film Fest
Your Day Is My Night – Part Documentary, part narrative, completely enlightening look at what it means to be a Chinatown NY resident for decades and still sharing a bed by shifts, called "shift-bedding."  In this provocative, hybrid documentary, the audience joins a present-day household of immigrants living together in a shift-bed apartment in the heart of Chinatown. Seven characters (ages 58-78) play themselves through autobiographical monologues, verité conversations, and theatrical movement pieces. This film had it's world premier in February at The Museum of Modern Art's Doc Fortnight. 64 minutes.
Event:

Brecht Forum – New York, NY

Start:

May 17, 2013 7:45 pm

Organizer:
Venue:

The Brecht Forum

Address:

451 West St, New York, NY, 10014, United States
followed by:
Builders & The Games – In 2005 the 2012 Olympiad was awarded to London amid a blaze of publicity. Two years later construction of the Olympic Park in East London was underway. This film's mission was frustrated by bureaucracy, security and public relations hype. Aletha, the researcher/presenter, tries to find a way around these barriers. She talks to union representatives, explores the legacy of past developments and examines the Olympic Authority's promises about safety, jobs and training. 57 minutes.