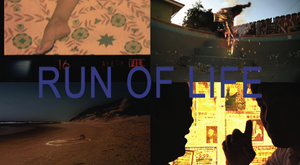 RUN OF LIFE: Experimental Documentary Series
Nightingale Cinema's Christy LeMaster and Kartemquin Film's Beckie Stocchetti join forces to present RUN OF LIFE, a co-curated experimental documentary and expanded media event running every third Monday.
This new series pairs a recent feature experimental documentary with a short nonfiction work in any number of mediums – performance, video short, interactive presentation, audio doc, etc.
Lynne Sachs' YOUR DAY IS MY NIGHT (New Documentary)
The Run of Life Experimental Documentary Series at Constellation (3111 N. Western Ave.) – Monday, 7pm
"With a subject matter inspired in part by Jacob Riis' How the Other Half Lives: Studies Among the Tenements of New York, Lynne Sachs' YOUR DAY IS MY NIGHT is not so much an homage to Riis' work as it is a modern reimagining of the issues he brought to light. Published in 1890, Riis' book controversially documented the "shift-bed" lifestyle, among other aspects of the downtrodden immigrant experience, which involved people taking turns sleeping in shared beds. This practice still exists today, and Sachs uses it as a jumping-off point from which to explore various symbolic elements and the collective experiences of her characters. It's far from a straightforward documentary, but much of what makes it so experimental actually happened off-screen; in 2011, after first learning about "hot bed houses" from a family member, Sachs decided to collaborate with her cast rather than merely film them recounting their stories. As she says in her director's statement, "While working on YOUR DAY IS MY NIGHT, I came to see that every time I asked a person to talk in front of my camera, they were performing for me rather than revealing something completely honest about their lives. The very process of recording guaranteed that some aspect of the project would be artificial." Thus Sachs met with her subjects (a group of non-professional Chinese "performer/participants") almost weekly over a year and a half, using the impromptu workshops to script the monologues that provide context to the film's poetic structure. Sachs uses a combination of 16mm, Super 8, and HD video to disorienting effect; the scenes shot on film are stark in contrast with the crispness of various close-ups shot on video. Additionally, beds are not just a plot device, but also a symbol of the film's themes (privacy, intimacy, and urban life, among others). In this way, Sachs' film is also like a gallery installation or a piece of performance art. (Sachs and the cast have presented YOUR DAY IS MY NIGHT as a live film performance on several occasions, and the artfulness of its construction combined with its social utility are reminiscent of Riis' work, which is frequently exhibited in galleries around the world.) This hybrid documentary challenges not only the way such films are made, but also the way we watch and talk about it. Preceded by the sound piece LIGHT READINGS (Stephen Vitiello, 2001, 8 min) and the short film WINDOW CLEANING IN SHANGHAI (Laura Kissel, 2011, 3 min). Cinematographer Sean Hanley in person. (2013, 64 min, HD Digital Projection) KS"
—
More info at www.constellation-chicago.com.