Opening the Family Album
Costa Rica International Film Festival
San José, Sala Gomez, Costa Rica Film Archive
Part of Lynne Sachs Retrospective
May and June, 2022 with in-person meetings June 11 and 12
https://www.costaricacinefest.go.cr/categorias/retrospectiva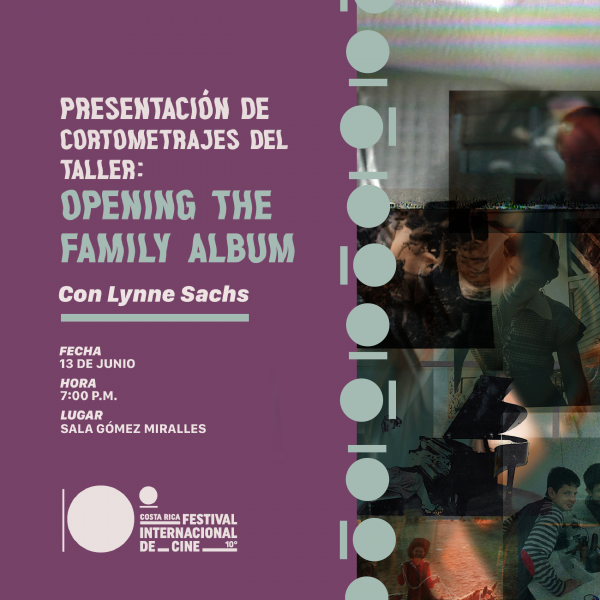 Opening the Family Album is a three day (two hours each day) workshop in which we will explore the ways in which images of our mother, father, sister, brother, child, cousin, grand-parent, aunt or uncle might become material for the making of a personal film. Each participant will come to the workshop with a single photograph (both in hand and digital) they want to examine. During the workshop, you will write text in response to this image by incorporating storytelling and performance. In the process, we will discuss and challenge notions of truth-telling and language. Your final work will then be a completed film with sound or a film with live narration. Previous filmmaking and editing experience is appreciated but not required. Participants may use their own digital cameras or cell phones to make images and sounds. Please register early so that you can be part of our first meeting which will be virtual.
This workshop is inspired by the work of Italian novelist Natalia Ginzburg, whose writing explores family relationships during the Fascist years and World War II. Ginzburg was a prescient artist who enjoyed mixing up conventional distinctions between fiction and non-fiction: "Every time that I have found myself inventing something in accordance with my old habits as a novelist, I have felt compelled at once to destroy it. The places, events, and people are all real."
All of the films made in this workshop will be presented publicly on our last day of meeting.