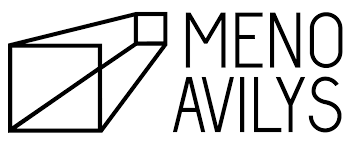 Film programme Travelogues: Thinking Through Landscape
Meno Avilys
May 18, 2023
https://menoavilys.org/en/travelogues/
Film programme Travelogues: Thinking Through Landscape
From 3 to 24 May in Vilnius, Lithuania, the Media Education and Research Centre "Meno avilys" invites you to a programme of travel and landscape films Travelogues: Thinking Through Landscape. 
The screenings will take place in the Meno Avilys' Cinematheque (A. Goštauto str. 2, Vilnius) and start at 7 pm.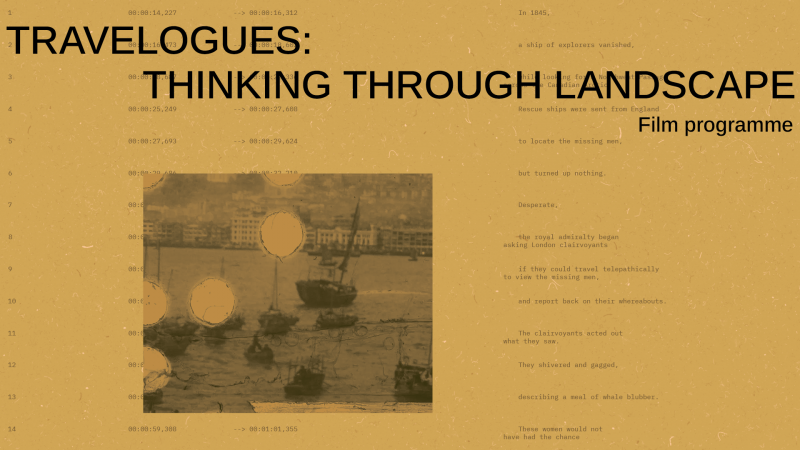 In 2023, "Meno avilys" turns to the topic of travelogues and travel films, which has so far been underrepresented and rarely explored in Lithuania. Following the migration of people caused by various geopolitical factors, it is important to consider how this changes identity and the notion of home.
The six-film programme looks at the different transformations of travelogues, from the early amateur approach to the now widely recognised classic essay films. The programme features films by acclaimed artists, experimental and non-fiction filmmakers Courtney Stephens, Deborah Stratman, Lynne Sachs, Helke Misselwitz, John Smith and Chris Marker.
These films include the cinematic diaries of women who had the unique opportunity to travel to distant places in the first half of 20th century: romantic, exotic and political at the same time; sensitive portraits of the women of East Germany on the verge of the fall of the Berlin Wall; London changing with the rhythm of urbanisation; the mythologised landscape of Iceland; an essayistic account from Vietnam by two sisters; and a travelogue of a journey from Africa to Japan that has been voted as one of the best documentaries ever.
---
Travelogues, or travel films (not to be confused with road films), emerged almost at the same time as the film cameras themselves. At the beginning of the 20th century, it was only the privileged who could afford to travel, and the majority of society could not enjoy the freedom to explore, unlike today. Ethnographers and anthropologists used film cameras to research and record foreign cultures in order to achieve maximum objectivity. Uncharted lands interested people, and travel lectures, featuring footage from foreign places with live commentary by the travellers themselves, became very popular during the period of early cinema.
Travelogue lectures presented an unconventional way of life, created an image of the adventurous, and were the only way for a large number of people to experience the world. During the early cinema period, it was travel films that established and sustained documentary cinema as relevant and interesting, and at the same time popularised travel.
With the arrival of portable analogue film cameras, the development of leisure culture and travel infrastructure, amateurs began to film their own travels. They filmed what could be regarded as accidental ethnography: the curious and often exoticising gaze of the tourist observed foreign cultures, while superimposing a personal perspective and a grid of subjectivity on the images they saw.
Later on, there was a shift away from the scientific-reportorial and touristic perspectives towards the more essayistic and reflective view of personal experience. This coincided with the rise of essay cinema and the processes of decolonisation in the mid-20th century. Filmmakers began to reflect on the intrusion of the camera; their own gaze as a 'visitor'; the shifting identities and inner transformations brought about by the process of travel.

The films examined not only the personal relationship with the landscape, but also the political, historical and social contexts it conveys. Thus, thinking about the visible and otherwise experienced landscape became thinking about oneself, and vice versa: inner reflections became an analytical way of looking at the landscape. In this way, the travelogues combine the unplanned (and unplannable) recording of the environment while travelling and the personal, subjective gaze that shapes the documentary footage into a narrative.
---
PROGRAMME
I. 3 May, 7 pm.
TERRA FEMME | dir. Courtney Stephens | 2021 | 62 min | Post-screening QnA with the director
Filmmaker Courtney Stephens presents a selection of "home travelogues" – amateur films shot by women in the 1920s-40s. Intended to be screened for the friends and family of their makers, these films occupy a space between home movies and accidental ethnography. They present a new type of traveler: no longer a (typically male) seeker of conquests, she might be a divorcee on a tour of biblical gardens, or a widow on a chartered cruise to the North Pole. These optical autobiographies present the world through early female filmmaker's eyes, while raising thorny questions about the politics of the gaze.
Courtney Stephens is a filmmaker whose non-fiction and experimental films explore the contours of language, historical geography, and women's lives. Her work has been exhibited internationally at venues such as MoMA, the National Gallery of Art, Barbican Centre, Exploratorium, BAMPFA, and multiple film festivals including the Berlinale, New York Film Festival, South by Southwest, IDFA etc. She is the recipient of the Fulbright Scholarship, the MacDowell Fellowship, and was one of Filmmaker Magazine's 25 New Faces of Independent Film. A graduate of the American Film Institute, she co-founded the Los Angeles microcinema Veggie Cloud and has curated film programs for The Getty, Museum of the Moving Image, Union Docs, and Flaherty NYC.
---
II. 10 May, 7 pm.
AFTER WINTER COMES SPRING | Winter Ade | dir. Helke Misselwitz | 1988 |117 min

A journey from the North to the South during the last year of the GDR. Everyone's wish for changes can be felt everywhere. Punk girls, female workers, intellectuals, mothers, young and old women – Helke Misselwitz talks to women about humanity in their country. In every meeting you feel mutual sympathy. Sympathy for the strong and self-confident women who point out the dubieties with confidence and for those who are looking for their place in life, struggle with it and work hard. The film is full of humour, proximity and warmth. Despite all the criticism, the hope for a future more human remains.
Helke Misselwitz is one of Germany's most important documentary filmmakers. Born in Planitz in 1947, she held apprenticeships as a carpenter and a physiotherapist after graduating from high school, then worked for nine years as an assistant director and director with East German television. Misselwitz made her mark early in her career as a documentary filmmaker, chronicling with great sensitivity and artfulness the citizens and society of East Germany in the years leading up to and following the fall of the Berlin Wall and German unification. After Winter Comes Spring immediately established Misselwitz as one of the most gifted non-fiction filmmakers of her generation.
---
III. 18 May, 7 pm.

SHORT FILM PROGRAMME | 91 min.
Which Way Is East: Notebooks from Vietnam | dir. Lynne Sachs | 1994 | 33 min

When two American sisters travel north from Ho Chi Minh City to Hanoi, conversations with Vietnamese strangers and friends reveal to them the flip side of a shared history. The film starts as a road trip and flowers into a political discourse. Lynne and Dana's travel diary revels in the sounds, proverbs, and images of daily life. Their film becomes a warm landscape that weaves together stories of people they met with their own childhood memories of the war on TV.
From Hetty To Nancy | dir. Deborah Stratman | 1997 | 44 min
The stoic beauty of the Icelandic landscape forms a backdrop for a series of witty and caustic letters written at the turn of the century by a woman named Hetty as she treks with her companion Masie, four school girls and their school marm. The film juxtaposes Hetty's ironic cataloguing of the petty social interactions of her companions as they endure discomfort and boredom with historic accounts of catastrophes that reveal the Icelandic people subject to the awesome forces of nature.
Artist and filmmaker Deborah Stratman makes work that investigates issues of power, control and belief, exploring how places, ideas, and society are intertwined. She regards sound as the ultimate multi-tool and time to be supernatural. Recent projects have addressed freedom, surveillance, public speech, sinkholes, levitation, orthoptera, raptors, comets, evolution, extinction, exodus, sisterhood and faith. Stratman's films have been featured widely at festivals and conferences including Sundance, Viennale, Berlinale, CPH:DOX, Oberhausen etc.
Blight | dir. John Smith | 1996 | 14 min
Blight was made in collaboration with the composer Jocelyn Pook. This was her first work in film, after which she composed scores for many films, including Stanley Kubrick's Eyes Wide Shut. The film revolves around the building of the M11 Link Road in East London, which provoked a long and bitter campaign by local residents to protect their homes from demolition. Both the composer and the director of the film lived in the neighbourhood and their homes were eventually demolished. The images in the film record some of the changes which occurred in the area over a two-year period, from the demolition of houses through to the start of motorway building work. The soundtrack incorporates natural sounds associated with these events, together with speech fragments taken from recorded conversations with local people.
John Smith is one of the most important British avant-garde filmmakers noted for his use of humour in exploring various themes that often play upon the film spectator's conditioned assumptions of the medium. Inspired in his formative years by conceptual art and structural film, but also fascinated by the immersive power of narrative and the spoken word, he has developed a diverse body of work that subverts the perceived boundaries between documentary, fiction, representation and abstraction. Often rooted in everyday life, his meticulously crafted films playfully explore and expose the language of cinema.
---
IV. 24 May, 7 pm.
SUNLESS | Sans Soleil | dir. Chris Marker | 1983 | 104 min
An unnamed woman narrates the letters and philosophical reflections of an invisible world traveler accompanied by footage of Guinea-Bissau, Cape Verde, Iceland, Paris, San Francisco and, most significantly, Tokyo—a city whose people, streets, malls and temples inspire the traveler's observations. Chris Marker's Sans Soleil is cinema as stream-of-consciousness, following the journey of an unseen hero around the globe and into the mind. Today, it is considered a masterpiece, a film that breaks free of the documentary form and into a world of its own.
Chris Marker was a filmmaker, writer, illustrator, translator, photographer, editor, philosopher, essayist, critic, poet and producer. He pioneered the flexible hybrid form known as the essay film and was part of the Frenh New Wave movement along with such other filmmakers as Alain Resnais, Agnès Varda and Jacques Demy. His best known films are La Jetée (1962), A Grin Without a Cat (1977) and Sans Soleil (1983). All along his career, Marker was extremely interested in observing history and its complexities, observing it with a discerning, ironic, amused and occasionally infuriated eye. The topics of memory and nostalgia of reinvented past times but forever lost are at the heart of his reflections.
---
// Free admission. Films are screened in original language with Lithuanian and English subtitles //
Organiser | "Meno avilys"
Curator | Ona Kotryna Dikavičiūtė
Head of Communication | Dovilė Raustytė-Mateikė
Technical Coordinator | Karolis Žukas
Designer | Linas Spurga
Translators | Agnė Mackė, Eglė Maceinaitė
Sponsors | Lithuanian Film Centre, Lithuanian Council for Culture, Vilnius City Municipality
Partners | Goethe Institute in Lithuania, French Institute in Lithuania
Informational partner | LRT
This event is part of the www.700vilnius.lt programme.