"The Washing Society," El Telégrafo (Quito, Ecuador)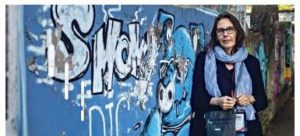 "The Washing Society," an Intimate and Social Portrait.
El Telégrafo (Ecuador) May 15, 2018
In Quito's Metropolitan Cultural Center hangs a large painting from 1939 by the Ecuadorian artist Germania Paz y Miño called "Lavanderas" (Washerwomen). Three women are working. One is taking down washing from a line, another is scrubbing clothing on a flat rock and a third is nursing her child. The composition juxtaposes the force of these women's labor and mothering against the white laundry—almost certainly somebody else's—into which women's social and emotional worlds have always been wrapped up.
Although she had a critical eye, Paz y Miño was not a polemicist. In fact, due to the power of her works, especially her sculptures, in 1940 she was awarded a grant to study in New York's New School for Social Research, where Camilo Egas served as studio director and her teacher.
The playwright Lizzie Olesker arrived in Quito last week to present The Washing Society, a film she co-directed with Lynne Sachs, in the Documentary Film Festival (EDOC) . During her travels around town, Olesker visited the Cultural Center and was astonished by Paz y Miño's painting and the way it related to her film. It showed how, right until today, women have been historically tied to domestic and poorly paid jobs, even when their labor is focused on the care of others—in this case on their clothing, which is a kind of second skin.
The Washing Society takes a wistful and poetic stroll through various New York City Laundromats—some that have since gone out of business—and shows the experiences of the people who work there. Many of these people—the majority women—are badly paid, come from poor neighborhoods and foreign countries.
Characterized by Olesker as a "hybrid documentary," the film mixes reportage with performance and poetry. It gathers workers' testimonies and translates them into corporeal exercises on the part of actresses who inhabit the skins of the washerwomen.
"One dimension of documentary film is its performativity," Olesker told me in a cafeteria at La Floresta. "For this film we did a lot of research on gender theory and feminism. We especially relied on the work of the historian Tera W. Hunter, who studies the 1881 Washing Society strike."
This is the first collaboration between Olesker (writer, director and performer) and Lynne Sachs, who makes films, installation art and improvisations and projects for the web that strive to create a dialog between personal and historical experiences.
One of Sachs's finest films is Your Day Is My Night, which deals with the Chinese immigrant community in New York, where people often live in shared rooms with up to eight beds.
This is Olesker's first film and grew out of a lecture a friend invited her to give in a New York Laundromat. After that, the playwright developed a site-specific performance and asked to Sachs to work with her on an audiovisual component.
"Domestic workers, sex workers, caregivers, washerwomen all struggle with the idea of touching the body, of working in an intimate way," says Olesker.
"I'm interested in domestic labor as a subject; it's a fundamental part of women's history, of my own experience and of our mothers' lives," she added. Her film plays with the fictitious and the factual, the material world and the dreamworld, the beautiful and the crude.
Translation: Philip Kay