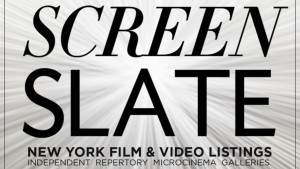 Tip of My Tongue
by Sonya Redi
Featured February 25th 2017
https://www.screenslate.com/features/366
Most moments have a terrible tendency to surround us, enveloping us and swallowing us whole, before we have time to understand or process them. Much like waves, they pass through us, sometimes violently, taking our whole body for a spin and leaving us with nothing except an intense sensation and vivid memory. Lynne Sachs' latest film, Tip of My Tongue , grants us the impossible gift of trying to change that—letting us comfortably, over the course of a weekend, try to process those moments which impacted us so profoundly in the last half century. Sachs' brilliant body of work has often focused on the curious dance between histories, the personal and global, so it is no surprise that her latest film moves across a myriad of topics with skill and grace.
Though singular in scope, the film's premise is delightfully simple. In honor of her fiftieth birthday, Sachs gathers a group of New Yorkers from around the world, whose only common trait is that they were born around the same time. Together they spend the weekend conversing and sharing their personal memories from these turbulent years, reflecting on topics ranging from the assassination of JFK to Occupy Wall Street. Through this sharing of intimate fragments we are able to feel instantly connected, as if along for the journey. Sachs creates a magical, safe space for us to get lost in conversation, as well as take a step back and unfold on our own memories, however big or small.
It's a mesmerizing ride through time, a dreamscape full of reflection and wonder, filled with inspired use of archival footage, poetry, beautiful cinematography and music. The film flows seamlessly across the years like one of the elusive waves it is trying to catch. It raises the question of how deeply events affect us, while granting us enough room to crash into our own thoughts, or float on by, rejoicing in the company of our newfound friends.
© Jon Dieringer 2010-2017. All Rights Reserved.