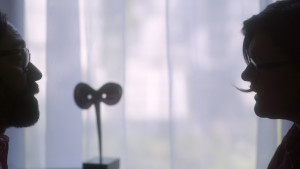 A Public Dialogue, Screening & Poetry Workshop with filmmaker Lynne Sachs
Sunday, July 21, 2019
11 AM

The cornerstone guest for the 2019 Film and Video Poetry symposium is Lynne Sachs. Sachs' work with documentary, poetry film and the essay film is consistently avant-garde. In this workshop, Sachs will be in open dialogue regarding her film "Tip of My Tongue" (80 min. 2017), which accentuates the poetry and essay film within its structure. She will also read from her new book Year by Year Poems (Tender Buttons Press, 2019). Sachs will further guide the workshop discourse through an exploration into the hybridization of poetry film and essay film, and the meaning of these genres individually as well as combined. After screening her film, Sachs will ask participants a question as a prompt for writing a poem: How has one moment in your life been affected by a public event beyond your control?
Lynne Sachs will lead the talkback and poetry workshop immediately following the 11 AM screening of her film TIP OF MY TONGUE. We invite all to attend both events at the Maysles Documentary Center in Harlem, New York.
There is no cost for admission. Light refreshments served!
Maysles Documentary Center
343 Malcolm X Boulevard | New York, NY 10027
A Public Dialogue, Screening & Poetry Workshop with filmmaker Lynne Sachs
Sunday July 21, 2019 | 11 am – 2pm
Schedule:
11 am – screening
12:30 – talk-back and poetry workshop
Tip of My Tongue (80 min. 2017)
a film by Lynne Sachs
To celebrate her 50th birthday, filmmaker Lynne Sachs gathers together other people, men and women who have lived through precisely the same years but come from places like Iran or Cuba or Australia or the Lower East Side, not Memphis, Tennessee where Sachs grew up. She invites 12 fellow New Yorkers – born across several continents in the 1960s – to spend a weekend with her making a movie. Together they discuss some of the most salient, strange, and revealing moments of their lives in a brash, self-reflexive examination of the way in which uncontrollable events outside our own domestic universe impact who we are. As director and participant, Sachs, who wrote her own series of 50 poems for every year of her life, guides her collaborators across the landscape of their memories. They move from the Vietnam War protests to the Anita Hill hearings to the Columbine Shootings to Occupy Wall Street. Using the backdrop of the horizon as it meets the water in each of NYC's five boroughs as well as abstracted archival material, TIP OF MY TONGUE becomes an activator in the resurrection of complex, sometimes paradoxical reflections. Traditional timelines are replaced by a multi-layered, cinematic architecture that both speaks to and visualizes the nature of historical expression.
https://www.maysles.org/calendar/2019/7/21/ a-public-dialogue-screening-amp-poetry-workshop-with-filmmaker-lynne-sachs