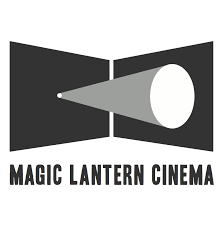 Magic Lantern Cinema presents THE WASHING SOCIETY
Magic Lantern Cinema, Brown University
Nov 14, 2023
https://events.brown.edu/event/267926-magic-lantern-cinema-presents-the-washing-society
Magic Lantern Cinema presents THE WASHING SOCIETY
Time:
5:00pm – 7:30pm EST
Sponsor:
Co-sponsored by the Department of Modern Culture and Media, the Malcolm S. Forbes Center for Culture and Media Studies, and the Pembroke Center for Teaching and Research on Women
Location:
Pembroke Hall
Room:
305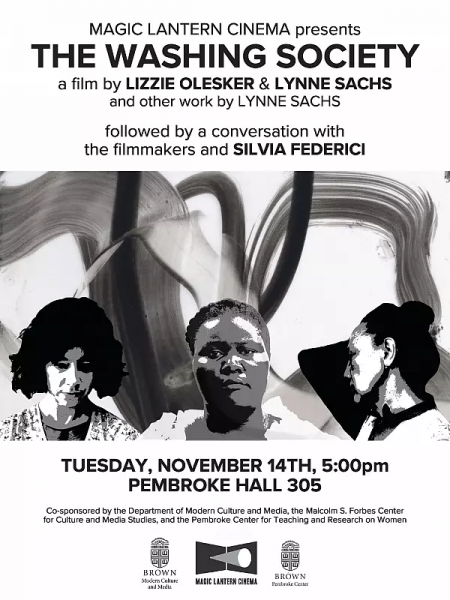 Magic Lantern Cinema presents a screening of THE WASHING SOCIETY, a film by Lizzie Olesker and Lynne Sachs.
When you drop off a bag of dirty laundry, who's doing the washing and folding? THE WASHING SOCIETY brings us into New York City laundromats and the experiences of the people who work there. Collaborating together for the first time, filmmaker Lynne Sachs and playwright Lizzie Olesker observe the disappearing public space of the neighborhood laundromat and the continual, intimate labor that happens there. With a title inspired by the 1881 organization of African-American laundresses, THE WASHING SOCIETY investigates the intersection of history, underpaid work, immigration, and the sheer math of doing laundry. Drawing on each other's artistic practices, Sachs and Olesker present a stark yet poetic vision of those whose working lives often go unrecognized, turning a lens onto their hidden stories, which are often overlooked. Dirt, skin, lint, stains, money, and time are thematically interwoven into the very fabric of THE WASHING SOCIETY through interviews and observational moments. With original music by sound artist Stephen Vitiello, the film explores the slippery relationship between the real and the re-enacted with layers of dramatic dialogue and gestural choreography. The juxtaposition of narrative and documentary elements in THE WASHING SOCIETY creates a dream-like, yet hyper-real portrayal of a day in the life of a laundry worker, both past and present.

We will also screen other selected work by Sachs. After the screening, we will hold a panel conversation with the filmmakers and feminist activist Silvia Federici, whose work has inspired the filmmakers.
---

Lizzie Olesker is a playwright, dramaturg, and director. Her original works, exploring the hidden history and poetry of everyday experience, have been developed and seen at the Public Theater, Clubbed Thumb, Dixon Place, Ohio Theater, Invisible Dog, New Georges, and Cherry Lane Theater. Her recent collaborative, hybrid documentary film "The Washing Society" (2018) was shown at international festivals, BAM, the National Gallery, etc. and began as a site-specific performance in NYC neighborhood laundromats. She's taught playwriting at the New School, Purchase, and NYU where she's active with her adjunct faculty union, UAW Local 7902.

Lynne Sachs is an American experimental filmmaker and poet based in Brooklyn, New York. Strongly committed to a dialogue between cinematic theory and practice, she searches for a rigorous play between image and sound, pushing the visual and aural textures in each new project. Lynne has produced over 40 films as well as numerous live performances, installations and web projects. Her films have screened at MoMA (Museum of Modern Art), Tate Modern, Image Forum Tokyo, Wexner Center for the Arts, and festivals such as New York Film Festival, Oberhausen Int'l Short FF, Punto de Vista, Sundance, Vancouver IFF, Viennale and Doclisboa. Retrospectives of her work have been presented at MoMI (Museum of the Moving Image), Sheffield Doc/Fest, BAFICI, Cork Film Festival, Havana Film Festival, among others. In 2021, both Edison Film Festival and Prismatic Ground Film Festival at the Maysles Documentary Center gave her awards for her lifetime achievements in the experimental and documentary fields. In 2014, Lynne received a Guggenheim Fellowship in the Creative Arts.

Silvia Federici is a feminist activist, writer, and a teacher. In 1972 she was one of the cofounders of the International Feminist Collective, the organization that launched the Wages For Housework campaign internationally. In the 1990s, after a period of teaching and research in Nigeria, she was active in the anti-globalization movement and the U.S. anti–death penalty movement. She is one of the co-founders of the Committee for Academic Freedom in Africa, an organization dedicated to generating support for the struggles of students and teachers in Africa against the structural adjustment of African economies and educational systems. From 1987 to 2005 she taught international studies, women studies, and political philosophy courses at Hofstra University in Hempstead, NY. All through these years she has written books and essays on philosophy and feminist theory, women's history, education and culture, and more recently the worldwide struggle against capitalist globalization and for a feminist reconstruction of the commons.
---
"I was naturally looking for connections across various films, be they thematic or stylistic and formal. The Washing Society, Fossil, Window Work, and Still Life with Woman and Four Objects all clearly reflect upon what in the first film you call "hidden labor." This labor is of course gendered and raced in different ways. Formally—whether through closeup or still framing upon hands and limbs, through shadow and light, through match cuts—these films also seem to abstract or defamiliarize the bodies who perform such labor, as well as the tools and machines these bodies use or that sometimes replace such bodies. The affiliation between film, repetition, and labor of course has a long history in (experimental) cinema. But I like the way in which you describe in one of your emails what is effectively your contribution to this history: you attempt to capture "quotidian acts of labor as gestures in the devising of movement for the camera."
Rewatching The Washing Society helped me consider other threads beyond these connections. One of the early shots in that film—one you repeat a few times—is of lint and hair, in soft focus, slowly being pulled apart. I am not sure if this was an intentional metaphor, but this image resonated with the tenuous yet material threads connecting different people that emerge throughout the film as you interview various workers, who are of different races and gender, and as these workers discuss the customers they service. The laundromat in this sense is a place through which disparate people of the city are materially interwoven, even if those connections are "hidden" or obfuscated through classed, gendered, and raced separations of labor. I wonder if these threads might offer a different way in which we might understand "intersectionality," not only as the way in which (marginalized) identities overlap within a given person, but also as the material connections that weave across people as such in capitalist society. At one point in the film, this comes to the fore in a collage of multilingual voices that sound over shots in different laundromats.
The labor of women in Indonesia is geographically and temporally removed from the labor of laundromat workers in New York or from domestic labor in suburban homes, but how might we think across the material intersections and connections of these various people, or the ways in which we are all materially implicated in both neighborhood and global structures of hidden labor? How does cinema help (formally) represent these structures?"
Stephen Woo, PhD Candidate
Department of Modern Culture and Media
Brown University