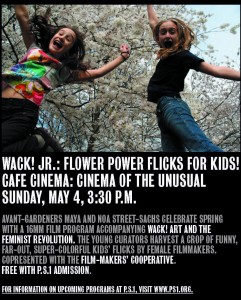 In celebration of PS 1's WACK! Art and the Feminist Revolution:
"Flower Power Movie Flicks" selected by Maya and Noa Street-Sachs
PS 1 Contemporary Art Center Cafe
22-25 Jackson Ave. at 46th St.
Long Island City
www.PS1.org
May 4, 2007
Ask any American child today to name his or her favorite woman director and you'll probably be left with a long embarrassing silence.  Okay then, let's try again. Name one woman filmmaker, dead or living.  Again, no response.  It's a troubling situation that the New York Filmmakers Cooperative has been trying to rectify for the last four decades.  In the spirit of PS 1's WACK! Art and the Feminist Revolution, young movie enthusiasts Maya and Noa Street-Sachs, daughters of two Brooklyn experimental filmmakers, have put together a splendid afternoon of films by seven of Americas' most awe inspiring women directors.
From an early garden dance tour-de-force by avant-garde film's grand-dame Maya Deren to a 1968 political manifesto dressed in visual whimsy, these movies may not be very well known but they are sure to entertain any adventurous 1 to 100 year old child.
"We chose seven fantastic avant-garde films that we thought would fit the theme of flower power.  Every one of these movies is made by a woman who experiments by mixing sound, color and image – like a witch stirring her cauldron.  We had a great time picking these shorts we hope other children will like as much as we did."           -Maya and Noa Street-Sachs
Films:
"Rat Life and Diet" by Joyce Wieland (16 min., 1968)
"Glimpse of the Garden" by Marie Menken (5 min., 1957)
"Bridges Go Round" by Shirley Clarke (18 min., 1958)
"Les Tournesols"  by Rose Lowder (3 min., 1982)
"Duck" by Amy Taubin (2 min., 1975)
"Adventure Parade" by Kerry Laitala (5 min., 2000)
"Study in Choreography for Camera" by Maya Deren (3 min., 1945)