LYNNE SACHS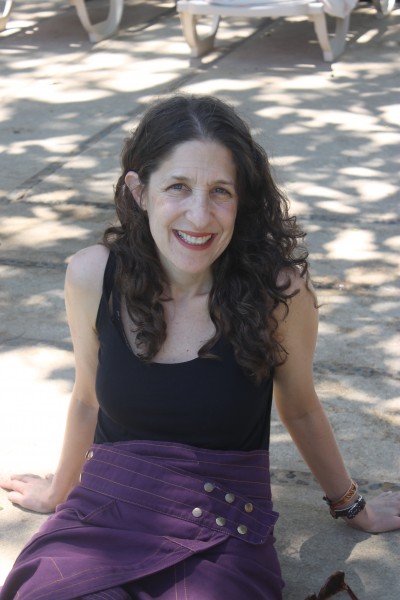 Lynne Sachs makes films, installations, performances and web projects that explore the intricate relationship between personal observations and broader historical experiences by weaving together poetry, collage, painting, politics and layered sound design. Strongly committed to a dialogue between cinematic theory and practice, she searches for a rigorous play between image and sound, pushing the visual and aural textures in her work with each and every new project.  Between 1994 and 2009, her five essay films took her to Vietnam, Bosnia, Israel, Italy and Germany — sites affected by international war – where she looked at the space between a community's collective memory and her own subjective perceptions.
Recently, after 25 years of making experimental documentaries, Lynne learned something that turned all her ideas about filmmaking upside down. While working on Your Day is My Night in the Chinatown neighborhood of New York City, she came to see that every time she asked a person to talk in front of her camera, they were performing for her rather than revealing something completely honest about their lives. The very process of recording guaranteed that some aspect of the project would be artificial. She decided she had to think of a way to change that, so she invited her subjects to work with her to make the film, to become her collaborators.  For Lynne, this change in her process has moved her toward a new type of filmmaking, one that not only explores the experiences of her subjects, but also invites them to participate in the construction of a film about their lives.
Since 2006, Lynne has also collaborated with her partner Mark Street in a series of playful, mixed-media performance collaborations they call The XY Chromosome Project. In addition to her work with the moving image, Lynne co-edited the 2009 Millennium Film Journal issue on "Experiments in Documentary" and co-curated the 2014 film series "We Landed/ I Was Born/ Passing By: NYC's Chinatown on Film" at Anthology Film Archives.  Lynne has received support from the Rockefeller and Jerome Foundations and the New York State Council on the Arts and residencies in both film and poetry from the MacDowell Colony. Her films have screened at the New York Film Festival, the Sundance Film Festival, Toronto's Images Festival and Los Angeles' REDCAT Theatre as well as a five-film retrospective at the Buenos Aires Film Festival.  The San Francisco Cinematheque recently published a monograph with four original essays in conjunction with a full retrospective of Lynne's work.
In 2012, Lynne began a series of live film performances of Your Day is My Night in alternative theater spaces around New York City. She then completed the hour-long hybrid video which premiered at the Museum of Modern Art in 2013 and screened at the Vancouver Film Fest, Union Docs, the New Orleans Film Fest and other venues in the US and abroad.  Lynne did her undergraduate work in history and studio art at Brown University and graduate work in film at the San Francisco Art Institute and San Francisco State University.  She teaches experimental and documentary film and lives in Brooklyn.
In 2014, Lynne received a Guggenheim Foundation Fellowship in Film and Video.
CONTACT: info@lynnesachs.com
Lynne' s work is distributed by First Run Icarus (www.frif.com); Cinema Guild (www.cinemaguild.com); New York Film-makers' Coop (www.film-makerscoop.com) and Canyon Cinema (www.canyoncinema.com).
Recent articles on LYNNE SACHS
Lynne Sachs' Seven Forms of Filmmaking in Fandor.com's Keyframe
https://www.youtube.com/watch?v=pGnkDW-Q9Dw
Lynne Sachs interview in Bomb Magazine in 2014
http://bombmagazine.org/article/1000059/lynne-sachs
Lynne Sachs interview in Brooklyn Rail in 2013
http://www.brooklynrail.org/2013/09/film/lynne-sachs-with-karen-rester
Lynne Sachs interview in Asian American Writers Workshop in 2013
http://opencitymag.com/your-day-is-my-night/
Lynne Sachs interview in Asian Cinevision in 2013
http://www.asiancinevision.org/cinema-spotlight-your-day-is-my-night/
*Spoiler Alert Radio Summer 2009 Podcast Interview: http://spoileralertradio.libsyn.com/index.php?post_id=498700.
*Interview on WPS1/MoMA Radio
Half hour conversation with Filmmakers Cooperative Director MM Serra
Listen >>>> http://www.wps1.org/new_site/content/view/2061/195/
*Interview with Mark Street at Union Docs, Williamsburg, Brooklyn
watch >>>> http://www.uniondocs.org/mark-street-and-lynne-sachs/
*Between Women: The Filmworks of Lynne Sachs
an interview published by OTHERZINE
Read >>>>  http://www.othercinema.com/otherzine/?issueid=24&article_id=115
LIST OF WORKS BY LYNNE SACHS
"Drawn and Quartered", 4 min. color 16mm., 1986
"Still Life With Woman and Four Objects", 4 min. B&W 16mm., 1986 .
"Following the Object to Its Logical Beginning", 9 min. 16mm. 1987..
"Sermons and Sacred Pictures" 29 min., 16mm 1989
"The House of Science: a museum of false facts" 30 min., 16mm, 1991
"Which Way Is East: Notebooks from Vietnam" 33 min., 1994
"A Biography of Lilith" 35min., 16mm, 1997
"Window Work" 9 min. video, 2000
"Photograph of Wind" 4 min. 16mm, silent, 2001
"Horror Vacui: Nature Abhors a Vacuum" video installation, 2000
"Investigation of a Flame" 45 min. 16mm, 2001
"Tornado", 4 min. video 2002
"The House of Drafts", a video and website, 2002 www.house-of-drafts.org
"Atalanta 32 Years Later" 5 min. video, 2006
"Noa, Noa", 8 min. 16mm, 2006
"The Small Ones", 3 min. video 2006
"States of UnBelonging", 63 min. video 2006
"XY Chromosome Project" 12 min. installation/performance 2007
"Georgic for a Forgotten Planet", 11 min., video, 2008."The Last Happy Day" , 37 min. , film, 2009.
"Abecedarium: NYC" an interactive website created with the New York Public Library www.abecedariumnyc.com, 2007
"Georgic for a Forgotten Planet", 11 min., video, 2008.
"The Last Happy Day" , 37 min. , film, 2009.
"Wind in Our Hair", 40 min., film, 2010.
"Sound of a Shadow". 10 min. Super 8mm on video, 2011
"Same Stream Twice", 4 min. 16mm film, 2012
"Your Day is My Night", 65 min., 2013
"Drift and Bough", Super 8 mm film, 2014.
"Starfish Aorta Colossus", 5min. 2015.
"Tip of My Tongue", 80min. 2017.
"And Then We Marched", 4 min. 2017.
"Carolee, Barbara & Gunvor", 8 min. 2018
"The Washing Society", 44 min. 2018
"A Year in Notes and Numbers", 3 min. 2018.
GRANTS, SCHOLARSHIPS & AWARDS
Guggenheim Fellowship in Film & Video, 2014.
Experimental Television Center, finishing funds,1997; residency, 1999; finishing funds 2008.
MacDowell Colony Artist Residency, Selected as Elodie Oborn Felllow 2006-07.
New York University Adjunct Faculty Grant, 2005,2007, 2008, 2010.
New York Public Library Artist Commission, 2006.
National Video Resource, Technical Assistance Award, 2005,2006.
New York State Council on the Arts, grant for film, 2003
Jerome Foundation, grant for film, 2004.
Rockefeller Foundation, media arts fellowship, 2001; Service award 2004.
Trust for Mutual Understanding, media grant, 2001.
Maryland Council for the Humanities, grant for current film project, 2000.
Arts Link Collaborative Project, funded by National Endowment for the Arts, (video/website in Sarajevo) 2000.
Maryland State Arts Council Individual Artist Grant, 2000.
School 33 Public Art Space, juried invitational show of installation work, Fall, 2000, Baltimore.
Puffin Foundation artist grant for Catonsville Nine Project, 2000.
Maryland State Arts Council Mini-Grant, with the Catonsville Historical Society, 1999.
San Francisco Bay Guardian Outstanding Local Discovery Award, 1993.
Western States Regional Media Arts Fellowship, Supported by the NEA, 1993
Southeast Regional Media Arts Fellowship, NEA, 1990.
Film Arts Foundation Development Grant, San Francisco, 1987.
Pioneer Fund for Emerging Filmmakers, San Francisco, 1987.
Downtown Community Television Artist in Residence, New York, 1985.
Robert Flaherty Documentary Film Seminar, Scholarship, 1985.