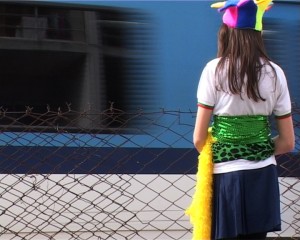 I will be in Memphis on Saturday, April 24 at 6 pm for a  "Lynne Sachs Retrospective" at the On Location: Memphis Film Festival at the Malco Ridgeway Theater (5853 Ridgeway Center Parkway). One of the films, The Last Happy Day,  began in Memphis with the story of my family's Hungarian cousin Alexander Lenard.  I would love it if you all could join me that evening.
The other film, WIND IN OUR HAIR, was reviewed in the Commercial Appeal April 23, 2010
http://www.gomemphis.com/news/2010/apr/23/wind-in-our-hair-blows-down-walls/
The Last Happy Day
by

Lynne

Sachs
( 38 min. 2009)
The Last Happy Day is an experimental documentary portrait of Sandor (Alexander) Lenard, a Hungarian medical doctor and a distant cousin of filmmaker
Lynne
Sachs
.  In 1938 Lenard, a writer with a Jewish background, fled the Nazis to a safe haven in Rome. Shortly thereafter, the U.S. Army Graves Registration Service hired Lenard to reconstruct the bones — small and large — of dead American soldiers.  Eventually he found himself in remotest Brazil where he embarked on  the translation of "Winnie the Pooh" into Latin, an eccentric task that catapulted him to brief world-wide fame.  
Sachs
' essay film uses personal letters between Lenard and her Uncle William Goodman of
Memphis
, abstracted war imagery, home movies, interviews, and a children's performance to create an intimate meditation on the destructive power of war.
Premiere:  New York Film Festival, 2009

"A fascinating, unconventional approach to a Holocaust-related story … a frequently charming work that makes no effort to disguise an underlying melancholy."    George Robinson, The Jewish Week
"Exquisite…Sachs reclaims (Lenard's) dignity and purpose using letters, newsreel footage, and recreations of his environment as if to channel him back from the past." Todd Lillethun – Program Director, Chicago Filmmakers
Wind in Our Hair/Con viento en el pelo
by Lynne Sachs
(42 min., 2010)
"Inspired by the writings of Julio Cortázar, whose work not only influenced a generation of Latin American writers but film directors such as Antonioni and Godard, Lynne Sachs' Wind in Our Hair/Con viento en el pelo is an experimental narrative that explores the interior and exterior worlds of four early-teens, and how through play they come to discover themselves and their world. "Freedom takes us by the hand–it seizes the whole of our bodies," a young narrator describes as they head towards the tracks. This is their kingdom, a place where–dawning fanciful masks, feather boas, and colorful scarves — the girls pose as statues and perform for each other and for passengers speeding by. Collaborating with Argentine filmmakers Leandro Listorti, Pablo Marin and Tomas Dotta, Sachs offers us a series of magical realist vignettes (rock/piedra, paper/papel, scissors/tijera), their cameras constantly shifting over their often-frenzied bodies. A collage of small guage formats and video, the 42-min lyric is enhanced further by its sonic textures that foreground the whispers and joyful screams of the young girls with the rhythms of a city and a reoccurring chorus of farmers and student protesters. Filmed on location in Buenos Aries during a period of social turmoil and strikes, Sachs and co-editor Sofia Gallisá have constructed a bilingual work that places equal value on the intimacy of the girls' lives and their growing awareness of those social forces encroaching on their kingdom. "
– Carolyn Tennant, Media Arts Director, Hallwalls Contemporary Arts Center, Buffalo, New York
"Wind in Our Hair moves from childhood's earthbound, cloistered spaces, into the skittering beyond of adolescence, exploding with anticipation and possibility. Argentine musician Juana Molina lends her ethereal sound to compliment the wild mix of formats and styles."  Todd Lillethun, Artistic Director, Chicago Filmmakers