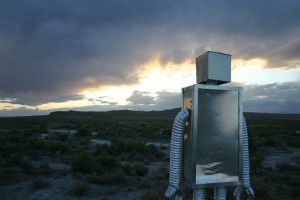 One Eye, Two "I's"
50 years of Cinematic Collaborations from the Archive of the Filmmakers Cooperative
Sunday, Nov. 14, 2010
Union Docs
Williamsburg, Brooklyn
Curated by Lynne Sachs

Special guests:  P. Adams Sitney, Bradley Eros and the Zaqistan Arts Council (Sofia Gallisá, Zaq Landsberg, Scott Riehs, and Jeff Sisson).
Screened in glorious 16mm, tonight's program celebrates five decades of film collaborations from the collection of the  New York based Film-Makers' Cooperative.  Scholar and historian P. Adams Sitney will introduce our first short works — three New York City cine-poems shot by Rudy Burckhardt who worked regularly with artist Joseph Cornell during the 1950s.  Our 1960s selection is Joyce Wieland's and Michael Snow's  formalist vision of dripping water in a bowl – pure, liquid, kinetic sculpture in exquisite black and white.  Next we will witness a grid-like flicker film hurled onto the screen by Beverly and Tony Conrad in 1970.  By 1984 the avant-garde was into body art and filmmaker Tom Chomont photographed his brother Ken shaving — from the top of his head all the way down.  Bradley Eros' and Jeanne Liotta's 1992 movie pushes our awareness of the body even further, into a dream-like reverie on cinema.  And Stan Brakhage created one of his only film collaborations with Mary Beth Reed in 2001, revealing to the world his delicate process of painting on film.  We will finish this evening with the premiere of a Wild West conceptual art video by the Zaqistan Arts Council (Sofia Gallisá, Zaq Landsberg, Scott Riehs, and Jeff Sisson).
Aviary, The/Nymphlight, A Fable For Fountains (1957 – 1970) 16mm, color & b/w,sound, 19 min
by Rudolph Burckhardt and Joseph Cornell.
According to P. Adams Sitney, "Rudy Burckhardt photographed 'The Aviary' (1955), an impression of  New York's Union Square, under Joseph Cornell's direction. This location held a particular fascination for Cornell who wanted to establish a foundation for artists and art therapy there. In the film he treats the park as an outdoor aviary." In 'Nymphlight' (1957) Burkhardt and Cornell filmed a 12-year-old ballet student in Bryant Park behind the New York Public Library. In 'A Fable for Fountains' (1957-70)  Cornell met a young actress when she played a boy in an off-off-Broadway production. He remarked at her resemblance to a figure in one of his boxes and later persuaded her to appear in this film, this time shot by Burckhardt in Little Italy.
Dripping Water (1969) 16mm, black and white, sound, 11 min.
by Joyce Wieland and Michael Snow
"Snow and Wieland's film uplifts the object, and leaves the viewer with
a finer attitude toward the world around him, it opens his eyes to the
phenomenal world. and how can you love people if you don't love water,
stone, grass." Jonas Mekas, New York Times, August 1969
Straight and Narrow (1970) 16mm, black and white, sound, 10 min.
by Beverly Conrad and Tony Conrad
Straight And Narrow uses the flicker phenomenon, not as an end in itself, but as an effectuator of other related phenomena. Also, by using images which alternate in a vibrating flickering schedule, a new impression of motion and texture is created.
Razor Head (1984) 16mm, color, silent, 4 min
by Tom Chomont with Ken Chomont
One brother shaves another in this highly charged erotic performance.
Dervish Machine (1992) 16mm, black and white, sound, 10 min
by Bradley Eros and Jeanne Liotta
Hand-developed meditations on being and movement, as inspired by
Brian Gysin's Dreammachine, Sufi mysticism, and early cinema. A knowledge of the fragility of existence mirrors the tenuousness of the material.
Garden Path (2001) 16mm, color & b/w, silent, 7 min
by Mary Beth Reed and Stan Brakhage
The film reveals The creative process of hand painted film visionary, Stan Brakhage. whose painted images leap out of black and white footage of the
artist at work.
Defiance: Zaqistan at 5 years (2010) video, 6 min.
by Sofia Gallisá, Zaq Landsberg, Scott Riehs, and Jeff Sisson
This collaborative video documents the sixth expedition to Zaqistan, a breakaway republic founded from two acres of remote Utah desert purchased off of Ebay and declared independent from the United States in 2005.