Praised by the New York Times as "one of the leading New York independent filmmakers," Brooklyn-based artist Lynne Sachs has—in a career spanning over twenty years—woven together poetry, collage, painting, politics, layered sound design, and a myriad of cinematic formats to explore the intricate relationship between her personal observations and broader historical experiences. From installations and web projects to essay films that have taken her to the far reaches of the globe, Sachs' work is strongly committed to a progressive dialogue between film theory, the past and her subjective self.
reRun Gastropub Theater is proud to present two evenings with Lynne Sachs in person to discuss an eclectic, thought-provoking taste of her work to date. "THE WEIGHTLESS BODY: Films by Lynne Sachs" runs April 12 (7pm) and April 13 (10pm).
"The films of Lynne Sachs travel to exotic places, but find themselves concerned primarily with the universal qualities of the everyday. They revisit war zones but refuse to foreground the idea of War as humanity's most fascinating pursuit. They are experimental in nature yet can offer straightforward and earnest approaches to literal problems. They defy expectations for radical art."
– Susan Gerhard, SAN FRANCISCO CINEMATHEQUE
Two Evenings Only, FREE Admission!
Tuesday, April 12 – 7 PM
Wednesday, April 13 – 10 PM
147 Front Street,  DUMBO Brooklyn (2 min. from the York Street stop on the F train)
reRun is DUMBO's new independent movie theater in Brooklyn. Featuring 60 reclaimed car seats, a full bar and gourmet snack counter, and a twelve foot screen, reRun offers an intimate art-house theater experience. Doors open one hour before the films so show up early since the bar/food shuts down 5-10 mins prior to showtime.
PROGRAM #1: TUESDAY, APR. 12 @ 7pm
(Doors/Bar open at 6pm, Screenings followed by Q&A)
WIND IN OUR HAIR
(2010, 40 mins.)
Inspired by the stories of Argentine writer Julio Cortázar, yet blended with the realities of contemporary Argentina, WIND IN OUR HAIR is an experimental narrative about four girls discovering themselves through a fascination with the trains that pass by their house. A story of early-teen anticipation, the film is circumscribed by a period of profound sociopolitical unrest. Sachs and her Argentine collaborators move about Buenos Aires with their cameras, witnessing the playful quartet as they wander a city embroiled in a debate about the role of agribusiness, food resources and taxes. WIND IN OUR HAIR also features the daring, ethereal music of singer Juana Molina.
"Sachs' brilliant mixture of film formats complements the shifts in mood from innocent amusement to protest."
– Dean Otto, Film and Video Curator, WALKER ART CENTER
"The film moves from childhood's earthbound, cloistered spaces into the skittering beyond of adolescence, exploding with anticipation and possibility."
– Todd Lillethun, Program Director, CHICAGO FILMMAKERS
ATALANTA: 32 YEARS LATER
(2006, 5 mins.)
PROGRAM #2: WEDNESDAY, APR. 13 @ 10pm
(Doors/Bar open at 9pm, Screenings followed by Q&A)
THE HOUSE OF SCIENCE: A MUSEUM OF FALSE FACTS
(1991, 30 mins.)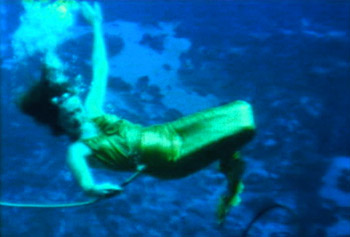 "Throughout THE HOUSE OF SCIENCE, an image of a woman, her brain revealed, is a leitmotif. It suggests that the mind/body split so characteristic of Western thought is particularly troubling for women, who may feel themselves moving between the territories of the film's title—house, science, and museum, or private, public and idealized space—without wholly inhabiting any of them. This film explores society's representation and conceptualization of women through home movies, personal reminiscences, staged scenes, found footage and voice. Sachs' personal memories recall the sense of her body being divided, whether into sexual and functional territories, or 'the body of the body' and 'the body of the mind.'"
– Kathy Geritz, PACIFIC FILM ARCHIVES
"The film takes off on a visual and aural collage… combining the theoretical issues of feminism with the discrete and personal remembrances of childhood."
– Heather Mackey, THE SAN FRANCISCO BAY GUARDIAN
THE TASK OF THE TRANSLATOR
(2010, 10 mins.)
Sachs pays homage to Walter Benjamin's titular essay through three studies of the human body. First, she listens to the musings of a wartime doctor grappling with the task of a kind-of cosmetic surgery for corpses. Second, she witnesses a group of Classics scholars confronted with the haunting yet whimsical task of translating a newspaper article on Iraqi burial rituals into Latin. And finally, she turns to a radio news report on human remains.
PHOTOGRAPH OF WIND
(2001, 4 mins.)
"My daughter's name is Maya. I've been told that the word maya means 'illusion' in Hindu philosophy. As I watch her growing up, spinning like a top around me, I realize that her childhood is not something I can grasp but rather—like the wind—something I feel tenderly brushing across my cheek."
– Lynne Sachs
"Sachs suspends in time a single moment of her daughter."
– Fred Camper, CHICAGO READER