Beta-Local is an organization, a working group, and a physical space in San Juan, Puerto Rico. Beta-Local is a study and production program, an experimental education project and a platform for critical discussion and production immersed in our local reality (San Juan, the tropics, the Caribbean, the unplanned city) and our present moment (the economic crisis, the infinite potential, the skills and ideas of people who live here, now). There are some local variables such as the stagnation of local cultural institutions, the lack of an MFA program in the arts, a debilitating "brain drain", and the prohibitive costs of higher education outside of Puerto Rico, as well as the peddling of the generic-as-international by many art schools and cultural institutions. We view these as opportunities for generating new forms. Beta-Local does not aspire to become another node in the globalized art market or academic spectrum. We are not interested in a mimetic practice.
In March and April, 2017 I was invited by co-director Sofia Galisa to be  an artist-in-residence in Beta's Harbor program:
http://betalocal.org/the-harbor/lynne-sachs/
One evening I presented my film "Wind in Our Hair/ Con viento en el pelo" which I made with the editing assistance of Sofia.
http://betalocal.org/el-cine-de-lynne-sachs-6abr/
Another evening, I hosted a screening of the film "Lupe" by Jose Rodriguez Soltero.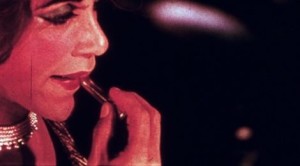 http://betalocal.org/lupe-de-jose-rodriguez-soltero-30mar/
Puerto Rican filmmaker José Rodriguez Soltero (1943 – 2009) was a significant figure in the New York underground art scene during the mid-1960s and early 1970s. His films were frequently included in Filmmakers' Cinematheque programs. He was featured in Film Culture and written up in Jonas Mekas's Movie Journal column in the Village Voice, and was the friend and collaborator of Mario Montez, Charles Ludlam and Jack Smith.
Before leaving New York, I shot this video of MM Serra, Executive Director of the Filmmakers Cooperative in New York City, discussing the 1960s Queer, count-culture, underground films of Rodriguez Soltero with friend and filmmaker Lynne Sachs. The Coop has recently preserved and digitized his films for the world to see!  This interview was conducted in March, 2017 prior to Sachs's presentation of "Lupe" at Beta Local (www.betalocal.org) in San Juan, Puerto Rico, which may be (we are not sure) the first screening of the film in its entirety in the filmmaker's  "mother" country.
And the during  my last weekend in San Juan, I taught a workshop called "Film as a Collaborative Art":
Film as a Collaborative Art
What kinds of creative surprises can happen when artists who don't know each other come together for a day to make a film? In this workshop, we will work together for a day as a group to create a series of single shot videos using complex mise-en-scene, unusual camera movements,  and recycled or hand-made props from home.  Each participant will have a chance to direct their own piece.  Throughout the day, Lynne will present a series of experimental performance videos by artists such as Vito Acconci, Howardena Pindell, Eadward Muybridge, Chanal Ackerman and more.  At the end of the day, we will have a show and, of course, participants are encouraged to invite their friends.
Throughout my two weeks in San Juan, I made collages which you can see here:
http://www.lynnesachs.com/2017/04/25/collages-by-lynne-sachs-at-harbor-artist-residency-at-beta-local-san-juan-puerto-rico/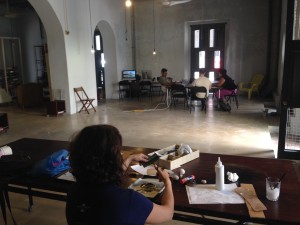 One day, while I was in San Juan, I went to the local Impresora (https://www.facebook.com/laimpresora.pr/) to make a broadside with two laundry themed poems — one by me and the other by my collaborator Lizzie Olesker and a drawing I made of lint. We used the wonderful risograph process of printing three colors with three different passes through the machine.  Here are pictures of the project which produced 300 cards.