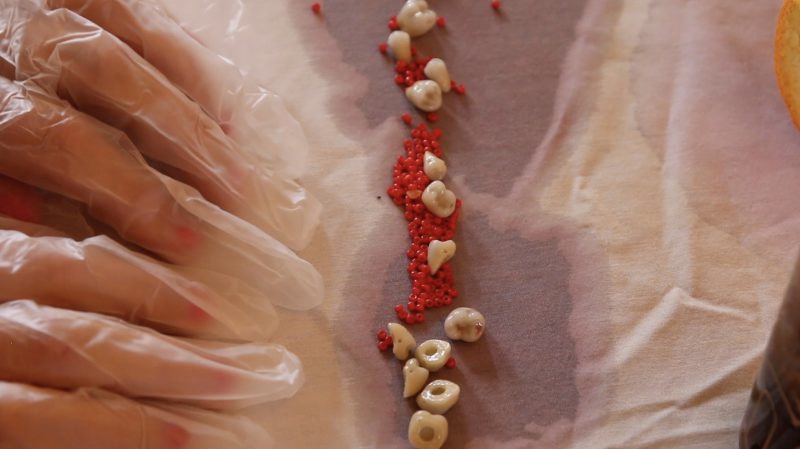 Girl is Presence (4 min. color sound 2020) a film by Lynne Sachs and Anne Lesley Selcer
During the 2020 global pandemic, filmmaker Lynne Sachs and her daughter Noa collaborated with Anne Lesley Selcer to create Girl is Presence. The work is a form of reading and listening in response to disquieting words from "Sun Cycle." Its multitude of disparate objects sensorily reflect back a disharmonious and tense list of voiced nouns. The poem's tone is originally contextualized in a book that deals with gender and power; that takes on an expanded sense here. Against the uncertain and anxious pandemic atmosphere, inside domestic space, the 'girl' arranges and rearranges a collection of small and mysterious things.

Anne Lesley Selcer is a poet and art writer occasionally making work off the page. She is the author of Blank Sign Book and Sun Cycle, winner of the Cleveland State University Poetry Center Press first book award, both published in 2019. In 2014, Selcer responded to Sachs' film Your Day is My Night in her essay for SFMoMA's Open Space: https://openspace.sfmoma.org/2014/02/…
Noa Street-Sachs (performer) works as an investigator on police misconduct cases at a government agency in New York City. She is also a photographer and a native of Brooklyn.
Rebecca Shapass (editor) is a filmmaker, multidisciplinary artist, and community organizer living in New York City. Commissioned by Small Press Traffic for Bay Area Shorts, spring 2020
For inquiries about rentals or purchases please contact Canyon Cinema or the Film-makers' Cooperative. And for international bookings, please contact Kino Rebelde.
International Premiere:
International Short Film Festival Oberhausen (Germany)
Screenings:  Crossroads Film Festival, San Francisco Cinemathèque, August 2020; 2020 Film and Video Poetry Symposium; Oberhausen Festival of Short Film, Germany 2021; Experiments in Cinema International Film Festival, 2021; Athens Film and Video Festival, 2021; Moscow International Experimental Film Festival 2021; Dobra Festival International de Cinema Experimental, Rio de Janeiro.
---
This film is currently only available with a password. Please write to info@lynnesachs.com to request access.