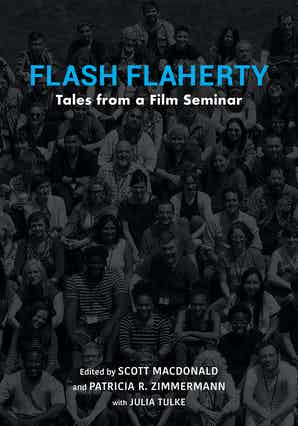 https://iupress.org/9780253053985/flash-flaherty/
Edited by Patricia Zimmerman, Prof. Ithaca College and Scott MacDonald, Assisted by Julia Tulke
---
"By the time I was about one quarter of the way through the book, I was having my own 'Flaherty experience': off-site, solo, thirsty for the hubbub, and yet readerly, enriching, and complex."

Janet Walker
---
Flash Flaherty,the much-anticipated follow-up volume to The Flaherty: Decades in the Cause of Independent Cinema, offers a people'shistory of the world-renowned Robert Flaherty Film Seminar, an annual event where participants confront and reimagine the creative process surrounding multiple document/documentary forms and modes of the moving image.
This collection, which includes a mosaic of personal recollections from attendees of the Flaherty Seminar over a span of more than 60 years, highlights many facets of the "Flaherty experience." The memories of the seminarians reveal how this independent film and media seminar has created a lively and sometimes cantankerous community within and beyond the institutionalized realm of American media culture. Editors Scott MacDonald and Patricia R. Zimmermann have curated a collective polyphonic account that moves freely between funny anecdotes, poetic impressions, critical considerations, poignant recollections, scholarly observations, and artistic insights.
Together, the contributors to Flash Flaherty exemplify how the Flaherty Seminar propels shared insights, challenging debates, and actual change in the world of independent media.
---
Lynne Sachs, "Refractions"
"I was 23 years old when I attended my first Flaherty Seminar as a fellow in 1984.
I'd never taken a cinema studies class. I was just beginning to figure out how film could become the place to bring together my love for art and politics.
With hindsight in my pocket, I can see that meeting the artists and scholars that programmer D. Marie Grieco convened that summer was one of my life's most influential experiences.
Collage-cinema genius Bruce Conner showed his work. I saw Conner's A Movie [1958], Cosmic Ray [1969], and Crossroads [1976]. Scholar VéVé Clark presented her newly published book The Legend of Maya Deren, Vol. 1, Part 1: Signatures (1917-1942), a monumental collection of Deren's writings. And I saw Deren's Ritual in Transfigured Time [1946] and A Study in Choreography for the Camera: Out-takes [1945]. I was hooked. Forever changed.
The next year, I moved to San Francisco and began a one-year internship with Bruce. We drove around in his convertible looking for Geiger counters to measure the radioactivity under his home. In his basement studio, I listened to his stories about the 1960s and 1970s art-scene and growing up in Kansas, while he re-spliced his films for preservation—work I was supposed to be doing.
In 1989, Flaherty programmer Pearl Bowser invited me to screen my then-recent San Francisco State University graduate thesis film, Sermons and Sacred Pictures: The Life and Work of Reverend L.O. Taylor [1989 (https://vimeo.com/158998653)]. I was grateful—and surprised by her invitation to be part of a Flaherty seminar comprised almost entirely of African-American and African filmmakers.
As a high school student in Memphis, Tennessee, I had seen Reverend Taylor's 16mm film archive of Black urban life. Eight years later, I returned to my hometown to reconnect with this complicated, racially traumatized city in a new way, through his images and by talking to the people who knew him.
Making Sermons and Sacred Pictures was an intense, intimate, revealing experience. I spent two months walking around neighborhoods I barely knew. I asked questions about Taylor and myself. This was my first brush with making a film about a person's life experience outside my own.
Reverend Taylor was a filmmaker I admired like none other. He shot from the inside out, a Black minister filming his own community with his own Bolex with the intention of screening these films for the people who were in them.
I tried to deal with my own presence as filmmaker. I resisted filming my face. I always made it clear that I was the one listening and filming, hiding and exposed, in ways that only cinema makes possible. I spent a lot of time talking about this issue with my professors Trinh T Minh-ha (who was also a Flaherty guest artist that year) and Peggy Ahwesh.
I'd had very little experience discussing my film with an audience. Film scholar Teshome Gabriel, the facilitator for that day at Flaherty, was extraordinarily supportive of the film and me. Filmmakers Marlon Riggs and Zeinabu Irene Davis, my Brown University college friend, were both there. Many of us at that seminar remained deeply connected. During the 1991 Gulf War, about twenty of us reconvened on a charter flight to Burkina Faso, where we attended the Pan-African Film Festival of Ouagadougou (FESPACO).
But screening Sermons at that Flaherty also brought a new awareness and self-consciousness. Some seminarians reacted to my depiction of a Black man's life from my perspective as a White woman with a mixture of skepticism and enthusiasm. (Just before I wrote this piece, I was in touch with filmmaker Ayoka Chenzira, who attended that 1989 seminar and has written poignantly about her own feelings about these issues in her Flaherty Story.)
In 2000 I returned to the Flaherty. Programmer Kathy Geritz had asked me to facilitate several post-screening discussions of Trang Tran's Blindness Series [1992-2000]: five videos exploring blindness as a metaphor.
For weeks, I threw myself into Tran's work, watching each video many times. I took scrupulous notes. Her films are difficult in the best way: aggressive, casual, complex, discursive, irrepressible, nuanced, refined… The seminar divided between those transfixed by her cerebral magic and those insulted by her opaque point of view, aggressive editing, and her comfort with what some might consider vulgar.
Consumed by Tran's work, I wrote a letter about the videos to my hero of all things female and body, French feminist theorist Hélène Cixous. Here it is: http://scalar.usc.edu/…/more-than-mee…/letter-to-hlne-cixous.
In 2011, I attended Dan Streible's "Sonic Truth" seminar as a participant. I was struggling with the editing of my hybrid documentary Your Day Is My Night [2013], convinced that by attending the seminar, I'd discover editing strategies to help me climb out of what I considered the disaster of my film. I saw important work by legendary filmmakers Les Blank and George Stoney, both of whom died not long after. Yet no work at that seminar sparked me.
Two years later I returned for Pablo de Ocampo's "History Is What's Happening" seminar. It featured astonishing films by the audacious Canadian maker Jean-Paul Kelly and by the cerebral British collective, The Otolith Group. That year, I finally realized how to take notes at the Flaherty. After every screening, I now write about the films on the right side of my journal, then I write new ideas about my own projects on the left.
In 2018, I returned again. Programmers Kevin Jerome Everson, a filmmaker, and Greg de Cuir, a curator, reclaimed the commitment to presenting the work of African and African-American filmmakers that I had witnessed in 1989. They presented an awe-inspiring collection of films by experimental makers Karimah Ashadu (Nigeria), Ephraim Asili, Kitso Lynn Lelliott (South Africa), Christopher Harris, and Cauleen Smith. Revelations filled both sides of my journal."
https://faculty.ithaca.edu/patty/blogs/flaherty_stories/refractions:__lynne_sachs/
---
Authors
Scott MacDonald is Professor of Art History and Director of Cinema and Media Studies at Hamilton College. He is author (with Patricia R. Zimmermann) of The Flaherty: Decades in the Cause of Independent Cinema; The Sublimity of Document: Cinema as Diorama; Binghamton Babylon: Voices from the Cinema Department, 1967–1977; and Avant-Doc: Intersections of Documentary and Avant-Garde Cinema. Patricia R. Zimmermann is Professor of Media Arts, Sciences and Studies at Ithaca College and Director (with Thomas Shevory) of the Finger Lakes Environmental Film Festival. She is author (with Scott MacDonald) of The Flaherty: Decades in the Cause of Independent Cinema; Documentary Across Platforms: Reverse Engineering Media, Place, and Politics; (with Helen De Michiel) Open Space New Media Documentary: A Toolkit for Theory and Practice; and Open Spaces: Openings, Closings, and Thresholds of Independent Public Media.