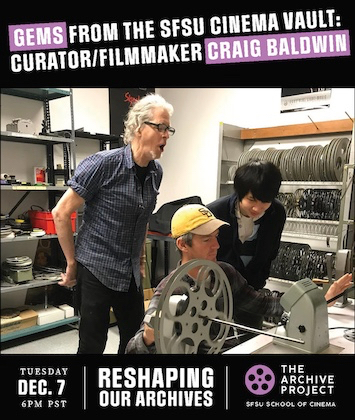 SFSU School of Cinema
THE ARCHIVE PROJECT FALL 2021 SCHEDULE
December 7, 2021
The Archive Project hosts the return of Cinema alum, filmmaker, and curator Craig Baldwin in "Gems From the San Francisco State University Cinema Vault"
On Tuesday December 7, 6:00p.m. PST (on Zoom and In the Coppola Theater)
In addition to his own prolific body of experimental films, cinema alum Craig Baldwin has played an integral role in establishing an independent film scene in the San Francisco. His weekly film screening series, Other Cinema, promotes the work of both emerging and established artists working in new cinematic paradigms. Baldwin and members of The Archive Project will show rare and rarely seen films from the School's own archives, highlighting our student and artist films collection. The lecture includes 16mm films and videos from the 1960's through the 2000's.
Lynne graduated from SFSU's Cinema Department in 1989.
This event will be held IN PERSON in the Coppola Theater, on the first floor of the Fine Arts Building (proof of vaccination and mask required please!)
---
PAST EVENTS:
What A Rabbit Taught Me: EMIKO OMORI & The Authentic Voice
Tues, Aug 31, 6 p.m.
SF State Cinema alumna and Emmy-winning filmmaker EMIKO OMORI, in conversation with Cinema Professor Pat Jackson and Cinema student Kevin Kodama. Omori discusses her journeys of discovery through her ground-breaking documentaries (Rabbit In the Moon; To Chris Marker, An Unsent Letter; Vanishing Chinatown: The World of The May's Photo Studio), and her award-winning work in cinematography.
Watch the films now on Vimeo
CROSSROADS Festival, Program 6 – this is called moving
Wed., Sept. 22, 7 p.m.
The Archive Project at SFSU is proud to be a community partner for "Program 6 – this is called moving" of the San Francisco Cinematheque's annual CROSSROADS festival.
Livestream premiere on Wednesday, September 22 at 7pm PST.
The films are available to watch thru October 21 on the Cinematheque's website.
New Directions in Online Screenings with INNEY PRAKASH of Prismatic Ground Festival
Tues, Oct 12, 6 p.m.
During the pandemic, film festivals pivoted from in-person to online platforms. Join us for a special conversation with the founder/curator of the new Prismatic Ground Festival, Inney Prakash, who will discuss the challenges AND possiblities of online screenings. Read more about the festival origins.
A Conversation with the BAY AREA LESBIAN ARCHIVES (BALA)
Tues, Nov. 16, 6 p.m.
OR
Follow the link here to register for the livestream, accessible on Zoom.