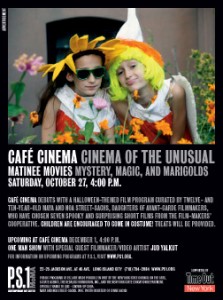 PS1 and the Film-Makers' Cooperative present
Matinee Movies: Mystery, Magic and Marigolds.
Films Selected by and for Kids!!
Curated and Hosted by Maya and Noa Street-Sachs
Sat., October 27th, 2007 at 4pm
We are thrilled to put together a program of Film-Makers' Cooperative movies that will wow, tickle, spook and surprise a matinee audience of boys and girls who may or may not have ever encountered the splendor of the avant-garde cinema.
Gulls and Buoys (1972) by Robert Breer – 8 minutes
It reminds us of a flipbook with fabulous drawings of nature.
The Red Book (1994) by Janie Geiser – 10 minutes
Spectacular animated cut-outs with lots of color and mysterious images of hands, books, keys and doors.
Little Red Riding Hood (1978) by Red Grooms – 16 minutes
Elaborate costumes and colorful, dramatic scenes with a scary wolf and a nice little girl in red.
Earth Song of the Crickets (1999) by Stan Brakhage – Silent – 3 minutes
Dancing handpainted abstraction with a magical sparkle.
Fragment of an Unidentified Horror Show (1993) by Danny Woodruff – 2 minutes
A creepy weirdo comes across a skeleton in this suspensful masterpiece.
Evil of Dracula (1998) by Martha Colburn – 2 minutes
An animated movie of happy faces with long pointy teeth.
Moshulu Holiday (1966) by George Kuchar – 9 minutes
Set in the Bronx, with hilarious scenes of city life.  You're gonna love the ending.
Maya and Noa are 12 and 10 years old and have grown up in Brooklyn watching avant-garde films with their artist parents – Mark Street and Lynne Sachs.
Program organized by M.M. Serra as part of an ongoing series titled "Cafe Cinema: Cinema of the Unusal".