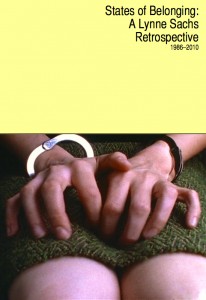 Published in
San Francisco Cinematheque's monograph for
STATES OF BELONGING:  A LYNNE SACHS RETROSPECTIVE (1986-2010)
APRIL 10-14, 2010
Searching: Lynne Sachs' Cinema by Lucas Hilderbrand
If I had to choose a single word to encapsulate Lynne Sachs' cinema, it would be "searching." Her work is marked by a mode of inquiry, of seeking out connections, of investigation. What is she looking for? Meaning, maybe. But more so, historical consciousness, an ethical way of being in the world, a politics of humanity. I've known her to get on a plane to move a film project forward, unsure what she will find when she lands or where the project is going. It seems every time we talk and check in, she's been someplace else, at work on yet another project. She is indefatigable in her search, and she has been extraordinarily prolific.
With Which Way Is East, Sachs began a series of explorations that are central to her work: exploring geo-political conflict and politics in dialogue with family relations. In Which Way, Sachs visits her sister Dana, who had been living in Vietnam for a year, and this visit produces a cognitive dissonance between the place she saw represented in TV news reports of the Vietnam War as a child and the place she was then seeing as an adult. This tension might also be read as embodied in the celluloid itself: Which Way Is East's formal signature is its superimpositions, often of blurred streaks of rich green foliage over sharp-focus landscapes, and its general refusal of image-sound synchronization. (Sachs has articulated this film's form with a resistance to the rise of a common social documentary video aesthetic; with her move from film to video, Sachs would later experiment with frames-within-the frame as an alternative mode of juxtaposition.)
The Vietnam War likewise provides the incitement for Investigation of a Flame, perhaps Sachs' best-known film. Here, rather than visiting a foreign land in the present, Sachs revisits a local past. While living in Catonsville, Maryland (outside Baltimore), she discovered the actions of the Catonsville Nine, a group of progressive Catholic clergy and believers who dissented against the war in Vietnam by raiding a selective service office and burning draft cards doused with napalm. Investigation explores the ways that ethical and religious beliefs can motivate people to question, even transgress the law; made before but screened after 9/11, the film's meaning has been accidentally resonant with the later war on terror. In the film, the prosecutor in the Catonsville case raises the compelling archival question of whether the draft records had the right to exist, a peculiar slippage that grants the rights of personhood to inanimate objects, yet one that nonetheless broaches the ways history could be erased through the destruction of records. Even more essentially, the dissenters question the government's right to dehumanize its people, whether by sending troops into a losing battle or by imprisoning the protesters. In one of the film's most affecting moments, a participant recalls her first meal after being released from prison: when she stared at the menu at a restaurant, she couldn't make sense of it and couldn't decide; she cried because she realized prison had taken away her ability to think for herself.
The effect of war on an intellectual has taken Sachs farther away and yet, in a manner of speaking, closer to home. She has recently worked to unravel the enigmatic story of her distant cousin, anthropologist-doctor-refugee Sandor Lenard. This search began with the succinct The Small Ones, in which Sachs calls our attention to the human cost of war through recovering this cousin's story of working to reconstruct the bones of dead American soldiers in Rome during WWII. Sachs continued excavating this complex familial connection in the longer and more ambitious The Last Happy Day. In this second take, we learn that she first heard of this cousin as a child because he had translated Winnie the Pooh into Latin while in exile; this discovery is mirrored by her own children's contemporary inquiry into his story. A Hungarian Jew, Sandor lived in Germany when WWII began and hid prisoners of war in his apartment while in Rome. After the ravages of war, he moved to Brazil in search of "a far away place" and won a small fortune on a game show that allowed him to buy a house in the woods; although living in exile, he planted "all the fruits that can cure homesickness." But Sandor's amazing journey was sullied by the fact that he deserted his family in Europe. Sachs visits one of his sons in Germany, in the attempt to reconstruct Sandor's story, but he only knows fragments of his own father's story. He shows Sachs how their shared relatives' books had once been inscribed with the original family name (Levy) but that this name had been partially torn out of each book and replaced with a less Semitic one (Lenard); this act served to hide an identifiably Jewish name but stopped short of removing all trace of the family's existence. In a curious way, as in the Catonsville Nine's symbolic burning, the destruction of documents ultimately points to a larger historical-political truth. Commenting on the impossibility of making truth claims about the past, Sandor's wife comments, "There are things so old, I'm not sure of the truth." The Last Happy Day is a film about a life structured by wars and the ways that knowledge of that life has been translated between generations.
More impressionistic in structure yet still working through issues of translation, Sachs' most recent film, Wind in Our Hair/ Con viento en el pelo (2010) was inspired by Julio Cortázar's short stories and shot in Buenos Aires. The film's bilingualism might be seen as a metaphor for the work's focus on young women transitioning from childhood to more mature sexual desire and political awareness. Early in the film, four girls (including Sachs' two daughters, who appear in a number of Sachs' works) play a game of searching behind closed doors and around corners. They wear colorful masks and frequently shriek with a mixture of delight and surprise. The girls play a number of games that they are seemingly too old to play—games they will soon enough leave behind. They experience life the ways we remember childhood as adults—as a series of intense moments, many of them related to the routines of daily chores and materiality of daily life. The film is positively tangible in its attention to the fluff of puppy fur, the crustiness of pastry, the lint on stockings, and the curl of paper that's dried after being saturated with markers' wet ink. The film is also about the girls' glimmers of awareness of the world around them, such as the ambient sound of news radio or television images of protests. One girl describes a dream she had when she was eight, dreaming of being thirteen and being kidnapped; the dream suggests the anxiety of growing older and the ways the specter of The Disappeared continues to haunt the country. Yet the film ends much as it begins, with an eruption of exuberance, as the film transitions again: from video to film, from documentary sound and voice-over to Juana Molina's "Un Día", from pensive to quick images of girls again in states of excitement.
Trinh T. Minh-ha has written, "Meaning can be neither imposed nor denied." It strikes me that meaning is something, in Sachs' work, that is found. It's what she searches for, but not in the form of some absolute truth. She finds meaning through productive juxtapositions of sound and image, past and present, near and far, family and politics. But she also trusts the audience to make its own meanings, too, by participating in her search.
Lucas Hilderbrand is Assistant Professor of Film and Media Studies at the University of California, Irvine, and author of Inherent Vice: Bootleg Histories of Videotape and Copyright.