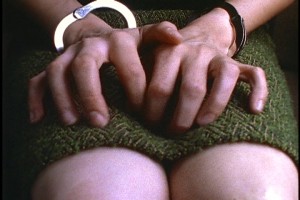 States of Belonging: A Lynne Sachs Retrospective

Working since the mid-1980s, variously on lyrical formal shorts and long form experimental documentary, Lynne Sachs' body of film and video work has explored the relationships between individual memory and experience in the context of large historical forces. Foregrounding personal history and autobiography, Sachs exalts the intimate gesture as perhaps the most heroic of poetic and political acts. With a keen grasp on cultural theory and media history, Sachs's films avoid academicism in their celebration of life and mindful political engagement, presenting complex pictures of the world with lyrical grace and even joy.
Lynne Sachs: States of Belonging is a four-part retrospective of the filmmaker's work, presented as a collaboration between San Francisco Cinematheque, Pacific Film Archive, ATA's Other Cinema and Oddball Film + Video. The series in accompanied by a limited-edition monograph—available at screenings—featuring original writings by Susan Gerhardt, Kathy Geritz, Lucas Hilderbrand and Bill Nichols.
States of Belonging, program one
Saturday, April 10 at 8:30 pm
Other Cinema at Artist Television Access
992 Valencia St., San Francisco
http://www.othercinema.com/calendar/index.html
"GIRL TALK"
Curated by Craig Baldwin
Inspired by the stories of Argentine writer Julio Cortazar, yet blended with the realities of contemporary Latin America, here's the world debut of Wind in Our Hair, Lynne Sachs' experimental narrative about four girls discovering themselves through a fascination with the trains that pass by their house. A story of early-teen anticipation and disappointment, the 42-min. lyric is circumscribed by a period of profound Argentine sociopolitical unrest. Shot with 16mm, Super 8mm, and Regular 8mm film and video, the rites of passage proceed from train tracks to sidewalks, into costume stores, kitchens, and into backyards in the heart of today's Buenos Aires. PLUS: In her House of Science: a museum of false facts, Sachs suggests that the mind/body split so characteristic of Western thought is particularly troubling for women, who may feel themselves moving between the territories of the film's title—private, public, and idealized space—without wholly inhabiting any of them. The film explores society's conceptions of woman through home movies, personal reminiscences, staged scenes, found-footage and voice-over. ALSO Lynne's Atalanta: 32 Years Later; Noa, Noa; and Photograph of Wind.
Wind in Our Hair (Con viento en el pelo) (2010); Atalanta: 32 Years Later (2006); Noa, Noa (2006, with Noa Street-Sachs); Photograph of Wind (2001); The House of Science: a museum of false facts (1991)
States of Belonging, program two
Sunday, April 11 at  8:00pm
Oddball Films
275 Capp St.  San Francisco
http://www.oddballfilm.com/
"10 Short Films by Lynne Sachs (1986 -2010)"
Curated by Stephen Parr
Lynne Sachs short works reverberate with the distilled quality of  poetic moments. From her early work in 16mm film in the 1980s through her later works utilizing the immediacy of videotape, the texture of 8mm film and expanded pallet of digital editing techniques, Sachs' works celebrate the ordinary and the profound, mapping and defining unmined territories of the human psyche.  Elegantly fusing her varied influences of  literature, painting  and collage into a inviting yet deep and personal space these shorts bristle with the feeling of newly discovered modes of perception and expressions of movement in time. (Stephen Parr)
Still Life With Woman and Four Objects (1986); Drawn and Quartered (1986) Following the Object to Its Logical Beginning (1987); Window Work ( 2001); The Small Ones (. 2006); Atalanta (2006); Georgic for a Forgotten Planet (2008); Cuadro por Cuardo en Montevideo (with Mark Street, 2009); XY Chromosome Project (2006-2009); Task of the Translator (2010)
States of Belonging, program three
Tuesday, April 13 at 7:30 pm
Pacific Film Archive
2575 Bancroft Way
Between College and Telegraph, Berkeley
"Dotted Lines: Women Filmmakers Connect the Past and the Present"
Curated by Kathy Geritz
Lynne Sachs has been making films for twenty-five years, shifting between short, lyrical works and longer experimental documentaries, all distinguished by her beautiful camerawork and poetic associations. Her most recent film, The Last Happy Day, is a portrait of a distant cousin, Sandor Lenard, whose life was shaped by war and marked by his unusual pursuits. A Jewish doctor living in Hungary, he fled the Nazis in 1938, relocating to Italy. After he later moved to Brazil, he translated Winnie the Pooh into Latin. His story is revealed through letters and interviews, punctuated by scenes from Winnie the Pooh acted out by Sachs's children and their friends. Which Way Is East, made fifteen years earlier, chronicles Sachs's trip to Vietnam to visit her sister Dana; the pair traveled together from Ho Chi Minh City to Hanoi. Impressionistic yet keenly observed, the film reveals details of life during and after the Vietnam War, interspersed with Vietnamese proverbs and voice-over remarks by both Lynne and Dana as well as Vietnamese friends. Both films are part of a larger series, I Am Not a War Photographer, and along with the short cine-poem Tornado, they provide unique perspectives on the personal impact of war.(Kathy Gertiz)
Which Way is East (1994);  The Last Happy Day (2009);  Tornado (2001)
States of Belonging, program four
Wednesday, April 14 at 7:30 pm
SF Cinematheque at California College of the Arts
1111 Eighth Street (near 16th), San Francisco
The Last Happy Day  and Investigations of a Flame
Curated by Steve Polta
A frequent theme in Sachs' work is the aftermath of war and its lingering effects on multi-generational families. Investigation of a Flame is a work of poetic investigative journalism which explores a 1968 Vietnam War protest in suburban Baltimore. Blending archival footage of the event, period reportage and contemporary interviews with participants Daniel and Philip Berrigan, the film examines the resonances of the act over the succeeding decades. A more personal work, 2009's The Last Happy Day portrays a distant cousin of Sachs, Sandor Lenard. A Jewish writer and doctor, Lenard fled the Nazis and, post-war, worked with the US Army to identify human remains. Later, while living in self-imposed exile in the Brazilian jungle, Lenard achieved brief fame for translating Winnie the Pooh into Latin. Incorporating excerpts from Lenard's later letters to his estranged family, and on-screen performances by her own children, the film stands as a moving tribute to quiet heroism. Also screening: Sachs' 2007 "collaborative update" of Chris Marker's 1972 short Three Cheers for the Whale. (Steve Polta)
The Last Happy Day (16mm  on video, 38 min. 2009); Investigation of a Flame (45 min. color and B&W, 2001); Three Cheers for the Whale
by Chris Mark in collaboration with Lynne Sachs (17 minutes / color, english version, 2007)