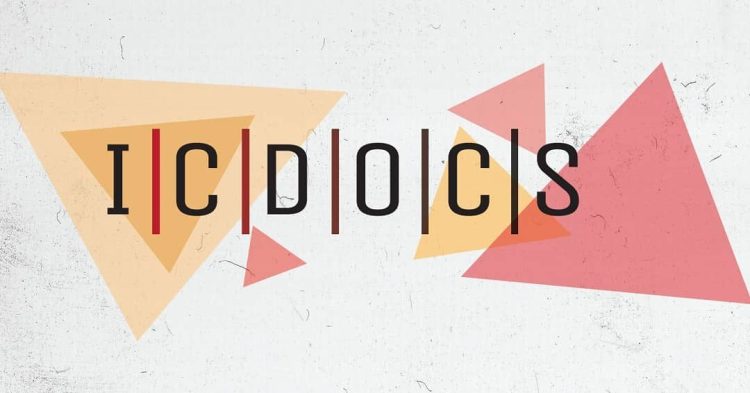 April 30- May 2, 2020
The 17th Annual Iowa City International Documentary Festival
The Iowa City International Documentary Film Festival (ICDOCS) is an annual event run by students at the University of Iowa. Our mission is to engage local audiences with the exhibition of recent short films that explore the boundaries of nonfiction filmmaking. We seek innovative new works of 30 minutes or less that both complicate and expand upon conventional approaches to nonfiction and documentary.
COMPETITIVE PROGRAM #6 – A Primal Scream 
I Can't / Lori Felker / US / 2020 / 5:00/ Silent – A roll of film is not a successful conduit for grief.
SIR BAILEY / Matthew Ripplinger / Canada / 2018 / 8:00 – A portrait of the filmmaker's old friend. The film's surgical cutting and state of decay symbolizes Bailey's suffering of bone cancer, consisting of home made photographic emulsion, contact printing, and reticulation. Sir Bailey embarks on an existential journey through the shattering photo-chemical plane during his last day of life.
LIMEN / Kathryn Ramey / US / 2019 / 2:06 – Threshold. At the boundaries of perception. Between one state and another.
Ascensor / Adrian Garcia Gomez / US / 2019 / 8:02 – Ascensor is an exploration of grief, longing and mysticism through a queer lens. It documents a syncretic ritual that culls from the magical reverberations in Mexican culture to process the unexpected loss of a dear friend. The repetition of the ritual eventually leads to the transcendence of physical space, transforming unrelenting ache into shining resilience. Philip Horvitz 1960 – 2005
A Month of Single Frames / Lynne Sachs with and for Barbara Hammer / US / 2019 / 14:00 – In 1998, filmmaker Barbara Hammer had an artist residency in a shack without running water or electricity. While there, she shot film, recorded sounds and kept a journal. In 2018, Barbara began her own process of dying by revisiting her personal archive. She gave all of her images, sounds and writing from the residency to filmmaker Lynne Sachs and invited her to make a film with the material. Through her own filmmaking, Lynne explores Barbara's experience of solitude. She places text on the screen as a confrontation with a somatic cinema that brings us all together in multiple spaces and times.
Pilgrim / Cauleen Smith US / 2016 / 11:00 – A live recording of an Alice Coltrane piano performance accompanied by a visual track that documents a pilgrimage across the USA taken by Cauleen Smith, tracing historic sites of creativity and generosity that were an inspiration to her: Alice Coltrane's Sai Anantam Ashram; the Watts Towers; and the Watervliet Shaker Historic District.


https://icdocs.wordpress.com/icdocs-2020-copy/