Feminist Queer Movie Month: Barbara Hammer
Curated by Subversive Records
Image Forum 
2021 March 31 
http://www.imageforum.co.jp/theatre/movies/4259/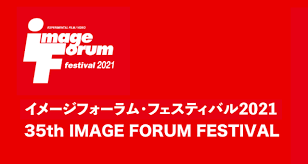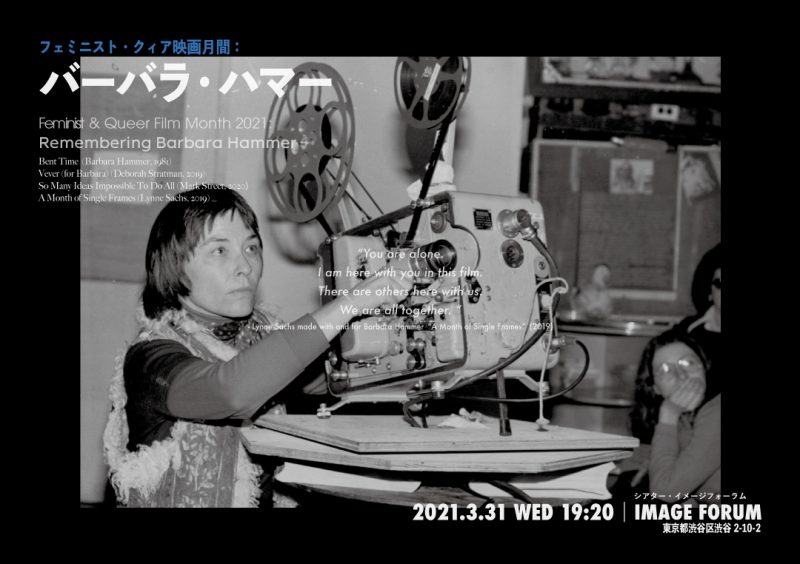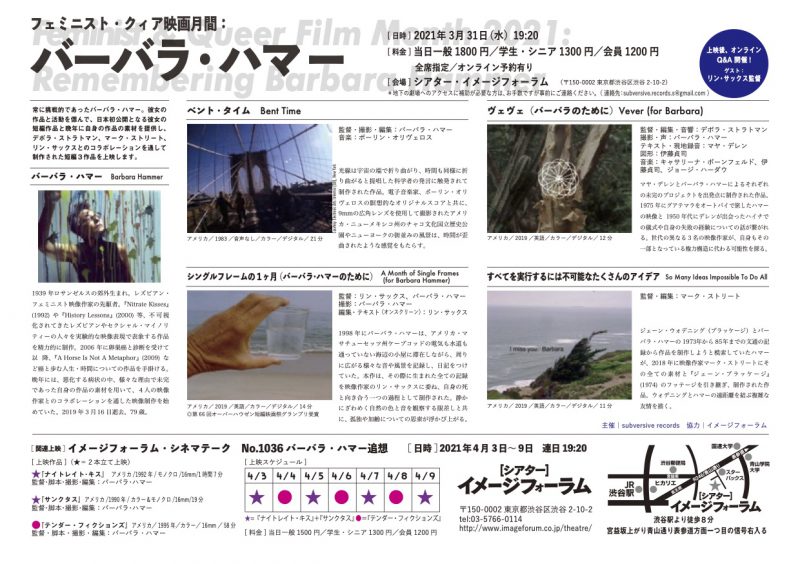 Rough English Translation:
Barbara Hammer has always been challenging. In memory of her work and activities, she provided materials for her short film, which will be released for the first time in Japan, and her own work in her later years, and produced a short film in collaboration with Deborah Stratman, Mark Street, and Lynn Sach. A special project to screen 3 works.
Feminist Queer movie month: Barbara Hammer
Feminist Ando Queer Film Month 2021: Remembering Barbara Hammer
■ Screening Date: 2021 March 31 (Wednesday) 19:20
★ after the screening, held an online Q & A with phosphorus Sachs Director
■ screenings Works (4 works in total, 58 minutes in total)
---
"Bent Time" Bent Time
America / 1984 / Digital / 22 minutes
Director / Filming / Editing: Barbara Hammer / Music: Pauline Oliveros
▶ ︎ Rays bend at the edge of the universe, A work inspired by the remarks of scientists who advocated that time also bends. The scenery of Chaco Culture National Historical Park in New Mexico and the cityscape of New Mexico, taken with a 9mm wide-angle lens, along with the meditative original score of electronic musician Pauline Oliveros, feels like time is distorted. Bring.
---
"Vever (for Barbara)" Vever (for Barbara)
USA / 2019 / English / Color / Digital / 12 minutes
Director / Editing / Sound: Deborah Stratman / Shooting / Voice: Barbara Hammer / Text / Local recording: Maya Deren
Shape: Teiji Ito / Music: Teiji Ito, Teiji Ito, George Hardau / Provided by: Pythagoras Film
▶ ︎ A work created from each unfinished project by Maya Deren and Barbara Hammer. A video of Hummer traveling on a motorcycle in Guatemala in 1975 is linked to a story about the Haiti ritual and his own experience of failure that Delen met in the 1950s. Three filmmakers of different generations explore the possibility of replacing the power structure of which they are part.
---
"Many Ideas Impossible To Do All
America / 2019 / Color / Digital / 11 Minutes
Director / Edit :: Mark Street
▶ ︎ Jane Wardening (Brackage) and Barbara Hammer Hammer, who was looking to create a work from Hammer's 1973-85 correspondence record, brought all the materials and footage of "Jane Brakhage" (1974) to filmmaker Mark Street in 2018. The work that was taken over and produced. Draws a complex friendship that connects Wodening and Hummer's long distance.
---
"One Month of Single Frames (for Barbara Hammer)" A Month of Single Frames (for Barbara Hammer)
USA / 2019 / English / Color / Digital / 14 minutes
Director: Lynne Sachs, Barbara Hammer / Photo: Barbara Hammer / Editing Text (Onscreen): Lynne Sachs
▶ ︎ In 1998, Barbara Hammer kept a diary by recording various sounds and landscapes around him while staying in a seaside hut in Cape Cod, Massachusetts, USA, where neither electricity nor water was available. This work was produced as a process of confronting his own death by entrusting all the records created at that time to the filmmaker Lynne Sachs. Along with the eyes of observing the quietly buzzing colors and sounds of nature, thoughts about loneliness and aging emerge.