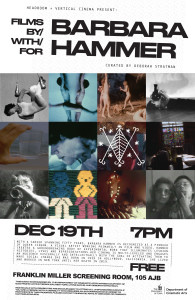 December 19, 2019
Iowa City, Iowa
Headroom + Vertical Cinema Present: Films by/ with/ for Barbara Hammer
For the last experimental film event of the season, Headroom and Vertical Cinema are appropriately teaming up to present a memorial screening of collaborations by Barbara Hammer, curated by Deborah Stratman!
With a career spanning fifty years, Barbara Hammer is recognized as a pioneer of queer cinema. A visual artist working primarily in film and video, Hammer created a groundbreaking body of experimental work that illuminates lesbian histories, lives and representations. Stated Hammer, "My work makes these invisible bodies and histories visible. As a lesbian artist, I found little existing representation, so I put lesbian life on this blank screen, leaving a cultural record for future generations."
Barbara Hammer was born in 1939 in Hollywood, California. She lived and worked in New York until her death in 2019.
This set of films, collaborations made by, with, and for Barbara Hammer was curated by Deborah Stratman, who will be in attendance at the screening.
http://thestudio.uiowa.edu/headroom/