Chicago Filmmakers
AGITATE ESSENTIAL CINEMA: LEADERS IN AVANT-GARDE FILM + VIDEO | IN-PERSON SCREENING ON DEC. 18
https://chicagofilmmakers.org/upcoming-screenings-and-events/agitate-essential-cinema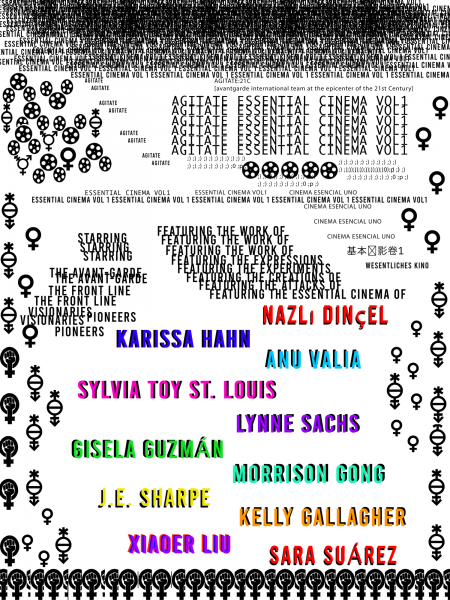 Agitate is group show that spotlights leading voices in contemporary avant-garde film and video – a collection of multidisciplinary artists whose work grapples with and transcends the nihilism at the core of white patriarchy, cinematic expression, and the mediated reality that dominant cultures spawn.
AGITATE ESSENTIAL CINEMA: LEADERS IN AVANT-GARDE FILM + VIDEO
Agitate Essential Cinema Volume 1 screens in-person at Chicago Filmmakers on Saturday, December 18th at 7:00pm!
Agitate Essential Cinema Volume 1 includes the work of Nazlı Dinçel, Karissa Hahn, Sylvia Toy St. Louis, Lynne Sachs, Morrison Gong, Gisela Guzmán, Kelly Gallagher, J.E. Sharpe, Xiaoer Liu, Anu Valia and Sara Suarez. These artists, in concert, express resistance and exuberance in equal measure, each using unique dimensions of cinematic space, ranging from abstract-material to narrative approaches, presenting a collage of phenomenological records of identity and a rebuttal to the term: "Essential Cinema".
Through this series, we are looking to create a new cinematic cannon that is not defined by white patriarchy but by the vast explorations on space and identity led prominently by those who do not identify as white and male. These are visions inherent to the avant-garde, especially in 2020.
Agitate is an all-inclusive international avant-garde that promotes artists of all types, all genders, and all races. It was founded by Xiaoer Liu, Gisela Guzmán, and M. Woods, but it has no leadership structure, and everyone has an equal voice. Anyone can be a leader in Agitate. This is Agitate's first traveling screening series. It is a renegotiation of the term "Essential Cinema".
---
Chicago Filmmakers Firehouse Cinema
In-person screenings are held at Chicago Filmmakers firehouse cinema located at 1326 W Hollywood Ave in the Edgewater neighborhood. Please be sure to arrive 15 minutes prior to showtime and be ready to present your order confirmation number for admission. Proof of full vaccination or a negative Covid-19 PCR test result is required to attend all screenings and events.